Board the Millenium Falcon
"Solo: A Star Wars Story" will explore the creation of the sci-fi icon.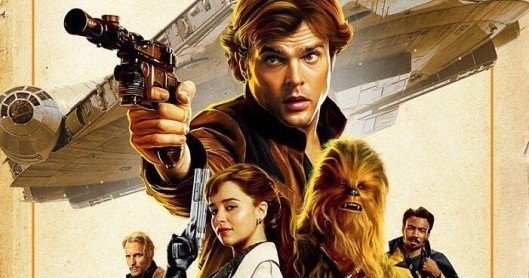 Audiences don't have a bad feeling about this.
"Solo: A Star Wars Story" is an upcoming sci-fi fantasy film that will premiere in theaters on May 25, 2018.
Directed by Ron Howard, who is recognized for hit-movies like "Apollo 13" and "A Beautiful Mind", the movie stars Alden Ehrenreich as Han Solo, Woody Harrelson as Tobias Beckett,  Emilia Clarke as Qira, Donald Glover as Lando Calrissian, Thandie Newton as Val, Phoebe Waller-Bridge as L3-37, Joonas Suotamo as Chewbacca and Paul Bettany as Dryden Vos.
Taking place ten years before the events of "Star Wars: A New Hope," reckless outlaw Han Solo is recruited by Tobias Beckett as they embark on a series of adventures within the criminal underworld. Allying with future co-pilot Chewbacca, drug smuggler Lando Calrissian and other individuals of unusual persona, the gunslinger will aboard the Millennium Falcon and explore his destined path in the universe — letting audiences discover the origins behind the "Star Wars" icon.