That's a wrap on "Puffs"
The drama team wrapped up their final performance of their first school play back in-person.
Get into your places, quiet in the house and action!
The long-awaited production of "Puffs or Seven Increasingly Eventful Years at a Certain School of Magic and Magic" has finally arrived. The play was made possible under the direction of Ms. Lief and the entire theater production team 
The production of the play had been hosted on Nov. 18 at 4 p.m, Nov. 19 at 7 p.m and Nov. 20 at 2 p.m and 7 p.m. The tickets had been sold strictly online for eight dollars if bought beforehand and $10 at the door. 
Food and drinks had been sold outside during a ten-minute intermission. There were cookies, hot chocolate, soda and more sold with the proceeds going to the drama program.
"Puffs" really brought to life the story of the Puffs and how they experienced their seven years at Hogwarts with silly twists and turns of the events shown in the movies.
Twists such as the names of the houses being "brave, smart, snakes and puffs" and Hogwarts name being changed to "a Certain School of Magic and Magic" all gave a slight wink to fans of the iconic series. 
It was a show brought to life by a contrast of amazing light and sound production on a well-constructed set that aided in the effects put in place by the cast and crew.
Colorful washes of light and quirky dialogue allowed for a show that made it hard to peel your eyes away from. Hues of blue, red, and green were all brilliant in demonstrating the progression of the play.
The narrator really helped the audience adjust to the fast-paced storyline by helping the audience understand where we were in the story. The character development of the main characters was really prevalent throughout the storyline too.
Megan Jones for example started off as an angsty and reluctant Puff that slowly transitioned into a character that would come to embrace themselves for who they are and not what someone else wanted them to be. 
At the show that I went to on Nov. 19, there had been nearly a full house with not as much social distancing enforced as I expected. The seats were separated with stickers that told the audience to sit one seat apart from each other but it wasn't acknowledged much from what I could tell.
I'd give the show a 5/5. The cast really brought to life the story of "Puffs or Seven Increasingly Eventful Years at a Certain School of Magic and Magic" in a way I did not expect as a Harry Potter fan myself. The light and sound production made the show aesthetically pleasing to watch and experience.
Leave a Comment
About the Contributor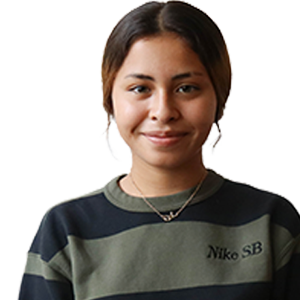 Vannesa Machado, Staff Writer
Vannesa Machado is an Entertainment writer for The Mirror. She is a senior in her first year of journalism. She likes watching TikToks and movies for fun, her favorite movie series being "Harry Potter." She likes to take naps to relax and also enjoys playing Minecraft with her friends. Her favorite performer is Harry Styles, but she likes to listen to all types of music, ranging from pop to alternative. Vannesa also likes exploring nature and would like to visit Iceland someday. She plans on going to community college and studying political science after graduating.