And action! 
The Drama Department will make their 2021-22 debut with their fall production of "PUFFS, or Seven Increasingly Eventful Years at a Certain School of Magic and Magic" from Nov. 18 to 20 after a year-long hiatus.
The story of PUFFS is a parody of the Wizarding World of Harry Potter that follows Wayne Hopkins, a nerdy boy from New Mexico who discovers that he is a wizard from England and goes to a wizarding school where he spends his years making friends and learning magic. 
The lead role of Hopkins will be played by senior Jude Struble.
Though he has experience being part of the backstage crew in other productions, this is Struble's second time being in the spotlight, the last time being "Peter and the Starcatcher" as Ted, an orphan boy, in 2019.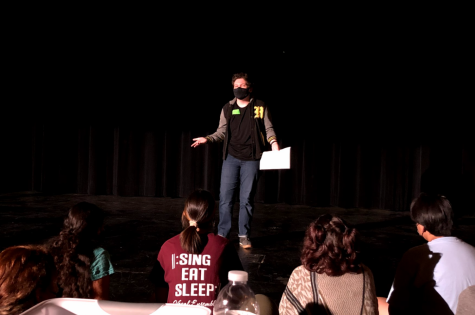 "I haven't done in-person acting in a year-and-a-half," Struble said. "It's weird having to be in front of people and speak out loud and physically interacting with other people."
Alongside Struble, seniors Edgar Muñoz, playing Oliver Rivers, and Michelle Levi, taking on the role of Megan Jones, are excited to make their return to the stage playing best friends and sidekicks to Hopkins as he embarks on his journey to magical discovery. 
"Going on stage brings me more joy than nerves," Muñoz said. "I expect the performance to spark joy and laughter among the audience as much as it has to everyone involved."
Alongside the trio, many actors make their return to stage like junior Dante Damiano with the role of Ernie Mac and senior Gover Olivares, who plays both the charming Cedric and the nefarious Mr. Voldy.
"It felt like second nature when the moment came back," Olivares said. "The moment I walked onto the stage under the light and faced the audience, a wave of nostalgia and happiness washed over me knowing I belonged there after so long."
Along with the returning actors comes some new faces in the ensemble.
Sophomore Sebastian Estrada, junior Breeana Gerdes and freshman April Cho are all making their acting debuts in "PUFFS."
"Being in a production feels scary but exciting at the same time," Cho said. "I was so surprised when I saw I got a role, so I'm super happy to be a part of this fun play."
Taking part in the first production back at school since distance learning started in March 2020, the cast is excited to finally hit the stage and put on a long-awaited show in person.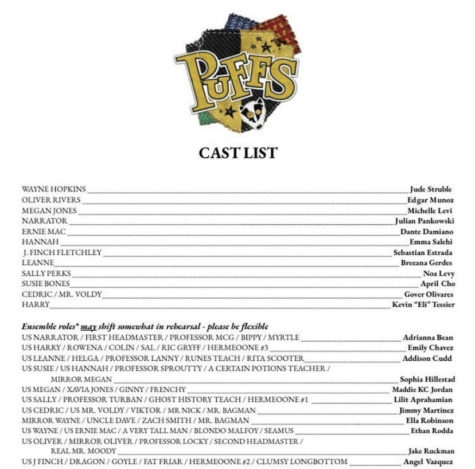 As the show is brought to life in front of a live audience by the cast of "PUFFS," an unforeseen production is happening behind the curtains.
The backstage crew is essential to provide the support needed to help ensure a musical or theater production comes to fruition.
Stage managers serve as the right hand to the director and organize various aspects involved in the day-to-day happenings of a theater production.
From adjusting positions to ensuring a good flow of communication between the director and cast all efforts go towards guaranteeing a successful run of production and rehearsal. 
Senior Dakota Threats, one of the leading stage managers, and Madison Thacker, freshman and assistant stage manager, will join the backstage crew for the first time.
Thacker explains that there is a stronger sense of dedication and professionalism in this theater program compared to that of her middle school. 
"Everybody seems more committed," Thacker said. "In middle school, everyone did it for fun and now everyone seems so down to earth and serious about it." 
Threats, an experienced cast member a step back from the spotlight and stepping into her new role as stage manager for the first time. 
"I love the stage and acting," Threats said. "But there's something so exhilarating about helping with the process and seeing the play come together in front of me."
Also behind the scenes, junior Rushmia Hussain has taken on a new role as sound board operator, controlling the background sounds, music and effects in the production, based on specific cues. When an actor speaks a certain line Hussein will play a predetermined sound effect. Sometimes, effects must be delivered in quick succession.
"Being in a show that is as quick as 'PUFFS' can be a difficult adjustment," Hussain said. "A lot of things happen a lot faster and we need to be more attentive."
The cast and crew has been practicing five to six times a week for the past nine weeks and will begin dress rehearsals Nov. 6.