MY STORY: Tales from coronavirus quarantine
I was in Italy at a study abroad program when the virus swept the country. Here's what I experienced.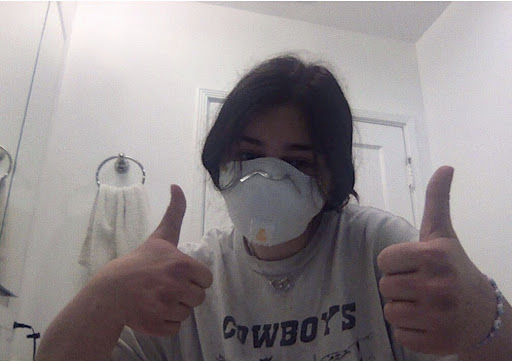 My name is Betty Barbarash and I am currently in a 14-day isolation after being sent home from my study abroad program in Italy. While there's a pretty low chance I actually have the coronavirus, I still have to stay secluded in order to keep myself and others safe.
The coronavirus has affected nearly everything in Italy — even a few months ago, when there was no real threat and only a few cases in Rome, people across the country were panicked. The virus even brought out xenophobia in some people. My peers and I were shocked at how many host families banned us from eating at Chinese and Japanese restaurants out of fear of contracting the virus. Many of my classmates were creating racist memes about China and the coronavirus. 
Despite everything going on at this time, life still felt completely normal. My school never even addressed the issue. It was only around two weeks ago that the virus became a cause of concern. 
The outbreak first started on the weekend of Feb. 21 while I was in Venice for Carnival. That Sunday, my friends and I woke up to a call from our director telling us to get back immediately because they could be cancelling trains soon due to an outbreak of covid-19 in the north. The city of Venice cancelled the rest of Carnival, one of the biggest holidays in Italy, due to the outbreak. We came back and were placed in a 14-day isolation, which was terrifying because it came as a complete shock to all of us since the virus wasn't an issue at all before. Later that day, the school decided to cancel the isolation. We returned to school to learn that all student travel was now banned. I had a gut feeling we would be sent home, but nothing was for sure yet and our school continued to make empty promises that everything would be fine.
The week continued without any major updates until the following Saturday when my friends and I were idly sitting in a cafe. We saw a large group of sad college students  reminiscing about their time in Italy. They told us they were being sent home from their program and had to return home by the next Friday. Around the same time, I received  a message from my school director saying that Italy had reached CDC level 3 (Avoid Nonessential Travel: Widespread Sustained Transmission). While I had been anxious before, this new update made me believe we would be sent home along with the college students.  
The following Wednesday night, an article came out about one of the college students  in my small town, Viterbo, testing positive for the virus. Immediately, the Italian government made the decision to shut down all schools. At this point, the school decided to send us home, and I booked a flight for Friday morning.  
My last 48 hours in Italy were filled with crying, rushed goodbyes and trips to my favorite spots in Viterbo. The plane coming back was practically empty, and when I got off my whole experience in Italy began to feel like a hazy dream: overly dramatic and unrealistic. The past six months still don't feel real. 
My time in isolation has been quite boring, but I feel grateful that I was able to leave when I could. My host family is still trapped in Italy where the laws are getting stricter by the day. They are unable to leave their homes except to work, see the doctor  and go to the pharmacy. I am afraid America is headed in the same direction. 
Hopefully, in a few years, I'll be able to go back to my host family, and go on the trips I  was expecting to take throughout my course abroad. Until then, I'll be watching for updates and hoping for the best. 
Betty Barbarash returned to Los Angeles from a study abroad program in Viterbo, Italy on March 7. She is currently a junior at the Buckley School in Sherman Oaks.