Falling in Love With the Fall Concert 2017
Encore! Encore!
The Van Nuys High School's Vocal Department presented the 2017 Fall Concert on Thursday, Oct. 5 in the Hubbard Auditorium.
This year's Fall Concert, conducted by Vocal Director, Ms. Brianne Arevalo, was composed of musical performances by the Vocal Ensemble, Vannaires, Men's Ensemble, and Soloists, with Raymond Justice on the piano.
The concert also introduced this year's newly formed advanced classical men and women chorus, The Chamber Singers, and the new name for Women's Ensemble, Bella Voce, meaning "beautiful voice" in Italian.
The Vannaires opened the concert with the national anthem, "The Star-Spangled Banner."
The Vocal Department performed a total of 21 songs ranging from classical, folk, jazz, and pop: "Dona Nobis Pacem," "Flabada," "All of Me," "Lacrimosa Menuet," "Bound for the Rio Grande," "Fool's Waltz," "Don't You Worry 'Bout A Thing," "Na Na Na," "Sign Your Name," "4 Chords," "The Silver Swan," "Bobby Shafto," "Come Together," "Doraji," "As the Rain Hides the Stars," "Sigue," "Toxic," "Just The Way You Are," "All or Nothing At All," "How Are Things in Glocca Morra," and "A Foggy Day".
Different cultures were incorporated into each of the choir's performances.
"Bobby Shafto," an English language folk song, is a well-known nursery rhyme and was based on a man named Robert Shafto who broke a young woman's heart in the 1730s. The title of the traditional Korean folk song, "Doraji," is a Korean word for the plant platycodon, also known as a balloon flower that can be found in the mountains and has herbaceous uses.
To connect with students, the choir embraced modern pop culture in the performances by singing songs produced by modern artists. Songs such as "Just the Way You Are" by Bruno Mars and "Toxic" by Britney Spears were well-known to younger audiences. Sung by the Vannaires, "4 Chords" is a medley of popular pop songs, such as "Don't Stop Believing", "She Will Be Loved", and "Apologize", using the same 4 chords, hence the name of the song, which represents the age of modern popular songs that our generation has grown up with.
"The Department does many songs in different languages and showcases lots of other cultures with each show we have. It all shows how music brings all these different cultures together and unifies us. That's how powerful music is." said Gabbie Santos who sang "The Silver Swan" and "Bobby Shafto" as part of the Chamber Singers, and a solo in "Toxic".
There were varieties of different showcases, not just relating to culture, that gave students the opportunity to perform and shine on stage. Piano soloist, Aram Antonyan, played an original self-written song based on a one-sided love.
These performances were practiced everyday during class time, after school, and lunch for this one single night. Ms. Arevalo expressed her gratitude towards her whole choir for their dedication and willingness to practice around the beginning of the school year until now; the Men's Ensemble practiced on Tuesdays and the Chamber Singers practiced on Fridays during their lunchtimes to rehearse for the concert.
"It was a fun experience being able to show the audience, old and newcomers, our passion for what we do," said Laiyah Serpas, a Vannaires vocal and Chamber ensemble singer.
Because it was the final Fall Concert for the seniors this year, they concluded the concert by presenting flowers to Ms. Arevalo to express their appreciation.
"It was a fun experience being able to show the audience, old and newcomers, our passion for what we do," said Laiyah Serpas, a Vannaires vocal and Chamber ensemble singer.
About the Contributor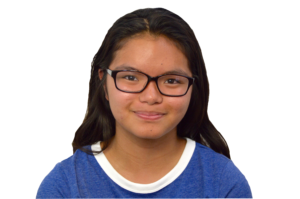 Jessica Eusebio, Entertainment Editor
An entertainment writer for The Mirror and vnhsmirror.com, this is Jessica's first year on the journalism team at Van Nuys High School. She is currently a junior. 
Her articles are typically about movies and television shows. She enjoys watching a lot of movies, specifically Disney/Pixar and Marvel movies. She also prefers watching psychologically-based television shows. She also enjoys watching paint dry in her spare time.