There's a New Man Calling the Shots on the Football Field…
By Nazaret Jarekian
The Mirror Staff
"…you're more than what you're brought into and you can sit around and make excuses for your surroundings and what you have, or you can have the right attitude and go create a good life for yourself."
SPORTS
There's a New Man Calling the Shots on the Football Field…
JOEL FORTALEZA
From the beginning of 2016 school year, the Van Nuys Wolves football team experienced more than just another start. They headed into their first year under a new head coach Mike Williams from Tampa, Florida.
Mike Williams was a star athlete while attending Henry B. High School in Florida, and his talents from a young age taught him to be more than just a highly skilled athlete.
"It allowed me to understand and to teach kids that life doesn't owe you anything. You're more than what you're brought into. You can either sit around and make excuses for your surroundings or you can have the right attitude and go create a good life for yourself."
Football wasn't the only sport that Coach Williams played during his high school career.
He was an All-County First Team basketball player in high school who helped his team reach state finals while averaging around 15 points and 11 rebounds per game. He was also able to dish out over five assists a game.
Coach Williams isn't an ordinary football coach who only played football in the high school level. Instead, he is the former star wide receiver for the University of Southern California football team and a former NFL first-round draft pick for the Detroit Lions.
Although he was a highly talented basketball player, Coach Williams decided to continue his football career at a collegiate level.
"Football was just something I loved to do just like other sports and other things, and if you love something, you'll go after it as hard as you can with everything you got. I was blessed. I actually always wanted to be a history teacher."
Coach Williams spent two years playing football at USC under Pete Carroll, a NFL Super Bowl-winning coach.
Throughout his two years at USC, Coach Williams dominated the Pac-10 from the start, making history by setting the schools and division records for receptions, yards, and touchdowns.
In his first year at USC, Coach Williams had 81 receptions for 1,265 yards and 14 touchdowns. His accolades didn't stop there. He was well recognized for his play and his talents in his school.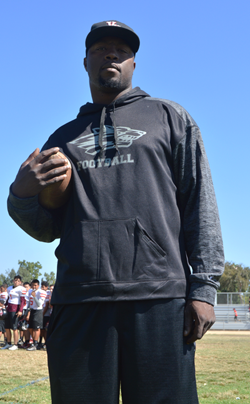 He was named First Team Freshman All American, Pac-10 Freshman of the Year, All-Pac-10 second team, an All-American honorable mention, Freshman All-Pac-10 First team, and All Pac-10 Freshman Offensive Player of the Year.
His success didn't stop there as he entered his sophomore season as a USC Trojan. Coach Mike managed to improved on his freshman years stellar play.
During his second year, he had 95 receptions that led to 1,314 yards and 16 touchdowns while starting for all 13 games.
His tremendous plays did not go unrecognized, and he finished as a finalist for the Biletnikoff award (award given to the nation's best receiver), eighth in voting for the Heisman Award, first team All Pac-10, First Team All American, and CBS' National Player of the Year.
A year after his sophomore season at USC, Coach Williams was drafted tenth overall in the first round to the Detroit Lions.
Throughout his NFL career Coach Williams played for a total of four teams: the Detroit Lions, Oakland Raiders, Tennessee Titans, and the Seattle Seahawks.
Coach Williams reunited with his former USC head coach, Pete Carroll during his tenure with the Seattle Seahawks.
Coach Williams received 127 receptions for 1,526 yards for 5 touchdowns all through his 6 seasons in the NFL.
After his NFL career, Coach Williams did not stem away from football and continued to coach for high school football teams. Before joining Van Nuys, he was the head coach for Locke High.
When asked why he chose Van Nuys High, he responded, "Just opportunities, hard opportunity. program was coming from a bad place, a couple of bad seasons, and nobody expected much. Nobody expected much out of these kids. I wanted to take on the opportunity and climb a tall border that is a lot of work. When you put a lot of work in something, you'll see results."
"This team has already been putting a lot of work. We've had a rough couple of weeks losing games, but we already won more games than we had last year. With that said, there's a lot more work to do."
The season is halfway over, and over the course of the first five games, the impact of Coach Williams has shown. The team has already matched the total win record of the previous season and doubled the win total from the 2014 season.
Even with this clear improvement, Coach Williams is not satisfied.
"We've already lost three more games than I expected to , and hopefully that's the end of the losing. But we expect to see these guys to continue to grow," he said.
Coach Williams is also impressed with the school Pride here at Van Nuys.
"The games we've had here so far have been extremely crowded and I'm sure homecoming game will be very crowded. I just want to continue building the school pride and keep building the pride in the Football program and carry that into the playoffs.
Coach Williams has done an excellent job in establishing a positive culture into this school, winning games that wouldn't have been won the past year.
With a large number of Seniors leaving the football program after this year, Coach Williams is confident that he and his players have helped build a solid foundation to build a dominant football program for the future.
"We got about 22, 23 seniors that are going to be leaving, but those guys did a great job in setting a foundation for the future. The Juniors, Sophomores, and other future players will already have a standard, and people will have expectations."
"I'm more excited about next season because I will have an off-season where foundation has already been set. It's a lot of work to set the foundation like I'm continuing to do right now, but next year, these players will know what to expect because the standard and the culture will be there."
"I expect this trajectory to continue forward as long as I'm here making a foundation that'll last after that."
Leave a Comment
Your donation will support the student journalists of Van Nuys Senior High School. Your contribution will allow us to purchase equipment and cover our annual website hosting costs.