Dashiell Dekker's Favorite Films of All Time
Dashiell Dekker gives a final send-off with his all time favorite films.
 It is with great sadness that I must resign my post at The Mirror this coming month, as I will graduate and go off to wherever the wind takes me. But before I go I believe I'd be doing myself and you dear readers a disservice by not leaving behind some recommendations from the highest capacity of my heart and admiration. I've talked too long about films I don't like, so here is a list comprised of nothing but films that I love, my all-time favorites to be exact. 
  Always remember, this is not your list, this is not the list, it's my list. If you don't see your personal favorites on this list, just remember that we are all different and we all have different tastes. With that out of the way, here are my favorite movies ever made. And full disclosure, there are a lot: 
The Master (2012) Paul Thomas Anderson
What is my favorite film of all time? Paul Thomas Anderson's magnum opus on the basis of religion and human nature, "The Master". Starring Joaquin Phoenix as a WWII veteran and Philip Seymour Hoffman, the man who attempts to contain him. With no shortage of thrilling, dramatic, and spellbinding moments of cinematic bliss, this travail of inner turmoil is the work of an auteur and will always remain the single greatest film I've ever seen.
Stop Making Sense (1984) Jonathan Demme
The Talking Heads' performance at the Pantages Theatre may not be the greatest concert ever done, but it's certainly my favorite. Featuring the best versions of all their best songs (and frontman David Byrne in a massive suit), this pop-rock-funk fusion is a testament to unrestrained musical genius and peak performance art.
The Holy Mountain (1974) Alejandro Jodorowsky
Phantasmagoria: the only true word to properly confine the unlimited artistic mastery on display in Alejandro Jodorowsky's circus show of a film, "The Holy Mountain". A variety show of symbolic, verbose images that pierce the mind and soul with unattainable wisdom and profundity. Past or future, there will never be another film like this ever again. No matter how many times you watch it, there will always be something new to discover.
Y Tú Mamá También (2001) Alfonso Cuarón
In this Spanish-language road trip drama, two young men (Diego Luna, Gael García Bernal) embark on a journey across Mexico's coastal landmarks and have emotional revelations not thought possible. Along for the ride is the older, sensually mature Luisa (Maribel Verdú) whose deteriorating mental and physical health leads her to go on one final adventure with the two boys. Few films make me cry like this one does.
Twin Peaks: Fire Walk With Me (1992) David Lynch
This prequel movie to the iconic 90s Twin Peaks mystery series, "Fire Walk With Me", will make you stare in awe as the purity of over-saturated Americana is destroyed before your very eyes. A repressed trauma, seemingly invisible, creeps and manifests in the darkest caverns of the subconscious mind. With an all-time great performance from Sheryl Lee as the doomed Laura Palmer and my favorite soundtrack to any film ever, courtesy of Angelo Badalamenti — this film is saddening, tender, and horrifying.
Mommy (2014) Xavier Dolan
A mother and her son, and the music of Lana Del Rey. French 'new-new-wave' legend Xavier Dolan is a filmmaker who's always made films with his heart and has since the beginning of his career. With a deliberate celebration of queer masculinity and maternal conflict, his tight dramas and potent character studies have earned him worldwide critical acclaim — and his 2014 magnum opus, "Mommy" is his most vulnerable and devastating. Each of the three leads are astounding.
Dancer in the Dark (2000) Lars von Trier
In 60s America, the Czechoslovakian immigrant Selma (Björk) struggles to support her son as she maintains their trailer home through excruciating mechanical labor. She is also slowly going blind. Selma has an undying passion for rhythmic singing and often daydreams in dance numbers adjacent to old Hollywood musicals… in reality, the world is cruel to Selma, and the way in which her character is tested delves this story from saddening reality to profound tragedy – slowly churning into the single most devastating third act to any film I've seen in my life. It is impossible not to cry a river to this film.
Possession (1981) Andrezj Żuławski
A film of copious excess and hostility, birthed from the deepest depths of our blackened hearts and chiseled souls. An unearthly descent into envy and abuse that culminates in something truly unmatched and alien — an artistic feat filmmakers will pale to replicate the effect of from now until the end of time. Easily my favorite horror film ever made. Isabelle Adjani and Sam Neill deliver some of the greatest performances of all time.
All That Jazz (1979) Bob Fosse
Roy Scheider shines in this film that stands the test of time as not only a profound character study glistening with the glee of the art of performance and the lesson that art it is in it of itself, but also a saddening fall from grace in the form of the classic Hollywood musical that finds ways to outlet equal cynicism and optimism in a flamboyantly dark, cosmic ascension of the soul. My favorite musical.
Dog Day Afternoon (1975) Sidney Lumet
In August, 1972, Sonny Wortzik (Al Pacino) robbed a bank. 250 cops, the F.B.I, 8 hostages and 2,000 onlookers will never forget what took place. This single location character-based thriller stands the test of time not just through its gloriously talented lead stars and fantastic screenplay… but the simple fact that it all happened in real life. 
The Taking of Pelham One Two Three (1974) Joseph Sargent
"We are going to kill one passenger a minute until New York City pays us 1 million dollars.", shouts four men holding a train hostage. Before this train reaches the next station, it will become one of the most spectacular hijacks ever attempted. With an ensemble cast of hundreds of characters, this deliriously entertaining thriller is profoundly exciting and manages to be quite humorous within its contained madness.
Mysterious Skin (2004) Gregg Araki
A tale of two boys, one can't remember, the other can't forget. Many films do not know how to effectively and respectfully communicate the intricacies of sexual abuse without it churning objectifying and inarticulate. Taking into account the fact that queer-film-legend Gregg Araki has always had a pontificated sense of self that has resonated in both his imaginative visual style and idiosyncratic methods of dialogue, his 2004 opus "Mysterious Skin", is of an unearthed, almost impossibly human nature — one of which is so tender and brutal, it not only exemplifies his talent as an artist, but properly signifies his place as one of the most honest and intimate filmmakers of the early 2000s.
8 1/2 (1963) Federico Fellini
The line between dream and reality has been stylistically blurred in films since the dawn of cinema, yet none can compare to the undying mastery of Federico Fellini's character study of the tortured artist lost in his deranged mind. A story of love, art, and imagination. One of the all time great classics.
The Graduate (1968) Mike Nichols 
Talk about timeless. This bitter-sweet affair dramedy is a classic for an infinite amount of reasons. Anne Bancroft and Dustin Hoffman shine in this gloriously tuned exposé on the basics of hilarity, humanity, and plastics – that made an influential mark beyond such a reasonable doubt, its a bonafide masterpiece. You'll never get this perfect movie (or its perfect soundtrack) out of your head after experiencing it.
Caché (2005) Michael Haneke 
Video is the embodiment of artifice. What is real? If it's on tape, does that legitimize or debunk? In this slow-moving, pitch-perfect melo-thriller of uneasy proportions: A family man (Daniel Auteuil) is tormented by an anonymous taunter who sends videotapes of increasingly disturbing things to his door. Who the sender is… is up to the individual audience member. A perfect mystery and thriller film.
The Celebration (1998) Thomas Vinterberg 
A family gathering, boiling tension, impending doom, and trauma. Danish-film-revolutionary Thomas Vinterberg makes a statement with his Dogme 95 debut, "The Celebration". A familial drama entirely shot handheld with some of the most egregiously upsetting audio, editing, and camera movements ever in a film of such nuanced caliber. A devastating and profound piece of cinema that reminds us all you need is a good screenplay and a great cast to make a masterpiece.
True Stories (1986) David Byrne 
David Byrne (of Talking Heads fame) wrote, directed, and narrated this laid back, easy going film that puts the beauty of consumeristic America on display. With no central character or location besides the fictional town of Virgil, Texas: home to talent shows, shopping malls, and some of the best music this side of the states.
Code Unknown (2000) Michael Haneke 
What constitutes conflict? What initiates spite? Where does war come from? Well, I think its safe to say that miscommunication is the backbone of all human altercation. It is the very misunderstanding that arises confusion and distraught that leads us to our deepest convictions and impulses. This notion, that people hurt other people based on their own difficulties to talk with one another is the entire point of Austrian-auteur Michael Haneke's 2000 hyperlink master-drama, "Code Unknown", an incomplete account of various journeys.
Close-Up (1990) Abbas Kiarostami 
The essential movie on the art of movies. In this half-documentary, half-adaptation hybrid, we find ourselves witnessing a crime be committed, literally.  We see how we got there, what happened afterwards, but then you realize something. This event actually happened, and this 'film' we've been watching, has been the retelling of that exact event. Add literal insult to actual injury and you come to find that the 'actors' in this film, are not actors at all, and were in fact involved with the event personally. This mind-bending exemplification of the dangers of disillusionment and the powerful grasp art has on people is an indefinite staple of contemporary Iranian cinema and one of the single most invigorating experiments in filmmaking you will likely ever see.
Punch-Drunk Love (2002) Paul Thomas Anderson
In his most dramatic role, Adam Sandler is Barry Egan, a mild-mannered man distanced with this reality who finds solace in a woman (Emily Watson). Maestro Paul Thomas Anderson's ode to the Hollywood romance is one of brute extravagance and humanity, acting as both an adrenaline-rushing drama about the psyche of a lonely and tortured man, and the strength love brings him to take a stand for the first time in his life. With its heart-rooted story, exceptionally delivered performances, and soul-searing score courtesy of musical legend Jon Brion, "Punch Drunk-Love" is a profoundly comforting and distressing tale of unearthed intimacy and understanding — and for my money, the greatest love story ever told.
Assault on Precinct 13 (1976) John Carpenter
In the same vein of 'Dog Day Afternoon', this single-location thriller is a viscerally violent exercise in precision and tone, balancing a stylistic tight rope that makes for one of the most compelling thrillers of the 70s and for a lack of better word: one of the coolest films ever made. From the man behind "Halloween" and "The Thing", he can still create a huge heep of tension even on a tremendously small scale.
Synecdoche, New York (2008) Charlie Kaufman
Not a month goes by that I don't think about screenwriter Charlie Kaufman's 'Synecdoche, New York'. A labyrinthian travail through the inner workings of the soul and mind, slowly churning with some of the most depressing and ingenious allegories for human nature into both a singular study of its protagonist and a profound exposé on anyone and everyone. Philip Seymour Hoffman's greatest role.
Mo' Better Blues (1990) Spike Lee
A beautiful tale of love and jazz. Art and pleasure, workaholism and relationships. With a frenetic sense of vision, unbelievably impressive shot composition, colors you can feel, and performance so subtle yet so great… 'Mo' Better Blues' among one of my favorite 90s films and one of the most underrated works for both director Spike Lee and Denzel Washington.
Requiem for a Dream (2000) Darren Aronofsky
The most effective horror film on the basis of addiction you will ever see. A disturbing, unrestrained descent into madness and catastrophe, with the perfect amount of purity to make its harrowing climax all the more devastating. One of the most expertly crafted, terrifying thrillers with one of the saddest endings to a film ever.
The Gold Rush (1925) Charlie Chaplin
The perfect silent movie, a live-action cartoon. Charlie Chaplin's opus on the basis of comedic timing and one of the essential films to study, interpret, and entertain. A film for all ages, bound by no generational gap. The definition of perfect comedy.
Dawn of the Dead (1978) George A. Romero
The best zombie film. Point blank period. From the creator zombies himself, this relentlessly entertaining horror-dramedy plays with genre and character in such an idiosyncratic manner you can't help but stare in awe. A tonal tight-rope that is able to be an affecting zombie movie and an audacious commentary on consumerism and the human race.
Tongues Untied (1989) Marlon Riggs
A true pontification of self. Pride and nothing but. Black men loving black men. Beautiful. The single most powerful American documentary of the 1980s.
Ed Wood (1994) Tim Burton
This black-and-white biopic about the prolifically dubbed 'worst director of all time', 1994's "Ed Wood" is a charismatically unhinged and grounded story of a unique specimen that acts as Tim Burton's best directorial work, Johnny Depp's best performance, and one of my favorite cinematic history lessons.
Tangerine (2015) Sean Baker
A tale of two sisters, Christmas Eve. On Santa Monica & Highland, this entirely shot-on-iPhone study on invisible people is a raunchy, poetic, and inspiring piece of genuine art on a subject that is very personal and shot on location in an area I grew up in. Watching this neighborhood blossom in over-saturation and the gritty grain of digital video. I would not make movies if not for this film. So. Fucking. Amazing.
*Now for the rest of the films (of which I will not be writing small pieces for simply because there are too many):
Fast Times at Ridgemont High (1982)
Eternal Sunshine of the Spotless Mind (2004)
Breaking The Waves (1996)
The Doom Generation (1995)
In The Mouth of Madness (1994)
On The Silver Globe (1988)
Phantom of the Paradise (1974)
Birdman (or The Unexpected Virtue of Ignorance) (2014)
Kiki's Delivery Service (1989)
Do The Right Thing (1989)
Under The Silver Lake (2018)
Back to the Future (1985)
Back to the Future: Part II (1987)
An American Werewolf in London (1981)
Amores Perros (2000)
Being John Malkovich (1999)
Thank you. Please watch any one of these films.
Leave a Comment
Your donation will support the student journalists of Van Nuys Senior High School. Your contribution will allow us to purchase equipment and cover our annual website hosting costs.
About the Contributor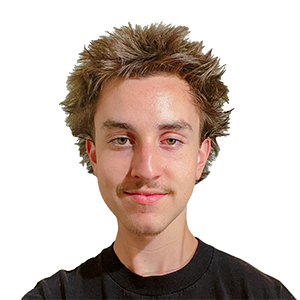 Dashiell Dekker, Arts & Entertainment Co-Editor
Dashiell Dekker is the Arts and Entertainment Co-Editor. He is a senior in his fourth and final year in high school journalism. His innate passion for media resonates in his film reviews, which he is consistently writing. He hopes to carry his affinity for entertainment journalism into the future, but above anything else, he aspires to be a director.