"The Doom Generation": 25 years later
Gregg Araki's 90s threesome apocalypto road trip remains just as powerful as it did back than.
   I recently was lucky enough to attend a screening of the 4K remaster of prolifically queer filmmaker Gregg Araki's "The Doom Generation", some 27 years after its theatrical release in 1995. As his one and only self-entitled "hererosexual movie", this ridiculously anti-camp, s*x-comedy/thriller road trip movie has stood the test of time as one of many of Araki's exercises in prose provocation with an overabundance of over-saturated lighting, slowdive soundtracks and very evident homoerotic atmosphere — despite the aforementioned "herero movie" title card.
   In somewhere between 90s Los Angeles and the apocalypse: we follow Amy Blue (Rose McGowan) and her indefinitely stoned boyfriend Jordan White (James Duval), as they travail the San Fernando Valley area's nightlife, speakeasies and convenience stores galore. Along for the ride is Xavier Red (Johnathon Schaech), who whilst saving the couple's life realigns his path with theirs as they become accomplices in his murder spree. With no direction or care of any kind, this 80-minute Americana overload is the culmination of pent up teen angst, s*xual repression, and an undying affliction to the unknown powers that be – with a third act that sear itself into your skull and leave you with a cold chill days after witnessing it.
  What makes the films of Araki so engagingly abstract is both their pontificated sense of ironic nihilism and undying devotion to emotional realism. Through intricate production design courtesy of the late great Thérèse DePrez, fantastically realized set-pieces made even more blaring by cinematographer Jim Fealy, and the comically over-exaggerated performances by the main trio: this film is both an elongated joke and one of the darkest films of the 90s. It acts a quasi-p*rn parody as well as a downright psychological thriller, all wrapped in a flamboyantly colorful bow.
  Watch as the definition of rebellion is slashed across a literal hellish landscape, where motels and gangs reign and every damn piece of food costs exactly $6.66. A world where everyone is a familiar stranger, and no one is to be trusted.
  Both a hangout movie and a narrative, "Doom…" doesn't abide by the rules of filmmaking, nor do its players the rules of society (and societal expectations). In an inner battle of the soul, this film pierces the audience with a carnal transgression that elicits both unmitigated humor and devastation. While these actors have gone out of their way to make you deem them, and thus their struggles, 'fake': you will find yourself so emotionally attached to their story and hope only for the best, only for the director to pull the rug out from under you time and time again.
  It's incredibly easy to deem Araki's filmography as plain camp and nothing but, though those familiar with his 2004 psychological-drama on the basis of childhood trauma, "Mysterious Skin", know he is no stranger to crafting a genuine masterpiece. "Mysterious Skin", which along with his other films was not particularly successful, remains today one of my very favorite films ever made – so the fact that he would go out of his way to make something like "The Doom Generation", makes me evaluate his creative decisions with a sparingly optimistic view. If he can choose to make a masterpiece on a significantly low budget, and a completely different film on an identical budget (with no intention of recuperating that money), you can't just call his art meaningless or directionless. 
   Despite its rule-breaking structure and uninterpretable personality, "The Doom Generation" is among one of the most unique visions of queer cinema – guttural, transgressive, and unflinching, it not only stands the test of time as one of the great 90s films, but a film that will resonate with the audiences of today – may-haps they are the titular generation this film was intended for.
See "The Doom Generation" now in 4K, limited theatrical engagements.
Leave a Comment
Your donation will support the student journalists of Van Nuys Senior High School. Your contribution will allow us to purchase equipment and cover our annual website hosting costs.
About the Contributor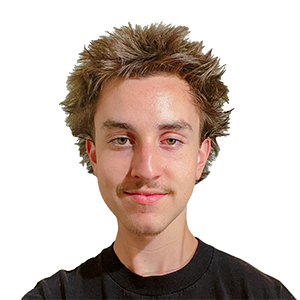 Dashiell Dekker, Arts & Entertainment Co-Editor
Dashiell Dekker is the Arts and Entertainment Co-Editor. He is a senior in his fourth and final year in high school journalism. His innate passion for media resonates in his film reviews, which he is consistently writing. He hopes to carry his affinity for entertainment journalism into the future, but above anything else, he aspires to be a director.