I am certain that I, of all people, am not the first to voice their disdain for the current landscape of blockbuster menageries the likes of which mainly pertain: the dreaded Marvel 'cinematic universe' (and its corresponding television series). 
  Allow me to be clear, I do not care that Marvel, and Walt Disney at large, is the predominant film spectacle the vast majority of the planet gravitates towards because I am the last person to tell someone how they should feel about films. I guarantee people who love Marvel movies would hate the films I love and vice versa – thats how personal opinion works and discourse on the contrast should be the least of our concerns because it has and always will be just that, personal opinion.
  I am not here to discuss the films themselves from a critical lens. Not only because superhero fatigue hit me like a truck after the latter half of 2020, specifically after the excruciatingly detestful "WandaVision" series and don't even get me started on "Doctor Strange in the Multiverse of Madness", which to this day feels like the cinematic equivalent of running my eyes and brain through a cheese-grater. No, I am not here to reprimand the films of Kevin Feige's elaborate pyramid scheme of cinematic robbery, rather I am here to talk about the detriment the films distribution itself has caused – and how irreversible the damage really is.
  Let me ask you, what was the last film you saw in a theater? If you aren't an avid cinema attendee like myself, which… fair, chances are it was "Black Panther: Wakanda Forever". I did not see "Wakanda" as I simply do not want to make the effort to give the company any more of my money or attention due to my simple disinterest in anything that comes out of it. Though, I'm sure you saw it. Let me ask you something else, why did you see it? Why in a theater? 
  The evident motive to catch these films on the big screen is that it acts as a defensive means to not have the 'best moments' ruined via social media or word-of-mouth, which makes logistic sense if you're an avid fan. But I genuinely have to ask one more question: Given the opportunity to watch these new installments in the comfort of your own home, would you be making the pilgrimage to the cinema if you had VOD access the second it comes out? I have your answer: Hell. No.
  The saddening reality is movie theaters, while active and alive, are not inhabited by people, they're inhabited by people who want to see movies. Independent cinema's slow beating heart has yet to lose its pace but its not far from the finish line. The only consistent ranking of success is derived from the biggest budgets and talents. Or so was the case.
  Very recently 'Whiplash' director Damien Chazelle's "Babylon" was nose-to-nose with one of the most tremendous tanks in modern box office history, ranking in just barely $5 million opening week on a neatly $80 million budget: that is unearthed. Even with time in theaters and VOD sales, its only managed to recuperate just under $60 million within the past three months – it is evidently clear, people don't care about the stars, or the budgets, its about the brand.
  Marvel, and again Disney at large, is synonymous with the economic preface of consumer ideology, it is in itself a brand. Like a bag of Doritos or an ice-cold can of your favorite soft drink, it isn't about whats in it, it is the inherent idea of it. We know how Coke tastes, so when we buy a Coke we know exactly what to expect. The exact same thing can be said for any Marvel Studios production. Why wouldn't it be a success? They are accessible, marketable, consistently made products that switch on the dopamine rush of people familiar with its formulaic context and again, the idea of it. 
  People aren't going to see "Doctor Strange 2" because they love the character of Doctor Steven Strange, they're going to see it because it ties in to the "WandaVision" series, and because it teases the X-Men franchise, and the Fantastic Four franchise. People aren't interested in Scott Lang and his family entering the whatever the hell in "Ant-Man and The Wasp: Quantumania", they're seeing to see Kang! Because Kang is to set up the new phase of the overarching storyline, for more movies. I am not trying to be patronizing but you do see the pattern, right? Every movie isn't even a movie, its a grandiose multi-million dollar effort to promote yet more grandiose multi-million dollar episodes of the longest and most painfully uninspired, elaborate show on the planet – and they even have actual TV shows to contribute to the pile on.
   What I am displaying below you is a screenshot of the AMC Times Square 14 from May 5, 2022. What you see before you are all screenings for "Doctor Strange in the Multiverse of Madness":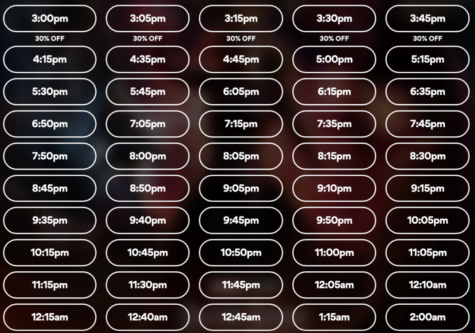 Seventy. Seventy. I repeat to you, these are seventy screenings of "Doctor Strange 2" all from the same theater on the same day. If you don't see an issue with this placement, essentially pushing any and all films out of the way to make room for heaps of undying fans who won't attend the theater for months on end, only to return in a few months to catch "Thor: Love and Thunder", I am sorry, you are part of the problem.
  Do you think multiple people genuinely are going to be occupying 70 screenings for "Doctor Strange 2"? I mean, come on.
So what is this really about?
   If you've grown up in the valley like me, chances are you've visited a quaint little cinema on Ventura Blvd., in the Encino Commons, the Laemmle Town Center 5. A lovely, independently owned cinema that has been showing exceptional films from around the globe for the better part of nearly eight decades. With unbeatable prices, a compact viewing arrangement, above average concession stand and a tagline like "Not Afraid of Subtitles" – its fair to say the Laemmle has been the definitive arthouse venue for film lovers like myself, who don't always feel like taking a trip over the hill for exposure to international cinema, in the cinema. 
   Now the Encino location is all well and good but it isn't what I want to bring to your attention today. Rather one thats a little closer to home, literally. The Laemmle NoHo 7. Dead center in the bombastic Arts District, this tiny library of arthouse magnitude and appreciation stands tall as in my opinion the single greatest independent cinema in the valley and my second favorite theater in town (right next to the Aero in Santa Monica). 
   I've seen a multitude of films accompanied by of some of my all-time favorite movie going experiences, including but not limited to:
Triangle of Sadness (2022)
Bardo, False Chronicle of a Handful of Truths (2022)
Inland Empire: 4K Re-release (2006)
The Worst Person in The World (2021)
Shortbus: 4K Re-release (2006)
   The sheer amount of energy and money I've happily given to Laemmle over the years should act as a true testament to how much I love going to the movie theater. Its not everyday you see an undying community of film lovers and seekers find a safe haven for their independent needs. 
   This, however, is where I have to break some heart-shattering news: It was announced in September of last year that Grubb Properties, a predominantly New York-based realty company under the dictation of Clay Grubb, made the announcement that they would be purchasing the Laemmle NoHo 7 and the surrounding areas as a means to erect apartment buildings in an already apartment dominated side of town. Gone are the days where I could walk to my favorite theater from my house, gone are all of the auditoriums where I've been granted some of the most emotionally fulfilling experiences in my life.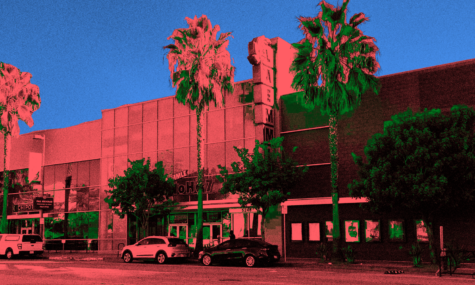 The Laemmle company sold the NoHo 7 to Grubb last May for somewhere around $9.5 million, according to various records. This isn't just a rinky-dink arthouse thats taking a hit for rich a-holes, this is an evident reflection of a gradual recession in the areas cultural landscape. Sure, there are plenty of other theaters in town, but how long before another one goes, then another? When the big chains reign supreme its not only going to entice less and less people to attend screenings (as if that wasn't already a challenge for the majority of non-movie goers) but it will give the major companies, like AMC and Regal, to take advantage of willing ticket buyers before the idea of going to the theater becomes a rarefied, beyond expensive effort – which is horrible!

  Today, I implore you to attend an independent movie theater, or a chain, today or this weekend! See something! And if you're gonna see whatever Marvel is cooking up, try something new for once. Maybe something on a lower-budget, something out of your comfort zone – you may be shocked how much you enjoy it. 
  And what little fight for the NoHo there might be, for what it's worth you can help by contributing to this petition and following @savevalleycinema on Instagram for information on how you can help the cause.
Thank you.