Alejandro González Iñárritu, back-to-back directing Oscar winner and proud Mexican filmmaker ("Amores Perros", "Birdman") has returned from a 7-year hiatus and is back to grace the art of feature film directing and the result is just as grandiose and in-your-face as you'd expect from him, yet his vulnerability preservers.
  "Bardo", or as it unnecessarily continues to read, "False Chronicles of A Handful of Truths" is a film as needlessly drawn out and self-affirming as its own title. A three hour long, phantasmagorical exploration into the deepest depths of a migrated-Mexican journalist/documentarian who has found tremendous success in America. Comparable to Riggan Thompson from Iñárritu's 2014 Best Picture winner "Birdman", the protagonist of "Bardo", Silverio (Daniel Giménez Cacho), is an existentially ponderous man suffering from a banal sense of ennui, feeling unwelcome in his own country and even more distant in a country that favors his successful stature. This film shows the inner workings of our lead's disturbed and aging mind through a lens of surrealistic dream sequences, grand landscapes, and above all a confusing narrative structure that's so big and complex in scale, I guarantee some of you will find it unwatchable. 
  Depicting blurbs in Silverio's life from the birth of his child, the aging of his children, the aging of his wife, and ultimately his own death and rebirth, "Bardo" is a purposefully narratively inconsistent trip through the depths of dream logic — all presented in a radically sped-up motion that is jarring considering the films slow pace, but ultimately emotionally benefiting because you feel like you've lived a lifetime by the end.
   If you couldn't tell by what I've described or the images I've displayed, this is an indefinitely surrealistic film, packed to the brim with as much allegorical madness and indirect symbolism as a Jodorowsky film. This is an artist at his most daring and unapologetic. What is most impressive, however, is how everything on display is overwhelming while still concise. Infinite numbers of intricate details and symbolic parallels to maturity, fatherhood, and the grandest of tributes to life, death, and rebirth can all be found within the elongated confides of Bardo's two hour and 59 minute runtime.
   Like a taco overflowing with ingredients – it might be a mess while you're eating it, but it's still a taco, a very good one too. No correlation between that food and this film by the way, although you will find infinite correlations to tradition in this film's endless amount of allusions to religious transcendence and God-like stature in both the figure of the protagonist and the director at large. 
   On the topic of tradition, the ideology of 'bardo' in folklore, stemming from Tibbettan origin, is described as a disambiguous state of limbo, which already clues you in to what the main character will have to overcome. A man stuck between two worlds, Los Angeles and Mexico City, heaven and hell, fame and misfortune, life and death. It's a film with no restraint on what it's willing to show. It's a film so enthralling in its presentation and equally conspicuous in its plot. My comparison to the father of the midnight movie himself, Jodorowsky, is not a claim I'm giving out like candy. This is a genuinely transcendental, out-of-body cacophony of beautiful sorrow and endearing insanity.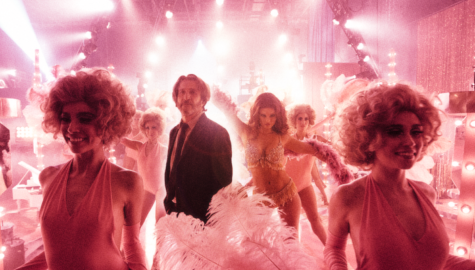 Much like one of my favorites of the year, Ruben Östlund's "Triangle of Sadness", this is a flagrantly angry film that chooses comedy and brutal honesty to view the world at a skewed, over-ambitious angle. They both work as satires, technical horrors, and above all humane dramas.
   This film doesn't just act as an expose on a man in a world he doesn't feel he belongs in, it's a self-insert for the director himself. A semi-autobiographical epic told through nearly incomprehensible dream logic. If you prefer films that hold your hand and deliver stuff non-enigmatically, this film could take some getting used to – but it's incredibly worth viewing despite whatever your tastes gravitate towards.
  Mexican vanity project "Bardo" is as self-indulgent as it is selfless.
   I feared the film wouldn't expand beyond its simple premise but it has become evidently clear that this is a film deserving of equal intellectual analysis, praise, and hate. Art is confrontational, and an artist should proceed and float above the desert of criticism that derives from misunderstanding rather than opinion. Is it unfair that a film has a fool-proof tactic against snobs who judge art on a surface level? Yes but only if you want to view this film as inartistic – which I don't. 
   Much like "Birdman", Iñárritu draws comparisons between the protagonist's perspective on the modern landscape of criticism as he does on a personal level. The lead in this film is a vessel for Iñárritu's own emotional state of mind, which is as reasonably abstract and morbid as you'd expect. Yet what he manages to display above a petty, meta-textual tantrum against the powers of critiques, is an incredibly sensitive look at his own mental health and views of his own maturity and moral merit.
   Iñárritu, in an interview at the Venice Film Festival premiere, stated the family featured in the film wasn't inspired by his own, but that they definitely assisted in inspiration for the characters. No matter what he says, it's evident that this is really a story about him as an artist — which is a story worth telling only in this way. The cast clearly worked with the script as intimately as Iñárritu and co-writer Nicholás Giacobone did. The whole cast did great, I found ways to both love and loathe Cacho in the role and that kind of range is what makes for a compelling, unconventional lead.     
   The blaring but also distanced score gives the film a much-needed musical dialect — songs will stop dead in their tracks, and not sound quite right, much like the idea of the American dream: you have your idea of what it should be, only to be severely disappointed. It's frustrating but it works in the context of the film's snarkiness.
   It should also be noted that Darius Khondiji, my favorite cinematographer working today, gives this film a visual language so singular and verbose, there were meer shots that brought me to tears, not to mention some of the beautiful poetic dialogue and dramatic realizations of sad events in the main character's life.
   The fact of the matter is that there is so much to digest and even I don't have a grasp on everything on display but unlike a lot of the negative reviewers out there, I am looking forward to seeing it for a second time — in the theater, where it's meant to be experienced, and I do mean experienced.
   I fell in love with this film, it's one of my favorites of the year, and I can't recommend you all go see it enough. Yes, it's going to be on Netflix starting December 16. But if you really want to experience what this film is capable of doing to your soul and heart, catch it on the big screen. Don't doubt for a second this film won't be worth the price of admission – especially the work of such an artist who I want to see succeed and continue to bless cinema for years to come. 
  Another masterpiece by one of our greatest living directors — and a profoundly effective exercise in spiritual art and what it means to be human.
Final Verdict: 8/10