California Adventure: The Ultimate Guide to Famous Places and Secret Spots
The Do's and Don'ts to some of California's popular spots and a guide for a cost-efficient trip.
Staying in LA county can only offer so much. Going to Disneyland or Universal Studios can get tiring after a while. After living within the state for so long, I've never really gone outside of the Southern California Area until the start of 2021. 
If you're planning a trip yourself, or have nothing to do over summer break, a California road trip is the thing for you. It's a great way to relax and explore new things, as well as strengthen the bond between you and the people you're going with. Going alone is also a great experience to have time for yourself, and discover the many diverse regions of California that the cities of LA county alone can't offer. 
This list provides the most popular stops in California, the ratings I give them, as well as the realistic expectations of each area; A cost-efficient way of exploring California and its national beauties. 
San Jose:
After leaving LA very early in the morning, our first trip took us to San Jose, an area close to San Francisco and full of smaller-scale historic sites. Though San Jose seems more like a residential area compared to other tourist cities, it still had a handful of tourist areas.
Municipal Rose Garden: 9/10 
Cost: Free
Location: 1649 Naglee Ave, San Jose, CA 95126
Our first stop was the Municipal Rose Garden: great for picnics, awful for pollen allergies and absolutely free! It's home to 3,500 rose shrubs and at least 180 rose varieties. It was perfect for aesthetic pictures and an outstanding place to have a picnic after a five-hour trip from LA.
San Jose Museum of Art: 8/10 
Cost: Free as a student, $10 admission
Location: 110 S Market St, San Jose, CA 95113
The San Jose Museum of Art is a local museum full of contemporary and abstract art. For the cheap admission, it's worth going for the diverse collection they have. While it's small, they also have a gift shop that sells many cute and fun souvenirs. 
The Winchester Mystery House: 8/10 
Cost: $40 General Admission
Location: 525 S Winchester Blvd, San Jose, CA 95128
It's a hidden rule in our road trips that we always need to go to two types of places: haunted or historic sites. The Winchester Mystery House checked off both criteria. 
The Winchester is a great place to travel to for the history and the architecture alone. There is an ongoing day or night tour which gives you a great overview of the life the house had taken, seeing the many rooms and hearing their stories. Though, I don't recommend paying $40 if you've already seen the tour once before.
San Francisco: 
You can't go to San Jose without going to San Francisco, which is only an hour's drive away. The Bay Area is rich in art and cultural diversity that going down a street is enough to hold so much diversity. Though I suggest getting a hotel in San Jose and driving to San Francisco since it's cheaper, and there is little to no parking in San Francisco's hilly streets. You should never park at the parking meter since it costs as much, maybe even more than public parking lots. You should also get ready to walk a lot. More often than not, we had to park at least half a mile away from our destination due to limited parking and confusing streets. But a good pair of tennis shoes, extra cash on hand and a warm coat should help you face the windy bay area. 
Palace of Fine Arts: 8/10 
Cost: Free
Location: 3601 Lyon St, San Francisco, CA 94123
The Palace of Fine Arts is a beautiful area filled with architectural wonders and statues perfect for fans of art and aesthetics. It's a large area of Greek-inspired architecture, absolutely free to explore and take pictures of. There were a lot of dogs in this area, so it's not optimal for those with fur allergies or pollen allergies. 
Golden Gate Bridge: 6/10 
Cost: Free
Location: Golden Gate Bridge, San Francisco, CA
Everyone mentions the Golden Gate Bridge whenever the topic of San Francisco comes up. It's what symbolizes the city, like the Hollywood sign does to LA. It's an amazing feat of engineering and rich with history. However, just like living in LA, going to see the Hollywood sign once is enough to see it all. The Golden Gate Bridge is enough to see once outside of a car. I admit there's nothing much to see there besides a few placards about the bridge's history and a gift shop. We had to park extremely far because of limited parking and the packed roads, which made up 75% of our time there. Nevertheless, the bridge is a staple for a classic San Francisco trip but could be removed from the planner if you have no time.
Chinatown: 9/10
Cost: Free without purchases
Zip Codes: 94108, 94133, 94102, 94111, 94109
LA's Chinatown differs completely from San Francisco's Chinatown. For example, the stores are inside actual store venues compared to the marketplaces and alleys that LA has. But the absolute biggest difference was that you can't barter. Growing up in poor Asian neighborhoods, bartering or haggling is a natural and widely accepted thing, especially in Chinatown. However, most, if not all, Chinatown stores in San Francisco will shut down any attempts at bartering. Still, it's a colorful place to explore, and they sometimes host events, such as a dragon dance that we saw on the street. However, go to the restroom before you arrive. There were almost no restrooms, and if a store did have one, you had to pay.
Fisherman's Wharf: 10/10 
Cost: Free without purchases
Location: Fisherman's Wharf, San Francisco, CA
The highlight of our trip was definitely Fisherman's Wharf. We had lunch there, which I suggest eating at the seafood stands rather than restaurants. It's cheaper to eat at the stands with fresher seafood. For example, the famous clam chowder at restaurants in Fisherman's Wharf tasted more processed than those served on the spot at the stands. You get more, better-tasting food for a cheaper price. 
Fisherman's Wharf is also home to many stores and fresh pearl jewelry stores worth checking out. 
However, word of advice: never let anyone know you're an LA Dodger fan. You will feel like a fish out of water.
Alcatraz Island: 9.5/10 
Cost: $39 General Admission; tickets have to be bought online
Location: Alcatraz Island, San Francisco, CA 94133 (The only ferry that goes to Alcatraz is on Pier 33)
Alcatraz Prison is reported to be haunted, yet rich in murderous and tragic history. It's a ten-minute boat ride from Pier 33 to the Island. The coolest thing about the island is that they recently restored the Native American "graffiti" on the walls and buildings from when they lived there in 1963. You get to learn about the prisoners and the Native Americans. There is a very in-depth voice tour of the prison which lead you through many prison cells and famous prisoners that lived there. You can even see the dummies that prisoners made during the famous June 1962 Alcatraz escape, the only successful escape ever made from the prison. They also have a gift shop at the end of the tour, which had funky magnets and souvenirs. Overall, I highly suggest going here especially if you're a fan of history, true crime, and ghosts. However, the biggest issue was the freezing, windy weather. I recommend layering and wearing a warm comfy coat all throughout San Francisco, especially in Alcatraz or anywhere near the water.
San Diego:
San Diego is a place absolutely teeming with colorful Hispanic culture, art and history, a perfect place to explore if you don't want to go too far from LA. It's a good place to start your California Adventure outside of Disneyland. My advice is to wear something to help you with the hot weather, but bring a jacket since it can become unexpectedly cold at night or near the shores. 
Cabrillo National Monument: 4.5/10 
Cost: Free as a Veteran but $20 admission; free for 15 years old or younger
Location: 1800 Cabrillo Memorial Dr, San Diego, CA 92106
While we got in for free, the admission to the Cabrillo National Monument is $20 per car and is not worth seeing. It's very windy and you could see the U.S.S. Midway from the cliffside. There's a small museum and a small lighthouse, but that's all that's there to see. The ocean looks nice but this place is better for bikers.
Balboa Park: 9/10 
Cost: Free
Location: 1549 El Prado, San Diego, CA 92101
This is an area that is flourishing with Spanish architecture and beautiful sceneries. There is a botanical garden that is absolutely beautiful and just exploring the buildings is an adventure by itself. Go during the day or night, it's perfect for picnics and taking pictures with ducks. There is also a nearby Spanish Village Art Center that has many cultural souvenirs with colorful floors and Spanish buildings. Many events are also hosted there, like food festivals. Museums and a Japanese Friendship Garden is also available scattered throughout the park. 
Old Town San Diego: 10/10 
Cost: Free without purchases
Location: Old Town, San Diego, CA 92110
If Balboa Park isn't enough Hispanic culture, for you, Old Town San Diego is another historic hotspot but with a lot less "grandeur architecture", and a lot more "old-timey western town." We went near Day of the Dead which only made Old Town more colorful than it already is. There is so much Hispanic culture here and all of the stores have fun souvenirs. They have amazing Mexican restaurants and is worth going for the food alone.  
Mormon Battalion Historic Site: 13/10 
Cost: Free Admission
Location: 2510 Juan St, San Diego, CA 92110
This was an unexpected hit that my sisters and I are huge fans of. It's free and very, very interactive. The tour takes you through a short movie and experience what it was like being a Mormon during the Mexican-American War. At the end of the tour, you can see historical items and pan for fake gold. It was in the corner of Old Town and could be easily missed. But I'm glad we went. It was unexpectedly free and more interactive compared to the Spanish Missions we went to. 
Whaley House Museum 7.5/10 
Cost: $10 Admission
Location: 2476 San Diego Ave, San Diego, CA 92110
Known as America's most Haunted House, the Whaley House is in the middle of Old Town, and kind of disappointing in the "ghost" department. I admit, our tour heard something within the house. However, the Whaley House was in the middle of a very busy street and could be dismissed easily. It was definitely dark and creepy, and the tour was very rich in history and ghost stories. Compared to Winchester and Alcatraz, it was many acres smaller but more focused on the "ghost" aspect. Though, underwhelming after being advertised as "America's Most Haunted House," it was still worth the very cheap admission. 
Sacramento: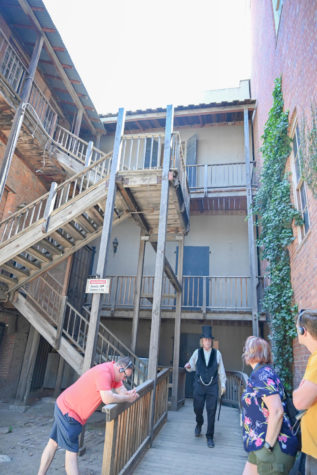 Home to the capital building, Sacramento is a great place to visit for history buffs, as every street in the city is filled with history, especially Old Town Sacramento. There are also many art museums in the area. However, be careful of confusing streets and tight spaces.
Sacramento Tunnels 10/10
Cost: $22 for adults general admission, $15 for 6-12 year olds, free for 5 or younger
Location: 101 I St, Sacramento, CA 95814
At the head of Old town Sacramento, the Sacramento Tunnels is also part of a museum that showcases all historical aspects of Old Town Sacramento. The Tunnels is a different tour from the rest of the museum, and sadly, you are not allowed to take pictures within the tunnels themselves. However, dark and creepy, it is filled with many interesting facts about the state capital that few people knew about. The tour guide is also led by a charming historical figure "B.F. Hastings."
Smaller cities: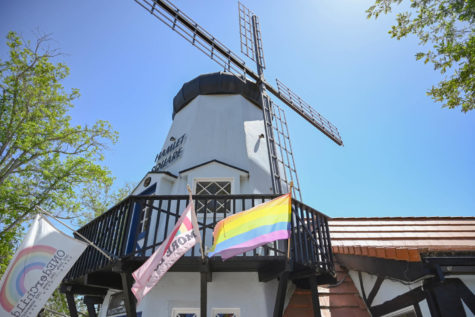 Solvang: 9/10 
Cost: Free without purchases
Location: Solvang, California, 93463
Solvang is a colorful city near Santa Barbara with Danish-style architecture and shops. All of the stores are filled with cute Danish souvenirs, such as cute, handmade wooden cuckoo clocks! There are also delicious danish pastries in bakeries everywhere. I suggest wearing something suitable for hot weather since it can get very hot here, and rent the small jeeps to help you explore the colorful city of Solvang. The area is huge, and the guy renting out the jeeps was very sweet and funny, a definite must whenever you go to Solvang. 
Ostrichland USA: 12/10 
Cost: $5 admission for adults, $1 for kids
Location: 610 E Hwy 246, Solvang, CA 93463
Another unexpected area during our trip was such a fun, unique experience. I never thought I'd ever see an Ostrich outside of a zoo, but here it was. They give you dustpans with ostrich food and you could go up to any ostrich or emu to feed them. You can get so close to an Ostrich that it's terrifying to realize how tall nine feet is. An awesome pit stop, and great for all ages. Just be careful to keep fingers and hands to yourself. 
Missions: 4-8/10 
Cost: Free or $5+ Admission 
The California Mission trail was a huge aspect of our trip. Going to one could be a huge hit or miss. Many were closed, others were underwhelming, while some didn't offer any self-guided tours. While I admit the history behind them was tragic and paying respect to those who suffered there was part of the reason we went. However, many missions we went to either worked really, really well or didn't work at all. For example, San Juan Bautista is the largest Mission on the trail and is a staple of the trip while Mission San Juan Capistrano had the best garden and scenery. Each Mission had a defining aspect that I really appreciated. Mission San Luis Rey in Oceanside in all of the Missions we visited, had the most beautiful architecture and the most developed self-guided tour. It didn't just let you explore the mission grounds, but also the area surrounding it such as the historical laundry area. It also had many beautiful statues throughout the area highlighting Jesus Christ's last week leading to his death and saints. Though it still worked as a fully functioning church and was hosting a funeral the day we went and had a large graveyard. It's also the best mission we've gone to just for this picture alone: 
National Parks/State Parks:
One of the biggest cuts to our costs was National Parks. You have to pay to get into most National Parks however due to my sister's military status, we could go in for free to all National Parks, Reservations, Forests, and State parks. So if you or someone in your family is part of the military, always ask the park ranger at the booth when you enter for a special card for veterans that allow you to have the same benefits. If not, it's okay, it's still worth seeing the natural beauties of California, the state that has the most national parks. I would suggest staying at least one day in these national parks as these parks are huge and can't be explored in half a day, or an hour like an amusement park. I recommend hiking clothes and a pair of comfortable hiking shoes when going to these areas.
Yosemite: 10/10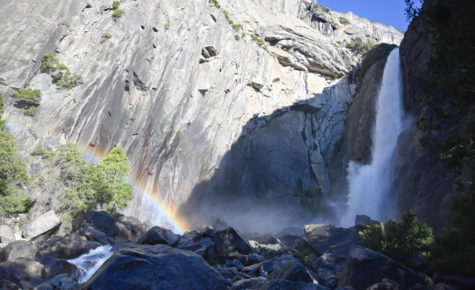 Cost: $20-$30 General Admission (there are passes and special admission costs for different vehicles on their website)
Location: Yosemite, California
Yosemite was beautiful. But I would suggest staying there for multiple days, as it's mostly hiking. The mountains, waterfalls, trees, and natural beauties of Yosemite made us want more that spending one day there was not enough. However, reservations are required between 6
A.M through 4 P.M. Yosemite can also get a little crowded in some popular areas, but otherwise, it was beautiful. Hiking clothes are a must here. 
Lake Tahoe: 9/10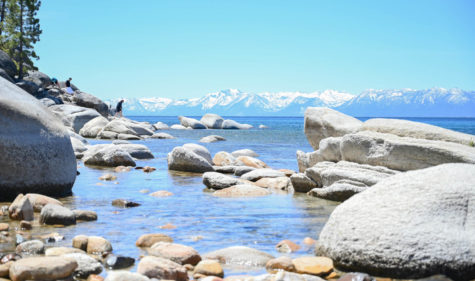 Cost: $15-$20 for Parking 
Location: Lake Tahoe, California/ Lake Tahoe, Nevada
If you can't handle the cold, don't go to Lake Tahoe. While it was windy, the waters of Lake Tahoe was not that cold. There are two parts of Lake Tahoe: Lake Tahoe, California, and Lake Tahoe, Nevada. You can go to either one, as we went to Lake Tahoe Nevada. The rocky beach area we had a picnic in was beautiful, and there was a clear view of the mountains. 
Sequoia National Park: 10/10
Cost: $20-$35 General Admission (there are passes and special admission costs for different vehicles on their website)
Location: Kernville, California
Home to the tallest trees in the world, Sequoia National Park felt like a dream. The park features many hiking, picnic, and sightseeing areas, as well as many opportunities for photos. The best thing about the park was seeing General Sherman, the thickest tree in the entire park, and climbing Moro Rock, which was a half-mile climb up stairs and overlooked a beautiful view of the park and mountains. It was especially beautiful near sunset, however, it can get crowded at the peak.  
Leave a Comment
Your donation will support the student journalists of Van Nuys Senior High School. Your contribution will allow us to purchase equipment and cover our annual website hosting costs.
About the Contributor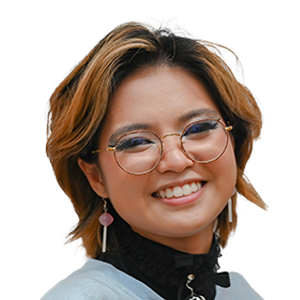 Beverly Regino, Creative Director
Beverly Regino is the Creative Director for her third and final year in journalism as a senior. She is in charge of photography, layout, graphic design, and social media. An artist at heart, her main passions include drawing, painting, and dressing up, with a side of playing single-player story-driven video games and listening to music. After graduating, her goal is to get into either college: ArtCenter College of Art and Design or Laguna College of Art and Design and pursue a job as a concept artist for video games and film. But of course, her main dream consists of owning at least two high-quality light sabers and running away into the sunset with the love of her life, Bella, her white chihuahua.