The kendama toy became his passion
For junior Devin Lautrette, it's not about how many he owns but how many tricks he can do with just one.
Kids howled with laughter, shoes kicking up dust behind them as they scurried past.

Seated at a picnic table, 12-year-old Devin Lautrette waved off the buzzing mosquitoes circling him with annoyance. Next to him, his friend was playing with some sort of wooden yo-yo.

He noticed him staring and grinned.

"It's called a kendama. Wanna try?"

Lautrette shuffled closer to the toy and shrugged his shoulders.

"Sure."

He tossed the object to Lautrette.

"See that part that looks like a handle? Hold that with your right hand. Like a pencil."

With unsteady fingers, Lautrette gripped the handle of the toy.

"Good. Now pull that little ball up and try to land it on that cup."

He nodded and yanked the toy towards him, watching as the ball flew into the air and dropped back down, landing on one of the cups. Lautrette looked back at him, eyes shining with excitement.

Other campers began crowding around both of them, asking if they could play with it too.

"A lot of people were trying the kendama during this summer camp I had, so I got exposed to a lot of different tricks to attempt," Lautrette said. "This made me want to try all of them and it seemed like something that I could possibly get good at."

Realizing this, Lautrette bought one and started practicing. 

Kendama is a traditional Japanese skill toy that is used to improve hand-eye coordination. It was originally used by children to play with, but has recently evolved to become a competitive sport.

The toy has one main handle part with three different cups. This whole part is called the ken, which is attached via string to a ball that is called the "tama", or ball. The goal of the game is to land the ball onto the cups and the ken.

When he began learning the kendama, what helped him most was doing kendama community challenges on Instagram.

In April of 2020, he participated in a month-long Instagram community challenge started by "Sweets Kendamas", a company that sells kendamas and garnered a community of kendama players. Each day of April, they gave a tricky prompt for the participant to do and post a video of themselves tagging the account "sweetskendamas".

YOUTUBE

Having to take the time out of each day to post on his Instagram page "damadevin" forced Lautrette to challenge himself to learn a different type of trick daily. 

Around April of 2021, he noticed a kendama company, Active Kendama, was frequently liking his posts. 

"It was really exciting since they're a huge company in the kendama community," Lautrette said.

Lautrette began buying their kendamas and tagging the company in his posts. 

When the company saw the effort Lautrette was putting in, they invited him to play in a competition as an "unofficial active team member", someone who is on a kendama team just for a specific contest and is being sponsored for a contest by the company.

The kendama competition, called "Internet Kendama Open" and organized by Sweets Kendamas, took place online on Zoom due to covid-19 safety precautions and was live-streamed through Twitch.

Competitions usually take place in-person, where two people competing against each other are placed on a stage. Both players start with three points in the beginning of the game, which is called "Open Division". The judges give them tricks to attempt, and the first person to fail a trick loses a point. The person that loses all of their points first loses against their opponent.

Lautrette didn't expect to be invited to another competition. He also didn't expect that on May 7, 2021, the company would ask him to become an official member of their kendama team.

Since then, he's been regularly attending "Internet Kendama Open" competitions under Active Kendama.

"I get nervous because usually, the person I am competing against is a professional and I'm not, so I usually expect to lose," he said. "But it's also exciting because I'm playing against someone that I used to look up to when I was really bad at kendama."

Lautrette had the chance to compete against famous and professional kendama players like Kevin DeSoto and Matt Sweets.

Although competitions get nerve-wracking for Lautrette when he's around professionals, they aren't all too serious. 

"During an 'Open Division' game, the host, a professional kendama player, was narrating the game and asking me questions," he said. "I was concentrating on getting the tricks so I basically just ignored him the whole time, and he pointed that out on the livestream and everyone laughed."

Soon, Lautrette discovered that what he loved most about kendama wasn't just the sport itself. It was the community built around it. 

"Going to kendama events and seeing everyone having fun with this seemingly simple toy is amazing," he said. "Everyone always encourages each other to improve their skills. We would play games against other players for prizes or just for fun, and no one ever gets sad about losing."

Still, dealing with failure has been difficult at times, whether it be losing competitions or struggling to get a trick right. Other players' words began to affect him too. 

"I was told that I'm never going to be as good as the pros because as I'm progressing, the professionals are also progressing," he said. "But I think as long as I keep going and create my own style instead of copying everyone else, I'll be fine."

Lautrette doesn't see himself trying to be a professional kendama player, but he'll always have a part of it in his life, whether that be through filming tricks on YouTube and Instagram, or messing around with his kendama in his free time. 

He'd like to attend Berklee College of Music in Boston, making his own songs or producing beats for artists.

"I plan on continuing to practice it and I don't see myself ever stopping," he said.
Leave a Comment
Your donation will support the student journalists of Van Nuys Senior High School. Your contribution will allow us to purchase equipment and cover our annual website hosting costs.
About the Contributor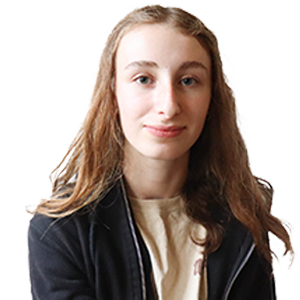 Diana Zalmanov, Staff Writer
Diana Zalmanov is a Current Events/Features for The Mirror. She is a junior in her first year of publication. Outside of journalism, she enjoys playing tennis, spending time with her rabbits and listening to music. Lately, she has been listening to Olivia Rodrigo. Her favorite song is "Drivers License." After graduating high school, she plans to go to college or university and attend medical school. She hopes that her love and passion for animals will eventually lead her to work in a shelter in the future.