Art Exhibit: AP Studio Art students show off their portfolios
While most students will be shading inside a scantron bubble for their AP exams, AP Studio Art students will be coloring outside the lines to display their artistic ability.
While most students will be shading inside a scantron bubble for their AP exams, AP Studio Art students will be coloring outside the lines to display their artistic ability.
Art students must submit five selected phsical works and 15 digital images that explore line quality, light and shade, form, composition and depth through mixed media such as painting and shading.
The portfolio is intended to encapsulate all the talent, practice and experimentation students have honed throughout the course.
Here's a look at some of the works in students Megan Mozeh's and Isabela Arca's portfolio.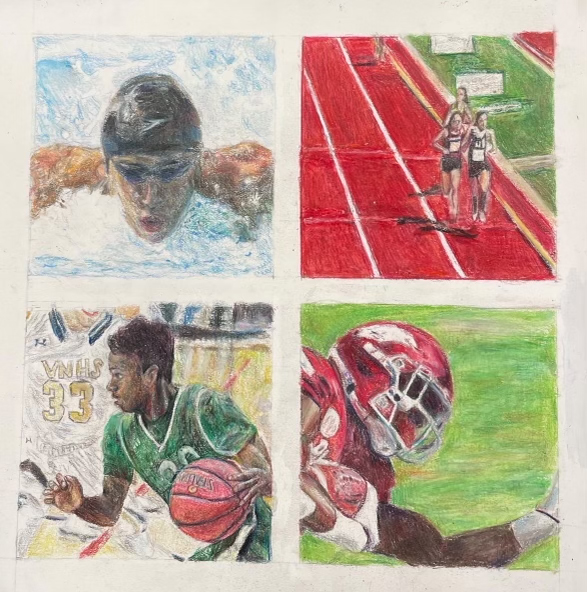 Go Team, Go! 
by Megan Mozeh
Aiming for realism, I was trying to focus on the positive aspects of the high school experience. I used color pencils and was trying to focus on these positive aspects that make up the high school experience and the contribution to the idea of team spirit. This in mind helped put together this piece for me.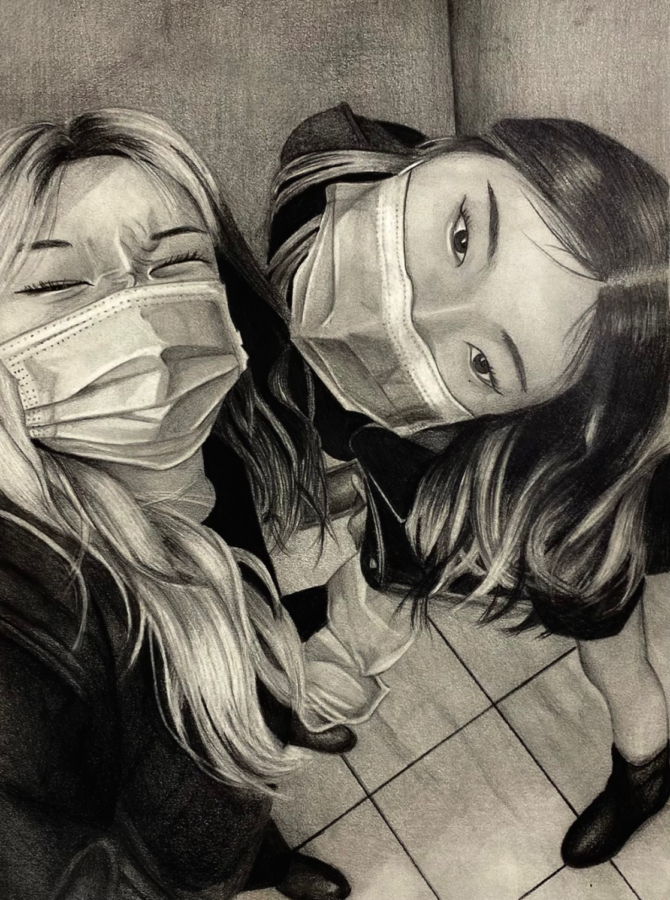 3, 2, 1, CHEESE!
by Se Ah Park ft. Jeongmin Lee
My friend and I are looking up at the world, trying to showcase a fun teenage lifestyle, while the burden of the world and the expectations surrounding being a young girl in today's society are falling down upon our shoulders. With the universal ideology of social media's depictions of ourselves needing to be perfect, my friend and I are forced to pretend as if everything is okay, when in fact, it is not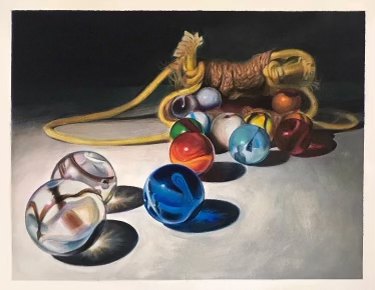 Marbles 
by Isabela Arca
This piece focuses on the brilliance of the marbles, specifically its vividness under light. To do this, I utilized several artistic designs such as including a bag to provide a rough texture that contrasts the smooth and shiny structure of the marbles and diagonal composition to make the front marbles the main focus. To achieve the desired vibrancy of this piece, I used acrylic paint for layering base colors and used colored pencils to blend shades smoothly and add finer details.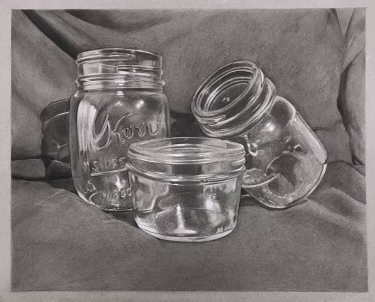 Mason Jars 
by Isabela Arca
For my first piece, I decided to make still-life glass jars with charcoal. This medium was able to capture the soft edges of the reflections as well as the intricate details. To make the jars the main focus, I put them in front of a dark background to contrast the white highlights I added with a white pencil.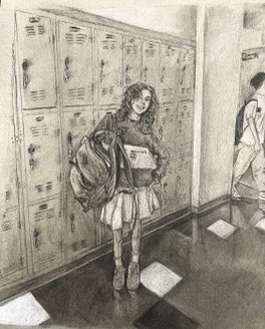 Passing Period
by Megan Mozeh
This piece is intended to capture the little moments in the hallways before heading to class that fabricate our experiences during our time in high school. We say "hi" to one another and we make the most out of our day so the smiling represents the optimism with that.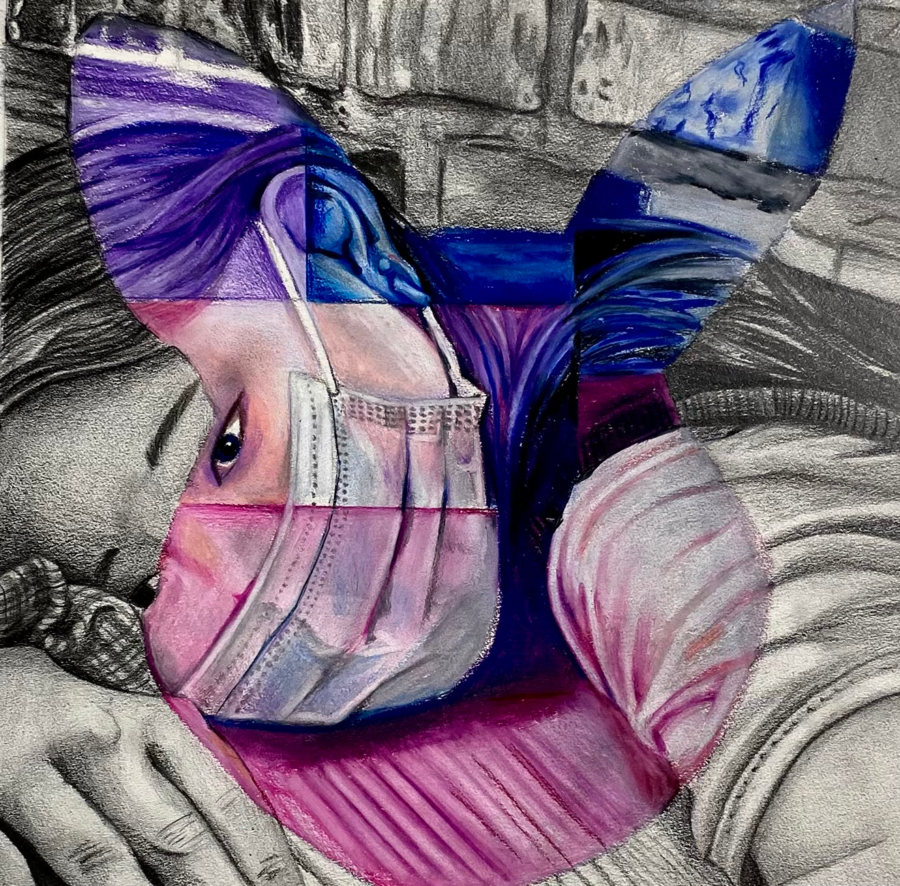 Colors of Childhood
by Se Ah Park
This art piece represents my anxieties as I get older. The bunny silhouette is inspired by my childhood doll representing my memories of childhood. The different colors in the bunny's silhouette holds the different concerns that I have as I grow. However, the colors also represent my identity from those concerns and challenges simultaneously. I am who I am now, and therefore, I have my colorful, unique identity.
Leave a Comment
Your donation will support the student journalists of Van Nuys Senior High School. Your contribution will allow us to purchase equipment and cover our annual website hosting costs.
About the Contributor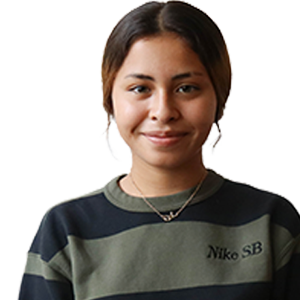 Vannesa Machado, Staff Writer
Vannesa Machado is an Entertainment writer for The Mirror. She is a senior in her first year of journalism. She likes watching TikToks and movies for fun, her favorite movie series being "Harry Potter." She likes to take naps to relax and also enjoys playing Minecraft with her friends. Her favorite performer is Harry Styles, but she likes to listen to all types of music, ranging from pop to alternative. Vannesa also likes exploring nature and would like to visit Iceland someday. She plans on going to community college and studying political science after graduating.