Pushing myself over the net
Junior Shawn Mechery talks about his passion for volleyball, his struggles with training and his goals for the future.
He plopped down onto the bench and huffed, sweat trickling down his forehead. 
It was the fifth YouTube video he'd been watching to help with polishing his spiking skills for volleyball. He felt like he could pass out any moment now.
He paused the video and grabbed the volleyball sitting at his feet. Sighing, he stood up and bounced the ball twice on the ground.
With a toss of the ball, elbow high, arm back and a snap of his wrist downward, he striked the ball across the room. It hit the wall in front of him with a snap.
His mouth fell open in surprise. He did it. He did a successful spike. 
At first, junior Shawn Mechery went through years trying to find a sport that excited him. 
He did soccer for 5th grade. It lasted only a couple months before he quit.
He did taekwondo when he was 11. But when he turned 15, he quit too.
Then, he found volleyball.
As he watched his friends from other schools play the sport, his interest was piqued. 
The summer of sophomore year, he immediately began watching clips of Olympic volleyball games and small volleyball tournaments. He even started watching "Haikyu!!", an anime about high schoolers who play volleyball.
Then, in second semester of junior year, he finally joined the team as a junior varsity player. 
Mechery has practice six times a week, Monday through Saturday. From 6 p.m. to 8 p.m., Mechery is on the court practicing with his team. By 9 p.m, he's on his way home and hitting the shower. Afterwards, he immediately starts his homework.
During practice, Mechery and his team warm up with a run around the track. They'll also do laps up and down the bleachers. Besides that, they'll go through all the different skills they need to prepare for their games, like setting, digging, hitting, blocking and passing. 
"For most of my life, other than doing soccer and taekwondo, I actually didn't physically train myself," he said, "I thought I had a disadvantage compared to the rest of my friends who were more physically active than I was. I was pretty weak and slightly overweight, which bothers me now, but I still push myself."
Mechery didn't let this stop him from catching up with his peers on the team.
"I know I'm not as strong or physically capable as others on my team," he said. "I have to push myself harder for the sport, and that's something I have been doing for a while now. But I want to continue moving forward, no matter the struggle."
Only two hours of practice at school wasn't enough for Mechery. He couldn't practice everything in that sum of time. At home, he'd do explosive workouts, like squats and deadlifts to help him in jumping higher on the court. He spent his time on YouTube, watching tons of tutorials on volleyball techniques like serving and spiking to improve his skills.
But the obstacles he faced didn't stop at the court. 
"I need my coach to understand I can only do so much because I live thirty minutes away from here by car, and an hour away by the Metro bus," he said. "Going back and forth can be challenging and it takes a lot of time."
Having to do schoolwork only adds to his stress. But he's managing what he can. 
"Doing my work on top of that when I arrive at my house is also exhausting since practice is everyday," he said. "But it's really just prioritizing the work that needs to be done. For example, if there is a project or huge assignment due tomorrow, I finish that stuff first." 
Then there's the discouragement from his parents and peers that always lingers.
"Sometimes, I wonder why I should really put my time into this sport," he said. "Everyone's like 'why are you using so much of your time just to do volleyball?' or 'this might end up pulling your grades back'. It's a constant thought and doubt sometimes crosses my mind."
Despite these struggles, Mechery finds solace in his friends on the team.
"Just having their support and having the same interests as them gave me enough motivation to keep going," he said. "When you're able to share the same interest as someone, your interest grows even stronger. I gained more friends in volleyball, which gave me motivation to stay." 
One day, Mechery hopes he and his teammates can compete in volleyball at the D1 level.
"To us, it'd be like a fairytale ending," he said. "It would show how far as a team we've come as a team that started off full of people who were new to volleyball and had very few returning players." 
Mechery hopes to continue playing volleyball after high school on a college team, but he's undecided on which college he'd like to go to. But as for a serious career, he's more interested in doing game design.
Leave a Comment
About the Contributor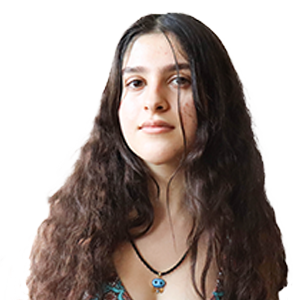 Angelina Kanno, Staff Writer
Angelina Kanno is a Current Events/Features writer. She is a junior in her first year of journalism. She enjoys writing poems and cooking — specifically a variety of pastas — in her free time. Her playlist is filled with 80s rock, especially music by Fleetwood Mac. Her favorite movie is "Star Wars: Episode III - Revenge of the Sith" because of its medieval setting and extravagant jewels. Angelina plans to major in forensic psychology at a four-year university to study the link between criminal behavior and mental disorders.