It takes no more than five minutes to get your daily pass scanned at the gate to the student parking and walk across campus to 400 building. As I take a seat, unpack my notebook and take out a pen, I still have a minute to spare before school officially starts at 8:30 a.m.
That was what it was like for the majority of the 2021-22 school year until the administration introduced two new policies in an attempt to crack down on tardiness with only a few months remaining in school.
The first policy instituted requires students using any of the alternative entrances, including the student parking lot, to arrive before 8:20 am. Students who arrive after the deadline will be redirected to the main entrance and all side gates will be immediately locked. Those who drive to campus are forced to find street parking, despite school officially starting at 8:30 am.
Along with this, tardy sweeps have become the second policy implemented in an attempt to curb tardiness during passing periods. As soon as the bell rings, administrators positioned all across campus keep a watchful eye as students move from class to class. If students are even a minute late, they are to report to the lecture hall for a tardy slip and then sent straight to class.
While on paper these new measures to prevent tardiness seem to be effective, it is an inconvenience for the entire student body.
Gates closing early is the first problem. If students are rushing to get to school, shouldn't there be more gates open to make sure people get in on time? Why would you funnel hundreds of kids through a single entrance, especially with only one faculty member scanning daily passes? It makes absolutely no sense.
I myself was late to class last week because I was stuck in the back of the long line leading to the main entrance; the only entrance opened after 8:20 a.m.. The school wants to reduce tardiness, yet those who arrive after the deadline but before school starts are then marked tardy because of the new rule.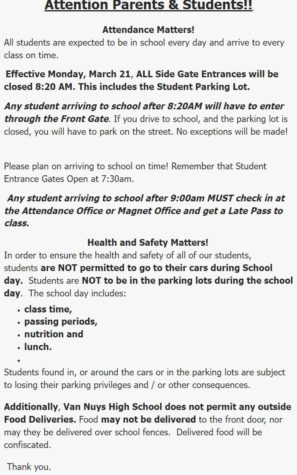 The administration stresses that students should arrive at school early to avoid the gates closing, but why should we when there is no need? In all honesty, this "threat" of closing the side gates isn't going to scare the students into getting to school on time and is only making students less likely to put up with the constant nagging
Not only are the gates closing annoying, but the tardy sweeps are as well. The constant ringing of the bells with five-minute and one-minute warnings is very extra. It confuses everyone and in the end is flat out unnecessary.
If a student is caught in a tardy swap, they are to report to the lecture hall to get a tardy slip before going to class. Isn't this extra step making students even more late than they have to be? The time the student is using to go get a slip is time taken away from them in class.
In addition, teachers are required to take attendance on their own. If a student shows up late, they will be marked tardy by the teacher on their own accord. What is the point of getting a tardy pass if you are already being marked tardy by your teacher?
This whole thing started due to the fact that there was a large number of students ditching.
Regardless of closing the gates early and tardy sweeps, students who want to ditch will find another way to ditch by perhaps even not showing up to school in the first place. These new policies are unfairly grouping students who show up after 8:20 am and those who are actually tardy.
The pressure of going to get a late pass actually encourages ditching. If students are already late and are aware of the processes they are about to go through just to get to class, they may no longer feel the need to go at all.
Hopefully, these enforcements are dropped and everyone can return back to how it normally was.