5 MINUTES WITH…
Theater Student Madeline KC-Jordan

Sophomore Madeline KC-Jordan shares what her spirit animal is, her most comedic experience and her favorite TV show.
Growing up in Sherman Oaks, Madeline never really cared about the city she grew up in, until she found it to be a great place for an actress. She attended Millikan Middle School and is currently in her sophomore year at Van Nuys High School. KC-Jordan busies herself with theater where she has most recently acted in The 25th Annual Putnam County Spelling Bee, playing the role of Olive. Outside of school, she works as a girl scout and enjoys making a difference in her community. KC-Jordan is still undecided as to what college she'd like to go to, but she aspires to get a career in film and musical theater.
1) If you could compare yourself with any animal, what would it be and why?
I think I would relate the most to a cat due to their silliness.
2) What is your favorite TV show currently?
I would say probably "Madoka Magica" because I liked the characters. 
3) What is the funniest thing that has happened to you recently? 
A guy I don't know at all asked me out today in front of my boyfriend. It was so awkward and funny. 
4) What would you do if you found a puppy on your doorstep?
If I found a puppy on my doorstep, I would hide it in my room because my cat would probably try to kill it. 
5) What is the grossest food you ever had to eat?
I like most foods but if I had to go with one, it would be blue cheese.
6) If you were famous, what would you be famous for?
I would like to be famous for performing, but I would bet that I would get famous for something dumb. 
7) If you could have any celebrity to be your best friend, which celebrity would you choose?
If I could have any celebrity be my best friend, I would choose Hunter Schafer. 
8) If you won the lottery, what would you buy with the money?
If I won the lottery, I would help my mom pay the bills and get her a new car. Then, I would go to Nepal to meet my family.
9) If you were trying out for a singing reality show, which song would you pick?
I would pick "Someone in the Crowd" from the movie "La La Land" because I like the lyrics.
Leave a Comment
Your donation will support the student journalists of Van Nuys Senior High School. Your contribution will allow us to purchase equipment and cover our annual website hosting costs.
About the Contributor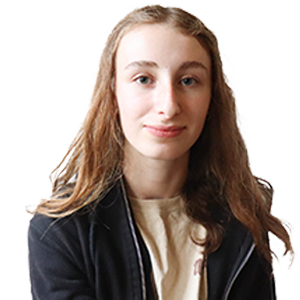 Diana Zalmanov, Staff Writer
Diana Zalmanov is a Current Events/Features for The Mirror. She is a junior in her first year of publication. Outside of journalism, she enjoys playing tennis, spending time with her rabbits and listening to music. Lately, she has been listening to Olivia Rodrigo. Her favorite song is "Drivers License." After graduating high school, she plans to go to college or university and attend medical school. She hopes that her love and passion for animals will eventually lead her to work in a shelter in the future.