Leader of the pack
Andrew Angulo. The star and team captain of the boy's varsity team.
Standing at 6'1, you can't miss him with his signature hairstyle that makes him an inch or two taller.
The team captain and star player of the boy's basketball team, #11 Andrew Angulo has been on a roll this season, scoring an average of 25 points per game and leading his team to 7 wins in the league out of 9 total games played.
Angulo wasn't always such a baller.
In fact, he tried playing multiple sports before finally landing on basketball.
"Soccer was my first sport and then I got into baseball, but then I didn't do baseball for long."
A chance meeting with his neighbor introduced him to basketball which he knew very little about at the time.
"One of my neighbors I was really close with. He was about 17 and I was around 11. I saw him when he was on the way to go play basketball. When I saw him I asked him to teach me how to play because I didn't even know how."
After playing basketball for the first time, he knew that he wanted to learn more about the sport so he could play better.
"I just started watching videos YouTube about basketball moves and NBA players because I thought it was really cool."
His love of basketball grew from watching NBA games with his dad. Of course, living in L.A., their favorite team was the L.A. Lakers. He drew inspiration from the late Kobe Bryant.
Bryant was his favorite player because he admired his work ethic and his player mentality.
When he heard the news of Bryant's death he was in shock.
"I didn't really believe it. I thought it was fake news until more people started posting about it. It was the first time in a long time I shed a tear.
He found himself hooked on hoops. He had been bitten with the basketball bug. To satisfy his obsession, he joined a variety of teams.
"I started playing at a church league, after that I played for my middle school team, and then the owner of my gym had his own travel team and he got me onto the team.".
Joining a travel team, also known as an Amateur Athletic Union team, gave Angulo the much more experience that he would have gotten from playing just for a school team.
"I played with travel team until I was in eighth grade — about two years. After that, I got on another travel team and that was where I met Coach Porter. Coach Porter brought me here.
Angulo decided to attend Van Nuys because he already had a relationship with Coach Porter.
"I started basketball here in JV in ninth grade, but got moved up to Varsity in tenth and stayed on the team since then."
Coach Porter moved Angulo to Varsity because he knew he could hold his own against tougher competition.
This has been Angulo's year to shine. He has led the team to one victory after another. In this season's first match, the Wolves beat San Fernando 54-47, then beat, Hawthorne 61-37, then Sylmar the first time 68-51, and on and on, losing only two games to Kennedy 61-52 and Sylmar in their rematch 53-52.
One school got the better of him, and he will never forget his blunder.
"The worst basketball moment I experienced this year was when I missed the shot to tie the game against Sylmar".
The final score was 53-52; in the last minute of the game the score was 53-50, with Sylmar in the lead. A Sylmar player fouled one of the Van Nuys players, so Angulo was lined up to shoot the three free throws he needed to tie the game.
He sunk the first shot. The crowd roared. He missed the second shot and the crowd gasped. The score was 53-51. Had he made it would have sent the game into overtime. So much pressure. He sank the last free throw. Sylmar squeaked by one point.
Everybody makes mistakes, but Angulo wasn't deterred. He just vowed to play better the next game. After one more game, the team remained undefeated, and won a berth in the League playoffs.
"It's our first playoff game this week so we just got to play hard, play hard, especially on defense, because the defense is what's gonna win the game," Angulo said. "Before the game, I've just got to talk to my team and make sure we're all ready. We've got to win the game.".
Pep talks are the way a team captain builds trust with his team. But basketball is not a one-man sport and the Wolves don't rely on a single player for their wins. It takes chemistry.
"We have pretty good chemistry. We've all been playing together since last May. This whole time we haven't stopped playing," He said. "So we've all grown as a team and as individuals. Everyone's game has gotten better whether it's on defense or offense, everyone's gotten better at something.".
To play his best, Angulo swears by two pregame rituals. He wears his signature varsity basketball sweater for good luck. He also eats a plate of chicken and beef combo with all-rice katsu chicken and barbeque beef at Ono's Hawaiian BBQ on Sepulveda Blvd. His routine helps calm his nerves.
Being a top-tier athlete requires lots of work in and out of school. Running helps improve his cardio for when he has to keep the pressure going all game long. He also has become a workout fanatic.
"I go to the gym for about two hours and after practice every day. I just go and run two-mile runs every other day. Also, I use the treadmill at the gym."
Quarantine gave Andrew time to develop a new pastime. Weight lifting is what he set his mind to.
"At the end of 2020 I started lifting and I wasn't taking it seriously," he said. "I was just doing it to get bigger and keep in shape."
But at the beginning of 2021, something felt different for him. He was hooked by the personal challenge that weightlifting offers.
" I love the pain that makes you keep pushing yourself. I just love that feeling where you want to stop but you just keep pushing."
No matter what happens in the playoffs, Angulo is planning to continue his basketball career. His plans are to play on a junior college team after he graduates, and then get a scholarship to a division one school.
His dream is to one day play for the UCLA Bruins.
Leave a Comment
About the Contributor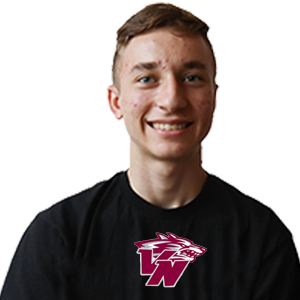 Antony Nepeyvoda, Design & Layout Editor
Antony Nepeyvoda is the Design and Layout Editor for The Mirror. He is a senior in his second year of journalism. He enjoys thinking of new ideas for different projects to stay busy. His current project is editing a music playlist. Antony has been in the chess club at school for a little bit less than a year now and has lots of fun playing it. Antony is a very competitive person and likes competing in tournaments for video games and e-sports. He looks forward to graduating high school and majoring in Mechanical Engineering.