Fall in love with some unconventional films this Valentine's Day
Here are 10 movies that defy the conventional drama and cliché endings of love stories.
Valentine's Day is known for its mushy rom-coms and heart-shaped chocolates and I've honestly had my fill of it. Spend your night watching some weird movies.
---
YOUTUBE

1. Heathers (1988)

Genre: Comedy/Teen

Watch on: Amazon Prime Video, Youtube

At Westerburg High where cliques rule, jocks dominate and all the popular girls are named Heather, it's going to take Veronica and a mysterious new kid to give teen angst a body count.

YOUTUBE

2. Head On aka Gegen Die Wand (2004)

Genre: Drama/Romance

Watch on: Amazon Prime Video

With the intention of breaking free from strict familial restrictions, a suicidal young woman sets up a marriage of convenience with a forty-year-old addict, an act that will lead to an outburst of envious love.

3. Twentynine Palms (2003)

Genre: Drama/Crime

Watch on: Amazon Prime Video

As David and Katia wander around the desert arguing, making love and misunderstanding each other provided the language barrier between them, the menacing desert landscape has other plans for them.

YOUTUBE

4. Summer with Monika (1953)

Genre: Drama/Romance

Watch on: Amazon Prime Video, Apple TV

In the midst of a love spell, Monika teaches Harry to give up his inhibitions, and all is good– until Monika's true nature is revealed.

5. More (1969)

Genre: Drama/Romance

Watch on: ​​The Criterion Channel, Amazon Prime Video

A recent graduate hitchhikes from Germany to Paris, where he meets an American expatriate. They chase the sun to Ibiza, but their idyllic island life degenerates when she introduces him to heroin and they get addicted.

YOUTUBE

6. Lovers of the Arctic Circle (1998)

Genre: Romance/Drama

Watch on: Amazon Prime Video, The Criterion Channel

When Otto and Ana become teenagers, they begin a sexual relationship which they hide from their parents. The two fall deeply in love and seem destined to spend the rest of their lives together. However, their relationship is tested when Otto's mother dies and the two are separated.

YOUTUBE

7. Heavenly Creatures (1994)

Genre: Thriller/Drama

Watch on: Amazon Prime Video

Based on a true story, two teenage girls share a unique bond; their parents, concerned that the friendship is too intense, separate them and the girls take revenge

8. Red Lips (1995)

Genre: Horror

Watch on: Amazon Prime Video

Grimey, 90's shot-on-video punk vamp flick! Caroline likes to give blood because she is broke and it's easy money. Everything is great until one day the doctor injects her with a serum that gives her a need for blood.

YOUTUBE

9. Basic Instinct (1992)

Genre: Thriller/Mystery

Watch on: Hulu, Youtube

Verhoeven's big-budgeted, iconic, off-the-chain horny noir. A violent police detective investigates a brutal murder that might involve a manipulative and seductive novelist.

YOUTUBE

10. Possession (1981)

Watch on: Amazon Prime Video, The Criterion Channel

Genre: Horror, Fantasy, Psychological thriller

A young woman mysteriously leaves her husband and child. The husband is determined to find out why and starts to follow her. He suspects it's because of a lover's quarrel. He gradually finds out more and more strange behaviors and bizarre incidents that might point to something more.
Leave a Comment
About the Contributor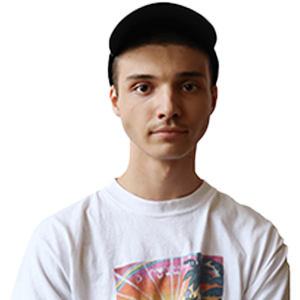 Jaden Hantman, Staff Writer
Jaden Hantman is an Entertainment writer for The Mirror. He is a senior in his first year of journalism. His interests include listening to music, watching movies — "Mulholland Drive" is his favorite — and studying history. He hopes to travel the world, particularly to Egypt where he wishes to visit the king's chamber. Jaden plans to major in history and eventually become a history teacher.