10 must-watch Christmas movies to warm your heart
Gray skies and the cold air calls for a stay-at-home Christmas movie marathon.
Shorter days and longer nights accompany the cooler weather. As the sky becomes gray and the night lit with strings of lights, it is a symbol that the holidays have arrived. With this brings feelings of nostalgia; the feeling of the mug of hot chocolate between your hands, the sound of the crackling of the fireplace and the smell of the Christmas tree. What better way to celebrate the holidays than with a movie? Here is our list of the top 10 Christmas movies, perfect for those in fluffy socks and an ugly Christmas sweater!  

Youtube

1 | Dr.  Seuss' How The Grinch Stole Christmas (2000)

Genre: Family/Fantasy 

Watch on: Hulu

"Dr.  Seuss' How The Grinch Stole Christmas" holds the iconic performance of Jim Carrey. A Christmas movie about a bitter green Grinch who plans on ruining Christmas for everyone in Whoville without realizing the lesson that is awaiting him is such a classic and a must-watch when thinking about the holiday season.

YOUTUBE

2 | The Nightmare Before Christmas (1993)

Genre: Family/Fantasy

Watch on: Disney+

"The Nightmare Before Christmas" is a seemingly innocent movie with character Jack Skellington, voiced by Danny Elfman, attempting to bring Christmas to his town. This movie is another classic that can be appreciated for its portrayal of innocent intentions.

YOUTUBE

3 | Elf (2003)

Genre: Family/Comedy

Watch on: HBO Max

"Elf," is a movie about a human who had been raised as an oversized elf on a journey to NYC to find himself in the real Christmas spirit and with a mission to uncover some secrets. A great movie to watch with family to have some good laughs to spread the holiday joy around.

YOUTUBE

4 | Home Alone (1990)

Genre: Family/Comedy

Watch on: Disney+

Home Alone, arguably a Christmas classic, is about an eight-year-old who was mistakenly left home alone. At first, he is thrilled by the idea of having no parental supervision, but things take an interesting turn when forced to defend himself and his house after burglars try to break in while his family is on Christmas Vacation. Home Alone is one movie within a series, so this may be binge-worthy for most!

YOUTUBE

5 | Polar Express (2004)

Genre: Fantasy/Family

Watch on: HBO Max

On a cold Christmas Eve, a young boy goes on a magical adventure to the North Pole on the Polar Express to learn what Christmas is all about. "Polar Express" is known for its character design that makes them look real and a little creepy but still full of Christmas spirit. 

YOUTUBE

6 | A Christmas Carol (2009)

Genre: Fantasy/Family

Watch on: Disney+

A retelling of Charles Dickens's novel about a wealthy, bitter man that is taken on a journey to find themselves with the help of the Christmas spirit, quite literally. 

YOUTUBE

7 | The Santa Clause (1994)

Genre: Family/Comedy

Watch on: Disney+

After causing Santa Clause to fall off his roof, a man finds himself having to take up the jolly workload that comes with being Santa after he finds himself magically recruited to take his place. This movie is sure to make you go h0-ho-ho because of the comedic relief it brings.

YOUTUBE

8 | Santa Claus is Comin' to Town (1970)

Genre: Musical/ Fantasy

Watch on: Vudu

The stop-motion backstory, Santa Claus is Comin' to T0wn, is the story of how Santa and all the cheery Christmas traditions we've come to know and participate in really came to be. 

YOUTUBE

9 | Gremlins (1984)

Genre: Horror/Comedy

Watch on: HBOMax

Horringly cute, "Gremlins", tells the story of how the holidays brought a young man and a bizarre new pet together, with even more bizarre rules that must be followed. Inevitably the rules are broken and a ripple of consequences is unleashed upon the town. Although it is not much of a Christmas story, it is a must on the list because of how cute they are. 

YOUTUBE

10 | Prancer (1989)

Genre: Family/Fantasy

Watch on: Hulu, Amazon Prime Video

Last but certainly not least, we have "Prancer". It is an underrated one, but it is one about a reindeer and a girl. Refusing to give up her belief in Santa Claus, a child, Jessica Riggs, discovers a hurt reindeer in the woods named Prancer. While she takes care of the wounded creature with the help of a veterinarian, there may be problems ahead of herself and her family.
Leave a Comment
About the Contributor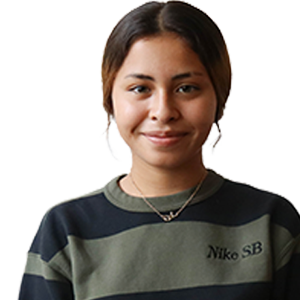 Vannesa Machado, Staff Writer
Vannesa Machado is an Entertainment writer for The Mirror. She is a senior in her first year of journalism. She likes watching TikToks and movies for fun, her favorite movie series being "Harry Potter." She likes to take naps to relax and also enjoys playing Minecraft with her friends. Her favorite performer is Harry Styles, but she likes to listen to all types of music, ranging from pop to alternative. Vannesa also likes exploring nature and would like to visit Iceland someday. She plans on going to community college and studying political science after graduating.