Who is LAUSD's new superintendent?
Alberto Carvalho, who has been Miami-Dade County Public Schools superintendent since 2008 and received national recognition for his leadership, will be the next superintendent of LAUSD.
The seven-member Los Angeles Unified (LAUSD) Board of Education unanimously elected Alberto M. Carvalho to be the next superintendent of schools Thursday.
"Alberto Carvalho brings the deep experience we need as an educator and leader of a large urban district to manage L.A. Unified's ongoing response and recovery from the COVID-19 pandemic," Board President Kelly Gonez said in a statement released by LAUSD.
Carvalho has been the superintendent of Miami-Dade County Public Schools (MDCPS), the fourth-largest school district in the US with 354,592 students and nearly 500 schools, since 2008.
"It has been the privilege of my life to serve as superintendent of Miami-Dade County Public Schools," Carvalho said in the statement. "For the last three decades, I have selflessly dedicated my professional career to the children of Miami's diverse community, and I am hoping to bring that same passion, compassion and commitment to the students and families in L.A. Unified."
Carvalho began his career as a teacher in the '90s at Miami Jackson Senior High in the same district he has been the head of for the past 13 years. Experience as an educator was something former LAUSD Superintendent Austin Beutner lacked.
After four years of teaching physics, chemistry and calculus, Carvalho became an assistant principal.
Soon after, he was brought to work downtown by the superintendent at the time where he oversaw federal programs and later became the district's Chief Communications Officer and then the Associate Superintendent of Intergovernmental Affairs, Grants Administration, Marketing and Community Services.
On the eve of being named Miami-Dade's superintendent in 2008, emails surfaced suggesting an affair with the local newspaper Miami Herald's former education reporter. Carvalho first questioned the emails' authenticity but later said his emails were inappropriate.
The controversy did not stop him from being hired as superintendent of the district where he went on to substantially improve programs and receive national accolades.
Under Carvalho's leadership, the graduation rate has risen from 58 percent to 93.1 percent.
He has also expanded choice options in Miami-Dade to more than 1,000 offerings that include bilingual programs, fine and performing arts, biotechnology, engineering, robotics, aviation, forensic sciences.
Carvalho's recognitions include Florida's 2014 Superintendent of the Year, the 2014 National Superintendent of the Year, the 2016 winner of the Harold W. McGraw Prize in Education, the 2018 National Urban Superintendent of the Year and the 2019 National Association for Bilingual Education (NABE) Superintendent of the Year Award.
Under his leadership, the district won the 2012 Broad Prize for Urban Education, awarded to public school systems that have demonstrated the greatest overall performance and improvement in student achievement while narrowing achievement gaps, for increasing the graduation rate among Black and Hispanic students from 14 to 57 percent for Black students and 14 to 68 percent for Hispanic students between 2006 to 2009. This brought more than $500,000 in scholarships to Miami-Dade students. 
Learning the next superintendent was from Miami left students and staff skeptical in fear that he may eliminate the mask mandate at LAUSD due to Florida's reputation while omicron cases are rising in L.A. County.
"When I first heard he was from Miami I was really worried because no one in Florida wears masks and the state just overall has had a careless response to covid-19," senior Fatiah Lawal said.
However, Carvalho has proved to be the opposite and has been a leader in the county for covid-19 response in schools. When Florida Gov. Ron DeSantis banned mask mandates in schools, Carvalho publicly rebuked and defied the ban and issued a mask mandate for students, citing guidance from medical professionals.
"We have been a school system that's been guided by science all along, We've navigated this awful pandemic with the expert advice of public health and medical experts, and we're not going to abdicate that position," Carvalho said in a Face of the Nation interview in August when challenging the governor's ban. "It is sad that currently in America we see this rhetorical narrative that's deeply influenced by politics rather than medicine and the wise advice of those who know best what's in the best interests of our students and the professionals who teach them."
"The new superintendent should focus on maintaining our current covid-19 response with the masks and tests with the new omicron variant being far more transmissible," senior Isabella Rivera said.
Carvalho dropped MDCPS's mask mandate in early November citing falling covid-19 cases.
MDCPS does not have on-site coronavirus testing and all recorded cases are self-reported by parents of students or from the Florida Department of Health. Because of this, the data is skewed, but to compare, LAUSD had 783 positive cases from Dec. 4 to 10 and MDCPS had 56.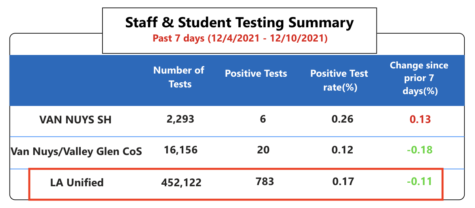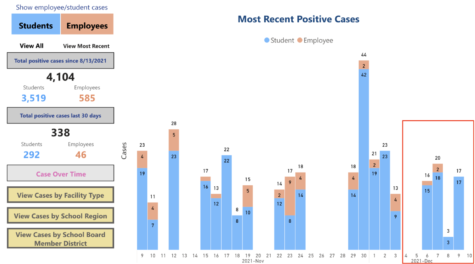 While there is no testing or vaccine mandate, the district has partnered with the University of Miami Health Pediatric Mobile Clinic to provide covid-19 tests and vaccinations to eligible students.
The #COVID19 vaccine provides the best opportunity for our path forward. @MDCPS, in partnership with @UMiamiHealth Pediatric Mobile Clinic, continues to offer testing, school-required vaccines and the COVID-19 vaccine to eligible students throughout the District. #MDCPSWellness pic.twitter.com/KYNtugjWGq

— Alberto M. Carvalho (@MiamiSup) September 9, 2021
Carvalho will bring his experience as a Portuguese immigrant to support the diverse student body of LAUSD will nearly 90 percent non-white students.
"As an immigrant, I'm happy to hear the new superintendent has an understanding of what it's like to be an immigrant and the type of support newer immigrants need in English learning," senior Zannatul Mim said. "I'm hoping he'll improve the District's programs to help low-income students that make up the majority of LAUSD." 
This is not the first time Carvalho considered taking a leadership role at a different school district.
In 2018, Carvalho accepted the job of leading the nation's largest district only to turn it down during a televised emergency meeting of the Miami-Dade County School Board during which community members urged him to stay.
New York City Mayor Bill de Blasio was caught off guard but the change was due to how much freedom Carvalho would have in picking his staff.
This time, things seem to be different. Carvalho's contract is set to expire in 2023. An investigation was also launched last year by the district's Office of the Inspector General that found that Carvalho's solicitation of a $1.57 million donation to teachers from his nonprofit "created an appearance of impropriety." 
His contract with LAUSD will be finalized Tuesday, Dec. 14, and Carvalho has not yet announced when his first day of work in L.A. Unified will be.
Leave a Comment
About the Contributor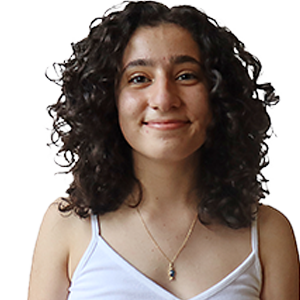 Ani Tutunjyan, Executive Editor & Print Editor-in-Chief
Ani Tutunjyan the Executive Editor and Print Editor-in-Chief for The Mirror.
She joined the program in her freshman year as a Current Events writer and she is now in her fourth year of publication as a senior.
Ani has won a number of regional and national awards for her News and Features writing. Outside of journalism, she is involved in TASSEL Cambodia and Operation Period. In her free time, she enjoys listening to music and cooking.  She would love to go to Italy to experience the rich history and beautiful architecture. 
Ani intends to major in law or journalism when she applies to colleges this fall.