LAUSD may push back deadline for student covid vaccinations to fall 2022
The Board of Education will vote Tuesday whether to delay the vaccine mandate deadline until the Fall 2022 semester.
The Los Angeles Unified School District (LAUSD) is considering delaying the transfer of 34,000 students who ran out of time for the covid-19 Jan. 10 vaccine deadline until the beginning of the Fall 2022 semester.
Students who did not already have their first dose earlier this week were out of time to complete the five-week vaccination cycle (three weeks between doses and another two weeks to be considered fully vaccinated).
The Board of Education will make a final decision on when the vaccine deadline will be enforced on Tuesday. However, Interim Superintendent Megan K. Reilly suggested the sudden change of plans is finalized in LAUSD's Friday press release and message to parents.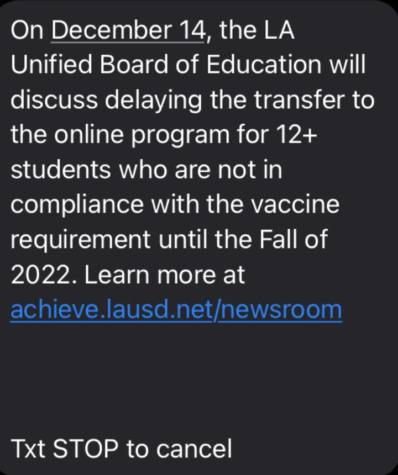 The statement explained that the possible delay is due to high vaccination rates rather than the thousands of students who are not yet vaccinated.
86.52 percent of students aged 12 and older are in compliance with the mandate meaning they are either fully vaccinated, received at least one shot or obtained a medical exemption.
"Los Angeles Unified applauds the 86.52 percent of students aged 12 and older and their families who are in compliance with the vaccine mandate, and the many other families who are still in the process of adding their vaccine records to the system," Reilly said. "This is a major milestone, and there's still more time to get vaccinated!"
The District continues to encourage students to get vaccinated. "The science is clear – vaccinations are an essential part of protection against COVID-19," Reilly said.
Due to the pending delay, covid-19 testing policies for the second semester will change.
When the vaccine mandate was first established, the District planned to only administer a baseline test and remove covid-19 testing altogether.
Now, LAUSD will require baseline and weekly testing of all students and staff, regardless of vaccination status, through the month of January. Starting in February, only students without proof of vaccination will be required to test regularly.
The press release also explained that the suspended enforcement of the student vaccine requirement is for LAUSD to support students who are vaccinated but need assistance uploading their records to Daily Pass, improve vaccination rates via accessible school-based clinics,  provide ongoing support in communities where students and their families have been hardest hit by the pandemic, offer educational opportunities and outreach to families about the vaccine and strengthen existing efforts to provide high-quality academic offerings for all students, both in-person and online.
The decision to delay the vaccine mandate comes at a time when the omicron variant is on the rise in L.A. County with six cases reported as of Dec. 10.
While LAUSD's reasoning for the temporary suspension focuses on the positive, other factors seem to suggest the delay.
The district's independent study program, City of Angels, to which the 34,000 unvaccinated students would be shifted to unless switched out of LAUSD entirely, has had staffing shortages with more than 16,000 students this year. The 34,000 total by itself would make up one of the 25 largest school systems in California. The school is simply not equipped to take on the influx of students it would receive if LAUSD did decide to maintain the Jan. 10 deadline for the mandate.
LAUSD would also lose money from the unvaccinated students who chose to unenroll from the District altogether. School districts receive money per pupil per enrollment and per funded average daily attendance (ADA). Total ADA is defined as the total days of student attendance divided by the total days of instruction. This determines how much money the district will receive per student for their attendance — the more they attend, the more money the district receives.
The District receives $26,355 per enrollment and $26,463 per ADA.

A 1 percent decline in enrollment is approximately $52 million in revenue loss. 13.48 percent of students remain unvaccinated, and while most would opt into shifting to City of Angels, some would leave LAUSD entirely, resulting in a loss in revenue.
Thousands of parents have been protesting the vaccine mandate. Most recently, two parent groups, the California Chapter of Children's Health Defense and the Protection of the Educational Rights of Kids, filed for a petition against the covid-19 vaccine mandate for students which was denied by the Los Angeles Superior Court judge on Wednesday.
Despite not winning the case, the suspension of the mandate is a win for parents not wanting their kids to be vaccinated against covid-19.
LAUSD also announced Thursday that it would be welcoming a new superintendent, Alberto Carvalho who has led Miami-Dade County Public Schools since 2008.
While initial reactions may have suggested that the delay on the vaccine mandate is related to Carvalho who has been superintendent in a state that has banned mask mandates and in a district that does not administer covid-19 testing, it has been clear that those are not where Carvalho's views lie.
Carvalho defied the Florida governor's order and issued a mask mandate for students, citing guidance from medical professionals.
He dropped the mandate in early November citing falling coronavirus cases.
Carvalho encourages Miami students to get vaccinated, and the district has partnered with the University of Miami Health Pediatric Mobile Clinic to provide covid-19 vaccines to eligible students.
While the vaccine mandate delay seems to be official for students, reversals will not be made for the 496 LAUSD employees fired for not meeting mandate deadlines.
Leave a Comment
Your donation will support the student journalists of Van Nuys Senior High School. Your contribution will allow us to purchase equipment and cover our annual website hosting costs.
About the Contributor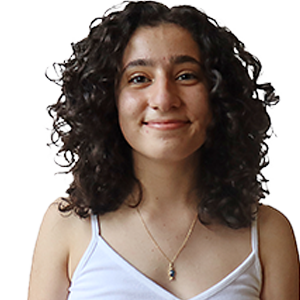 Ani Tutunjyan, Executive Editor & Print Editor-in-Chief
Ani Tutunjyan the Executive Editor and Print Editor-in-Chief for The Mirror.
She joined the program in her freshman year as a Current Events writer and she is now in her fourth year of publication as a senior.
Ani has won a number of regional and national awards for her News and Features writing. Outside of journalism, she is involved in TASSEL Cambodia and Operation Period. In her free time, she enjoys listening to music and cooking.  She would love to go to Italy to experience the rich history and beautiful architecture. 
Ani intends to major in law or journalism when she applies to colleges this fall.