How do I deal with racism from someone I thought I could trust?
An Asian-American student processes her volatile emotions in a letter to America after a racist incident left her shaken.
Fatima Dela Cruz writes a letter to America after a racist incident against her identity as an Asian-American left her shaken. Her attempts to process her emotions, betrayal, anger and anxiety,  into words leaves her more self-confident because of it.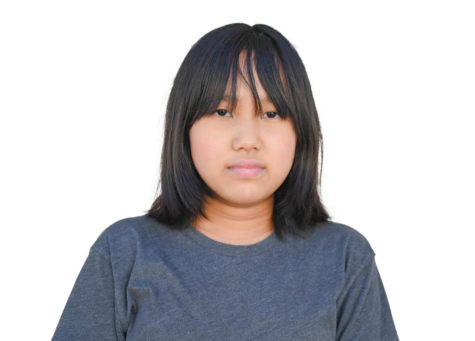 Dear America, 
It's 10 p.m. and I'm scrolling through social media, distracting myself from the fact that I have school the next morning by watching videos about any topic from animals to the Russian Revolution. 
Ding! A notification from Instagram popped up on my screen. I see it's from one of my best friends, Rose. I have a very close friend group from middle school, consisting of me, Rose, Leah and Yamilet. Rose and I were just joking around on social media, like any other day. Right? Rose: Sorry, my little dog eater.
What? I was in a state of shock. It felt like a tsunami was about to wash over me.
But that's when I realized that stereotypical comment, paired with puppy-eyed emoticons, meant a condescending, mocking tone. I struggled to find the words to say. I felt like a metal ball going rampant in a tiny box. I just set on saying what came on my mind first.
Me: Is this a joke?
I hoped I sounded assertive. My mind felt one side experiencing absolute stillness while the other was in absolute havoc. Tick. Tick. Tick. Is what I heard waiting for the seconds to pass by, waiting for a response to come. A response comes. It's like waiting for a letter from that specific someone for 10 years and finally receiving it, but being anxious to open it. All I got was a "sorry." It was as if that "sorry" was taunting me, trying to get a reaction from me. I was livid. How are you going to use racist comments against Asians, but continuously partake in Asian culture? If I'm such a dog eater, what about your favorite singers and actors that are predominantly Asian? What about the boba you drink? How about going to Asian restaurants for a celebration? Do you only see our culture to benefit you? Do you not see our people? Everything around you involves Asian culture, how are you going to disrespect its people? How hypocritical. How annoying. Whatever.
I sneered to myself at the thought of something so stupid. Eventually, I decided to not say anything. I blocked Rose on social media. Having no one to vent my frustrations so late at night, I went to sleep. Putting it at the back of my mind, I prayed I would forget about the whole ordeal. I didn't forget. I wanted to tell Leah and Yamilet about what Rose did since they were against racism. I anticipated for them to talk to Rose about it, since all three of them go to the same school. But, I felt agitated. I was afraid of confrontation but I needed to stand up for myself and those of my race and ethnicity. For more support I reached out to my friends from school, Alexa and Ronnie.
Me: Dude. Look at this. I sent a picture of my conversation between Rose and I.
Alexa: Oh my god. What the?
Me: I know. I'm so angry.
Alexa: Fatima, that's not okay.
Me: Should I tell Rose's friends? Because I don't know anymore.
Alexa: Yeah, you should.
Ronnie: Dude what? That's so messed up. You should tell them.
Hearing this made me feel more confident. My heart was beating so fast I thought it would tear out of my chest and run a marathon. It took less than a minute for me to muster up the courage to tell Leah and Yamilet. Although the conversation between the both of them was kept short, it felt like I was talking to them for hours. Yamilet felt sympathetic for me, telling me they would talk to Rose about it and ask for an apology. Leah also felt sympathetic, but apathetic at the same time. It was just a "I'm sorry about that," then making the conversation about her. I convinced myself that wasn't true; she just felt sorry for me but didn't know how to convey it properly. Yeah they're trying their hardest. Don't doubt them. I assured myself. I just set on going to school without a second thought.
As the exhausting and repetitive routine of school finally ends, I lay on my bed for a while, thinking to myself. Then my brother bursts into the room suddenly, like always. He comes onto the bed and we talk about our day and life in general. Out of the blue, the incident pops into my head as we talk. Should I tell him about what happened? I questioned myself for a while, going back and forth. I decided to tell him because I thought I would feel better about venting my problems. I did not.
"Hey kuya, how would you feel if someone made an offensive comment towards you? "What do you mean? Why are you asking?" He was confused on why I would ask such a thing so randomly?" "Well, it's because one of my close friends called me a dog eater," I felt a lump in my throat talking about that whole ordeal again. "So? I would probably laugh at it. It's funny. I think you're just being too sensitive," he blurted out, being brutally honest. Oh. It felt like a million glass pieces just shattered. Am I really just overreacting? What if it was just some dumb joke? I changed the topic as I didn't want to keep talking about it any further. Soon, he left the room. Haah. I audibly sighed. Now what do I do? You know what? Forget about it. I don't care anymore. I felt empty, even when I vented to those closest to me, I just felt worse. Since ranting my problems out didn't help me at all, I wanted to deal with it on my own.
The next day at school, we're talking about immigration and racism in my English class. This reminded me of the incident again. Distracting myself from class, I thought about Leah and Yamilet. They preach against racism, yet when their friend is racist, they don't care? Does it only apply to those you're not close to? Racism is racism. So why do they still talk to Rose? Do they not care? "Hello Fatima? Are you there?" My classmate called out to me, bringing me back to reality. "Oh sorry, I got distracted for a second" I concentrated in class after that. Ring! The loud bell goes off as a stampedes of students run off to go home. While walking, I think of Leah and Yamilet. I didn't know whether or not to keep on talking to them.
When I'm reminded of those times I've cried at nights and felt horrible about my own identity because of what happened, it helps me feel more confident in my decision. I decided not to talk to Rose, Leah and Yamilet ever again. It would be better for me to not talk to them as it would just bring bad experiences and that they were awful as friends. Cutting them off would make me happier overall. So I did, I cut all contact with them on social media. This also motivated me to focus on my studies more and improve my grades. For the next few days, I forgot about the incident and started to see improvements in my classes. I started to feel content with how my life was proceeding.
Since then, I've met new people who I became friends with. They are of a different background than me but still treat me no less. I'm grateful for depressing experiences leading me to experiences full of joy with others who appreciate my identity and culture. The pandemic caused an explosion of racism and hatred across the nation. Especially towards Asian-Americans like myself. But in such hard times, our generation has taught that being an American is not just being born in America. Being an American is being able to unite and accept one another no matter what background, gender, sexual orientation, and religion. This togetherness is what makes America, America.
Leave a Comment