Students stay at home amid arson threat made by Instagram Account
Hallways were uncharacteristically quiet as many students did not attend school due to a threat made over Instagram by a private account "vnhs_burnn" warning individuals to "Stay tuned on friday [sic]."
An Instagram account that was viewed as a possible threat against the school caused attendance to plummet on Friday as many students stayed home.
The private account "vnhs_burnn" created Thursday simply warned "Stay tuned on friday ."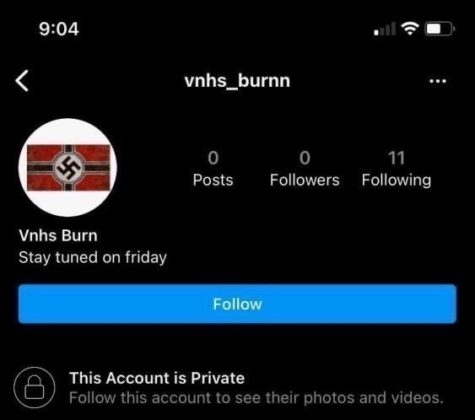 The account was reported to the administration by students and immediately referred to LAUSD police. The police investigated and determined that it was not a credible threat.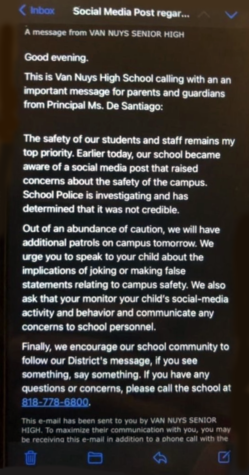 Parents received an email from Principal Lourdes De Santiago and a call from Assistant Principal Anabel Bonney Thursday night around 8:25 p.m. informing families about the threat and encouraging parents to monitor their child's social media activity.
The message also explained that there would be additional patrols on campus Friday for extra caution which has been executed in the form of administrators and campus aides roaming the campus.
The school has responded with two shelter-in-place drills during second and fifth period which protects students and teachers from airborne contaminants and other outdoor environmental hazards such as fires related to a burn threat. Windows and doors must be closed and all lights and other electrical systems must be turned off.
The social media threat comes in light of the recent shooting at Oxford High School in Michigan on Tuesday that killed four students and injured seven. 
The shooter, sophomore Ethan Crumbley, posted a photo of the gun believed to be used in the shooting to Instagram days before.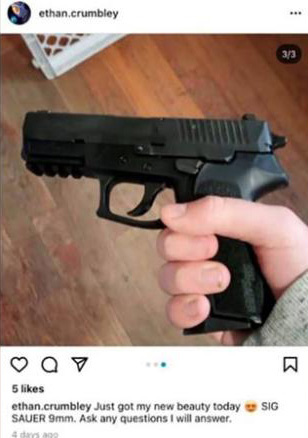 Following the shooting, there were over 60 copycat threats in Michigan Thursday causing dozens of Michigan schools to close today.
Despite the threat being found uncredible and the extra cautionary measures being taken at school, many students did not feel safe attending school on Friday following the Oxford High School shooting for which there had also been warnings prior to the shooting such as Crumbley's Instagram post and teachers raising concerns about his behavior.
"My parents were paranoid about the threat especially because of the recent shooting in Michigan," junior Kyla Villanueva said. "I honestly think that it's annoying and weird that someone would decide to make a threat and an account during this time and I feel like it's ignorant to do such a thing a few days after the recent shooting."
"Why would I take the risk if there was a recent school shooting?" senior Angelina Salazar said. "This threat makes me feel unsafe because who is that psychotic to make a joke like that."
The Instagram account's profile picture the threat came from is a red and black Nazi flag with a swastika in the center of it surrounded by a white circle.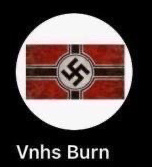 The Nazi-associated arson threat came on the fifth night of Hanukkah, a Jewish festival commemorating the recovery of Jerusalem at the beginning of the Maccabean revolt in the 2nd century.
Because the threat seems to be a direct attack on Jewish students, many have stayed home today for their safety.
"Regardless of whether or not the threat is credible, the fact that the threat was directed towards one group of people is very disturbing, especially during Chanukkah," sophomore Noa Levy said. "I don't understand how the account is still active on Instagram, and I don't feel the matter is being taken seriously."
A junior, who wished to remain anonymous, is also very concerned for their safety and did not think it was worth risking their well-being to come to school regardless of the police declaring the threat is not credible.
"When I saw the Nazi flag I could like feel my heart drop," they said. "I've never been threatened like this before and I was just starting to be more open me being Jewish because I felt safe. I stayed home because I didn't want to risk my life in order to get my education. In my eyes, it's not worth dying over a history test."
The account has not been taken down by Instagram.
The school faced a similar social media threat in October 2017 through Snapchat. The 2017 threat was a shooting threat and also left classrooms mostly empty.
It is also unclear whether the current arson threat is related to a trash can being set on fire on Wednesday for which there would be legal repercussions according to Assistant Principal Bonney's intercom announcement on Wednesday during sixth period.
North Hollywood High School, another LAUSD school in the San Fernando Valley, has had more than five incidents of trash cans being set on fire by one student who has faced disciplinary action and who has no clear motive.
Leave a Comment
About the Contributor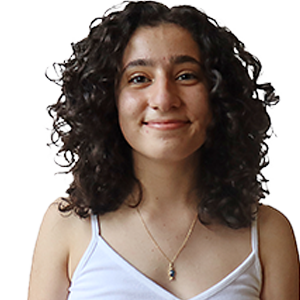 Ani Tutunjyan, Executive Editor & Print Editor-in-Chief
Ani Tutunjyan the Executive Editor and Print Editor-in-Chief for The Mirror.
She joined the program in her freshman year as a Current Events writer and she is now in her fourth year of publication as a senior.
Ani has won a number of regional and national awards for her News and Features writing. Outside of journalism, she is involved in TASSEL Cambodia and Operation Period. In her free time, she enjoys listening to music and cooking.  She would love to go to Italy to experience the rich history and beautiful architecture. 
Ani intends to major in law or journalism when she applies to colleges this fall.