5 MINUTES WITH…
Key Club Vice President

Key Club Vice President Sofia Kiremijian talks about her organization and the duties that come with her position.
What is Key Club about?
"Key Club is not a club that makes keys, despite what the name might make some people believe. In actuality, Key Club is a student-led organization that provides its members with service opportunities, allowing for leadership development and character building. One of our main goals is to raise money for the Pediatric Trauma Program, as well as help members earn service hours."
Who or what inspired you to take on the role of vice president?
"The people who inspired me to take on the position of vice president were the previous president and vice president of Key Club. I was only a freshman then, and I really loved the club, but I felt too intimidated to run for a position. Still, they really pushed me to run and I did. I ended up getting the position and I've been vice president for two years now. I can't really emphasize how great their impact was on me because they showed me what it meant to be a leader and helped me gain the confidence I needed."
What do you enjoy most about being vice president?
"My favorite aspect of being vice president is that I can help make an impact in Key Club. As vice president, some of my main duties include stepping in for the president when they're busy and keeping contact with the 'kiwanis', which is the group that funds our club. My favorite task is nominating members for member of the month. I'm tasked with nominating members who I think deserve to be recognized for their hard work. It's honestly the best feeling seeing a member get an award because they really do deserve it, and you can see how much it motivates them to continue participating in Key Club."
What is the most challenging part about your position?
"There's honestly a lot that stresses me out. First, there was the paperwork we have to do monthly, which isn't too much, but if you forget to do it then it doesn't really only affect you, but the entire club. Another stressful thing for me would be speaking in public. I don't really feel like I'm the best leader or the best public speaker, but as vice president you have to hold weekly meetings in front of the entire classroom, as well as prepare the presentation each week. It can be stressful because you can't really tell what the members are thinking and I want to be as interesting as I can in order to retain members."
What has being vice president taught you?
"I've learned so much, from how to be a leader, to how to work with others as a team. I can truthfully say I've grown a lot and it's really all thanks to being vice president. I also feel like I've become more confident in myself and more outgoing. In my freshman year I was more reserved and didn't try out for anything, afraid I wouldn't get in, but becoming vice president taught me that it was okay to fail sometimes because it can lead me in a better direction."
What are some of your weaknesses as a leader that you would like to improve on?
"I'd like to improve on reliability. Sometimes, I feel like I rely too much on other people telling me what to do, waiting for someone to push me forward because I'm always too afraid to take the initiative. Despite that, I have to remember that as a leader there are people relying on me to lead them. This is one of the main things I'd love to improve on. Eventually, I'm sure I will because being vice president of Key Club helped me grow so much in the last two years."
Why should people join Key Club?
"For one, it's so much fun. All the service events, fundraisers and socials are so much fun as well. We also have two main events, one called the 'Fall Rally South' where we go to Six Flags, and a distraction convention where all Key Clubs in the United States meet up and spend time together for a weekend. You get to make lots of great memories and friends. You also gain tons of benefits from joining and obtain a lot of service hours from events. Plus, it looks good on college applications."
Leave a Comment
Your donation will support the student journalists of Van Nuys Senior High School. Your contribution will allow us to purchase equipment and cover our annual website hosting costs.
About the Contributor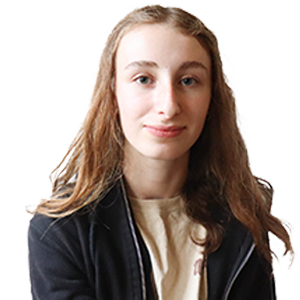 Diana Zalmanov, Staff Writer
Diana Zalmanov is a Current Events/Features for The Mirror. She is a junior in her first year of publication. Outside of journalism, she enjoys playing tennis, spending time with her rabbits and listening to music. Lately, she has been listening to Olivia Rodrigo. Her favorite song is "Drivers License." After graduating high school, she plans to go to college or university and attend medical school. She hopes that her love and passion for animals will eventually lead her to work in a shelter in the future.