Stress sucks
Teenagers are struggling to stay afloat in school as they deal with stress, anxiety and other mental health struggles prevailing from quarantine
Do math homework. Read for English. Write history essay. Prep for club meeting. Clean the house. Get your life together!!!
This is what most high school students' daily checklists look like, and most items fail to get crossed off.
Whether it's academic responsibilities or strained relationships, teens are stressed.
More than one in three high school students had experienced persistent feelings of sadness or hopelessness in 2019 according to the Centers for Disease Control and Prevention (CDC).
Various adolescent studies have found that the pandemic has worsened these conditions, leaving teenagers more stressed and more anxious than before. 
Physical distancing restrictions put in place to contain covid-19 led to widespread social isolation which has permanently changed social relations today.
Many students struggled with returning to lively social situations present at school after being away from classmates and friends.
"Being in quarantine really messed me up and destroyed most of my social skills," freshman Kevin Rodriguez said.
Some people have developed social anxiety from being away from others for so long.
New psychiatric social worker Kat Stockly, who specializes in adolescent well being and previously worked for the Pasadena Unified School District to provide mental health services to students, is not surprised to see mental health issues arising from quarantine. 
"I think a lot that I'm seeing as of right now are high anxiety being around a lot of people which makes a lot of sense because we spent a lot of time in isolation," Stockly said. "So coming back to school and being around a lot of people expecting to participate has been difficult for students, especially if you are a little introverted. It's kind of a shock to the system and it takes a lot of adjusting."
Students who may have had anxiety prior to quarantine, have witnessed their mental health worsen.
"During the pandemic I was diagnosed with social anxiety, major depressive disorder, Severe anxiety, post traumatic stress disorder (PTSD), panic disorder,and dissociative identity disorder (DID)," sophomore Winter Rivers. "Being back in school just makes me very easy to trigger."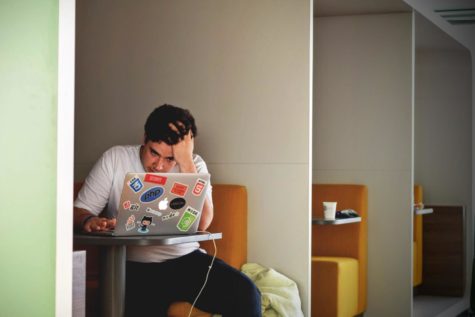 Mental health issues arising from the pandemic have made returning to in-person learning challenging for many students. 
"Although returning in person has helped me actually learn and get my grades up, it has been stressful," freshman Alexis Martinez said. "Over the pandemic, I lost my work ethic and could barely do any work because I felt so stressed and overwhelmed. That still affects me even now that we're in-person. I still have trouble completing my homework and finding the motivation to actually do it."
Majority of students are facing the same struggles while trying to adjust to pre-pandemic educational life in the midst of an ongoing pandemic.
90 percent of students have found the return to campus stressful and overwhelming according to a survey conducted by The Mirror.
"It's odd going back to old ways and now with the added stress of a pandemic. My mental health has been a roller coaster and it all depends on the week," senior Jennifer Llanos said.
Online learning was seemingly more informal than in person. Students often joined from bed while in pajamas. Classes became unengaging after staring at a screen for hours with little opportunity to collaborate or do tactile projects. Consequently, students struggle with staying motivated and keeping up their work ethic.
"Online learning was much less stressful than in-person learning," sophomore Isabell Marroquin said. "In-person classes provide teachers the chance to assign students more work than necessary. It's a lot to deal with and makes it difficult to keep motivation for school, and in general."
The lack of motivation and focus has made students stressed.
"I have been behind by a lot, I can't focus much and I tend to cry at least once a day," sophomore Shadie Galdamez said.
Covid-19 and its effects on learning aren't the only things to be stressed about.
Other factors of stress include homelife, relationships, sexuality and peer pressure.
65 percent of survey respondents cited parents as a stress factor.
"My home life with my parents is often pretty stressful, even as an only child, just to reach my parents standards," Marroquin said.
Friendships are no small trek either. 55 percent of students are overwhelmed by juggling platonic and romantic relationships.
"Just having to deal with school and juggling friendships is very hard," freshman Xavier Serrano.
Despite the challenges, students are finding ways to cope with the stress of being a teenager in extraordinary times..
"I play a lot of videos and listen to music and just doodle sometimes to help me forget all the pressure I have on myself for a little bit," senior Lilly Magee said.
A majority of students use music as an outlet for emotions.
"I tend to take a break. I distance myself for a moment and listen to music and just enjoy my own presence," Llanos said.
Some students look to nature to ground themselves.
"I try to watch the clouds just so I can focus on something that still moves but doesn't put me into a place where I want to feel out of reality," Serrano said.
Stockly recommends being present in the moment and talking things out when dealing with anxiety or stress.
"I think there is a mental aspect and a physical aspect showing in your body," Stockly said. " I Think sometimes when you have a lot of anxious thoughts and you're kind of keeping it inside and internalizing it, it's a little bit harder to process. Talking about your feelings and what you're going through can really help you process and deal with the anxiety better."
Leave a Comment
About the Contributor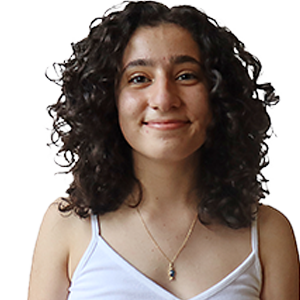 Ani Tutunjyan, Executive Editor & Print Editor-in-Chief
Ani Tutunjyan the Executive Editor and Print Editor-in-Chief for The Mirror.
She joined the program in her freshman year as a Current Events writer and she is now in her fourth year of publication as a senior.
Ani has won a number of regional and national awards for her News and Features writing. Outside of journalism, she is involved in TASSEL Cambodia and Operation Period. In her free time, she enjoys listening to music and cooking.  She would love to go to Italy to experience the rich history and beautiful architecture. 
Ani intends to major in law or journalism when she applies to colleges this fall.