PROFILE | The Levy twins
Twins, Michael and Danny Levy, express their views on being twins and the traits that distinguish them as individuals.
Many people envision the lives of twins as being identical, however, people often overlook several characteristics that set twins apart as individuals.
Michael Levy, a residential counselor at school, has a lot of differences from his twin brother Danny Levy, an athletic director. But they also share some similarities. Interests, for one, would be one of them.
"I enjoy working out, being with family and playing sports if possible," Michael Levy said.
His brother, Danny Levy, enjoys the same activities but takes pleasure in working on cars and doing handy work around his home as well.
Michael Levy chose to pursue his passion for helping others in a career that would allow him to do so, which was counseling.
"I strive to help students move onto the next grade level and help them try to maintain a positive attitude towards school," Michael Levy said.
Unlike his brother, Danny Levy didn't intend to go down the path of becoming an athletic director. He firmly believes that his job and personal aspirations should be separate from each other.
"It does not represent me," Danny Levy said. "I am who I am, it is what I do as a job and career."
With them taking on different career paths, the twins maintain different attitudes toward their jobs and the students they interact with. Michael Levy prefers assisting students in being more enthusiastic about their education, whereas Danny Levy takes a more two-fisted approach.
"I am straightforward and to the point," Danny Levy said. "I will always tell a person the truth whether they want to hear it or not. I think everyone is owed that, but they may not like it. I am okay with that."
Since the two decided to pursue different careers in the educational field, they favor different aspects of their jobs. Nevertheless, both twins find that they are fulfilled by overseeing students' long-term success, whether it be in the classroom or on the football field.
"I think guiding students to be successful and seeing them move onto college is the most rewarding part of my job," Michael Levy said.
Danny Levy firmly believes that the experiences and outcomes of being an athlete will carry students through life, as they step forward into adulthood.
"It goes beyond the wins and the losses," Danny Levy said. "Athletes do not realize or see it now, but they are building comradery and friendships that will last a lifetime."
The twins' initial aspirations were quite different from the careers they have now. Michael Levy originally aimed to be a crime scene investigator in the law enforcement field, but never had the opportunity to become one.
Although he did not get to pursue his dreams in law enforcement, his brother did. Danny Levy completed his advanced training in June of 2021, and now holds a position in the field similar to a full-time police officer.
Prior to following through with this career choice, Danny Levy opted for a fresh start at Van Nuys High School, alongside his brother. The twins started teaching PE and coaching girls' basketball in 2007.
One of Michael Levy's fondest memories growing up as a twin was witnessing the confusion on people's faces due to looking so identical to his brother.
"Most people could not tell us apart, so that was funny," Michael Levy said. "Only our mom could.
For Michael Levy, the best part about being a twin would be the strong connection he shares with his brother.
"I don't know how it feels to not be a twin," he said.
Danny Levy feels the same way, unable to imagine a life without his brother.
"There is a special bond that twins have, that I do not think non-twin siblings have," Danny Levy said.
The twins both agree that they do have similarities and differences that people should take into consideration.
"We used to be similar when we were younger, but now we are different," Michael Levy said. "Just look at us, he´s skinny and I'm fat."
Despite being twins, neither of them thought it was hard to establish a sense of identity among other people.
"We are individuals, so we have our own identities,¨ Michael Levy said. ¨People knew us as individuals regardless. I was a bit more outgoing than my brother."
To students who have a twin, Danny Levy advises that they simply be their own person. They shouldn't feel conditioned into acting or looking exactly like their sibling.
"Just be yourself," he said. "You are twins, but you are also separate individuals first. Do what you want and what makes each one of you happy. Everything does not have to be the same or together. You will always have each other, but you also need to live your life, your way."
Leave a Comment
About the Contributor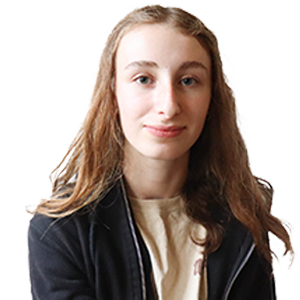 Diana Zalmanov, Staff Writer
Diana Zalmanov is a Current Events/Features for The Mirror. She is a junior in her first year of publication. Outside of journalism, she enjoys playing tennis, spending time with her rabbits and listening to music. Lately, she has been listening to Olivia Rodrigo. Her favorite song is "Drivers License." After graduating high school, she plans to go to college or university and attend medical school. She hopes that her love and passion for animals will eventually lead her to work in a shelter in the future.