5 MINUTES WITH…
English teacher
Ms. Nancy Navarrete
Ms. Navarrete shares her personal journey to becoming a teacher and what she enjoys know about teaching her students.
Who is your favorite poet or philosopher, and what is your favorite quote from them?
"I don't have a favorite poet or philosopher, though I have a favorite author. Her name is Isabel Allende. I don't have a favorite quote from her either, though my favorite book is called "Retrato en Sepia."   is about a woman trying to discover herself, similar to "The  Awakening," but in Latin American form."
What is something that people should know about you that's interesting?
"I guess one interesting thing is that I am the first in my family to graduate high school, go to college, and get a master's degree. I also love to travel. My dream  since middle school has been to visit Egypt, I hope, one day, I will go there." 
Do you happen to have a favorite hobby or anything out of literature? (example: speaking other languages, sports, cooking, activities, etc.) 
"Outside of literature, I love nature.  Hiking, camping and anything dealing with nature itself,  I just love to do." 
What are your students currently learning in your class? 
"Right now, my students are currently learning how society creates 'the other' and ostracizes one's identity. did a lot of reading on the experiences of African-Americans, Latin X and  Arab communities  to learn their experiences as discriminated individuals." 
What is your greatest strength and your greatest weakness as an English teacher?
"My greatest strength is planning because I want kids to be inspired by my lessons. My greatest weakness would be being a slow grader for my classes."
What time management strategies do you use to help with organizing your schedule for the day as an English teacher? 
"The most important thing is using a calendar or a schedule. Secondly, it is planning for my second semester earlier. It allows me to plan everything and include a time frame. For me, I always plan in my Google Classroom. That way, I have everything organized a week earlier, which are strategies that help me as an English teacher."   
 Can you describe your teaching experience briefly? 
"Next year will be ten years of my teaching experience. To be quite honest, I didn't want to become a teacher but wanted to be in the teaching field since I was a teenager. I just didn't know I would be fully committed and be who I am at that time. Maybe because I kind of ran away from it, and it wasn't until my master's program that I realized I didn't want to do research anymore and wanted a job where I could interact with people. I realized my strength was in my teaching. I spent some time tutoring and working in teacher assistant jobs, so I finally decided to teach after finishing my master's degree. For my bachelor's degree, I went to Mount Saint Mary's. Then, I went to NYU to get my master's degree, which led me here to California to get my teaching credential at CSUN." 
What is the biggest challenge that you foresee as an English teacher? 
"I guess that the biggest challenge is getting students to write but also to read and see the connections between the tasks of themselves plus the tasks of the world. I see that there is a apathy because they don't feel connected to the lessons. If school doesn't matter to them, or the other way around, they can simply get through the lesson and receive their grade. So helping students enjoy the process of learning."  
Leave a Comment
About the Contributor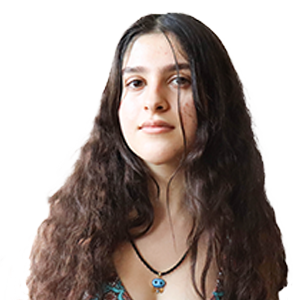 Angelina Kanno, Staff Writer
Angelina Kanno is a Current Events/Features writer. She is a junior in her first year of journalism. She enjoys writing poems and cooking — specifically a variety of pastas — in her free time. Her playlist is filled with 80s rock, especially music by Fleetwood Mac. Her favorite movie is "Star Wars: Episode III - Revenge of the Sith" because of its medieval setting and extravagant jewels. Angelina plans to major in forensic psychology at a four-year university to study the link between criminal behavior and mental disorders.