What inspired you to become a theatre teacher?
"I think it's a combination of growing up in New York City and attending shows from a really young age and falling in love with theatre as an audience member, listening to musicals and then doing theatre starting in elementary school. Falling in love with directing and set design and costume design as well as performing in high school and having three incredible theatre teachers in high school and then doing it in college."
What is your favorite part about directing?
"My favorite thing about directing is the challenge of every actor you direct. There is a different language you need to learn to speak. So figuring out how to communicate and how best to tell your story with each actor. The language you use is alway going to be different and figuring that out rehearsals."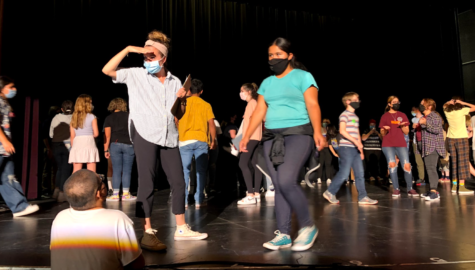 What is your favorite part about teaching?
"Getting to know students every year and building relationships."
What is your favorite play or musical and why?
"My favorite play is "Proof" by David Auburn. I saw it on Broadway with Gwyneth Paltrow and I just loved the story and the main character and the rhythm of it. My favorite musical is "Gypsy" because it was the first musical I saw at the performing arts high school I ended up going to."
Who is your favorite actor and what do you like about them? 
"I'm really liking Sirsha Ronan for a young performer. I really love little Timothée Chalamet. I'm just really liking everything they're in. There is a TV show called "I May Destroy You" and there is this British actress named Michaela Coel, I think she is incredibly interesting. She just won an Emmy."
Do you have a play or musical you would like to direct, in school or out of school?
"Im dying to direct "Little Shop of Horrors" and "The 25th Annual Putnam County Spelling Bee". I would love to do the "Laramie Project". I'd love to do Heathers at some point, I love "Heathers: The Musical."
Is there any theatre project we can expect from VNHS Drama this year? 
"We're going to bring back student directives which were going to be called drama fest, which will be a collection of original one act plays. Five to ten minute plays written by the students in my advanced theatre class, third period. They are student directed, student performed and student produced! That will be in the spring."