Leaving a legacy | Principal Gardea retires
After a long career in education and serving as principal for eight years, Yolanda Gardea has made the decision to retire.
With numerous "Best Magnet" titles under her belt, Principal Yolanda Gardea will be retiring from San Fernando Valley's second-oldest high school leaving behind a legacy and big shoes to fill.
During her eight years serving as principal, Ms. Gardea has managed to increase the graduation rate of the residential school from 24 percent to 70 percent through the development of the Freshman Academy and established the Crimson Club honor society for residential students as a positive behavior support.
In addition, she has played a pivotal role in encouraging all student activities to improve student engagement and pride in the school through the athletic programs, Arts, Tech Arts, Yearbook, Journalism, all-academic teams and student-run clubs.
Her support of on-campus extracurriculars had a lot to do with her own high school experience.
"I was involved in music, theater and played water polo in high school," she said. "I was able to travel to New York City in my junior and senior years with the Drama Club. Being involved in school helped me as my home life was a bit tough with an alcoholic dad who was verbally mean."
After graduating high school, Ms. Gardea attended UCLA where she felt that she was behind compared to her classmates. High school hadn't properly prepared her for the rigors of college academics.
So when she became a teacher and later an administrator, she made it her goal to offer students equal opportunities both academically and in extracurriculars to ensure all her students were prepared for college.
Ms. Gardea began her teaching career in 1985 at Walter Reed Middle School in Studio City where she worked for 22 years. She was an instrumental music teacher for Orchestra, Band, Jazz Band and beginner classes, all of which won many awards under her instruction.
Making the leap from the classroom to administration, she continued her career with LAUSD, rising through the ranks. She took a position as an Assistant Principal at North Hollywood High for three years and then moved to Ramon Cortines School of Visual and Performing Arts in Los Angeles for another three yearsIn 2013 she was named principal at Van Nuys High School, replacing the retiring Dr. Judith Vanderbok.
Throughout her years of working as principal, some of Ms. Gardea's fondest memories include watching students participate in the extracurricular activities they enjoy.
"My favorite part of working at VNHS is getting to attend all of the Arts performances, sporting events, going to competitions all over the country and working with the teachers to improve instruction," she said. "I truly love the faculty and students of VNHS and know they are all amazing people."
The school has received national recognition for excellence and student participation in the myriad of programs that are offered has increased, as has enrollment. While those are lofty achievements, Ms. Gardea still believes there is room for improvement, especially the number of students who go on to other endeavors with a diploma in hand.
"You all have to keep the ship going and keep working for 100 percent graduation and keep winning awards."
She would also like to see students take advantage of the technical education pathways offered at school such as Auto, Machine, Culinary Arts, Filmmaking, Graphic Design and Stage Design.
After working for the district for 36 years, Ms. Gardea plans to keep busy. She looks forward to spending her time as a retiree traveling, relaxing and doing the things she loves.
"I will help with the care of my 96-year-old mother, take golf lessons, work at Walter Reed Middle School in the music department and whatever else comes up," she said.
While Ms. Gardea is excited to retire, she will miss the years she spent with the students and staff.
"My farewell message is that I will remember with love and fondness all that we have accomplished together."
View Comments (2)
Your donation will support the student journalists of Van Nuys Senior High School. Your contribution will allow us to purchase equipment and cover our annual website hosting costs.
About the Writer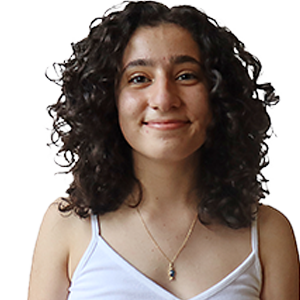 Ani Tutunjyan, Executive Editor & Print Editor-in-Chief
Ani Tutunjyan the Executive Editor and Print Editor-in-Chief for The Mirror.
She joined the program in her freshman year as a Current Events writer and she is now in her fourth year of publication as a senior.
Ani has won a number of regional and national awards for her News and Features writing. Outside of journalism, she is involved in TASSEL Cambodia and Operation Period. In her free time, she enjoys listening to music and cooking.  She would love to go to Italy to experience the rich history and beautiful architecture. 
Ani intends to major in law or journalism when she applies to colleges this fall.