VOLLEYBALL PLAYOFFS | 3-1 Wolves eliminate the Patriots
After going 5-1-1 and getting second in league, Van Nuys looks to add a 6th CIFLACS title to their belts.
Van Nuys hosted the first playoff game of the 2021 season on May 27 playing against Birmingham Charter High School.
The game got off to a rocky start with Birmingham taking the first set from the Wolves with a score of 26-24.
The second set wasn't looking great either, Birmingham was right on top of the Wolves' score until a short time-out was called. After a quick peptalk the Wolves Volleyball team got back on track bringing the set home 25-19.
"I'm honestly a little glad that they took a set off of us. Was a great wake up call for us," says Coach Omri Azarly in a post game interview.
"Our boys need to understand that it doesn't matter whether you're the tallest, smallest, or hardest getting team, every team is fighting for the same exact reason and has nothing to lose.""
The third set saw the score gap widen even further as the Wolves started to hunger for victory. The pack brought the set home with a score of 25-11.
The fourth and final set saw Birmingham desperately trying to knock down the Wolves with unpredictable plays. Regardless, the Wolves persevered and finished the set 25-17.
"With that being said, I thought the next three sets we definitely showed why we're one of the top teams in Division 1," says Azarly. "We have an elite squad who have such a high volleyball IQ and it shows when they hit their stride. I'm positive if we take care of our side, attack everything with a purpose, we'll be an extremely tough team come the finals."
The team is looking forward to the game next Thursday vs Bell High School at Bell.
Leave a Comment
About the Contributor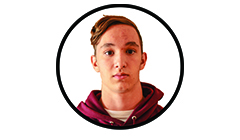 Andre Davancens, Photographer, Sports Analyst
Andre Davancens is a
Photographer
and
Sports Analyst
for The Mirror. He has been juggling his many interests
—
photography, athletics and fitness, and music, among others
— as high schoolers tend to do. Upon entering high school in the 2017-2018 school year he decided to follow in the footsteps of his father and do as he did in high school. Andre joined both the Van Nuys aquatics programs and the wresting team. Outside of school he enjoys competitive swimming, biking, and weight lifting.  Documenting these sports that he was involved in were consequential to his love for photography to grow into full bloom. Now he takes photographs of anything, and everything including events and stories covered by The Mirror.