Wolves Volleyball defeats Kennedy Cougars
3-1 Wolves continue their legacy of domination.
On April 29, boys varsity volleyball had the second game of the 2021 season.
From the start the Wolves filled the grass volleyball court with an unwavering energy. The players on and off the court were constantly communicating with one another keeping positivity.
The team had to be quick to adjust with the court being outside, the day brought around windy and smokey conditions making the ball's trajectory hard to predict.
"Playing outside is definitely a challenge, but it's something we can adapt to. All of our games have been windy, which makes it incredibly difficult," says Varsity Senior Tristan Timpers.
The Wolves won the first two sets 25-19 and 25-12, the streak was broken by losing the 3rd set 19-25. The Wolves wrapped the game up by winning the last set of the day 25-19.
The boys volleyball team is looking forward to their future games wishful that they'll be indoors. For now, they'll continue to adapt and learn about the unfamiliar world of outdoor volleyball.
Leave a Comment
About the Contributor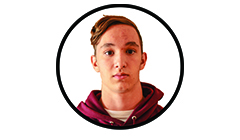 Andre Davancens, Photographer, Sports Analyst
Andre Davancens is a
Photographer
and
Sports Analyst
for The Mirror. He has been juggling his many interests
—
photography, athletics and fitness, and music, among others
— as high schoolers tend to do. Upon entering high school in the 2017-2018 school year he decided to follow in the footsteps of his father and do as he did in high school. Andre joined both the Van Nuys aquatics programs and the wresting team. Outside of school he enjoys competitive swimming, biking, and weight lifting.  Documenting these sports that he was involved in were consequential to his love for photography to grow into full bloom. Now he takes photographs of anything, and everything including events and stories covered by The Mirror.