A look behind Ur Fave Sweets, a growing student owned small business
With a love for baking and a drive for entrepreneurship, senior Amira Hassan is building up her baked goods business.
For anyone with a sweet tooth, small business Ur Fave Sweets by Amira is your one stop shop for decadent desserts.
Senior Amira Hassan has recently joined the growing group of students who own a small business at our school. Ur fave sweets by Amira is a small baked goods business that was launched in the beginning of February this year.
Hassan sells a variety of sweets from cake pops to cookies made freshly from scratch.
Inspired by her friends creating their own small businesses, Hassan decided to take action and make one of her own.
"I thought to myself, what am I good at?" said Hassan.
Due to at home learning, Hassan found herself with more free time. Filling the hours with baking, she realized crafting sweets was enjoyable and fulfilling to her. The encouragement from her family members suggesting she sell her baked goods pushed her to start her small business.
Hassan's menu includes classic baked goods such as double fudge brownies, cake pops and white chocolate macadamia nut cookies. She also crafts more out of the box treats such as salted caramel chocolate chip pretzel cookies and mocha crumble muffins.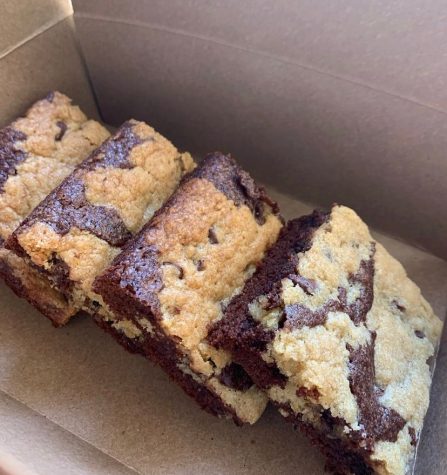 "I bake everything from scratch, I have all the ingredients on hand and packed away in a storage bin." Amira shared. "Besides the things that need to be refrigerated of course."
When taking a client's order, Hassan collects information on what baked goods the customer would like to purchase as well as whether they will be picking up or having the items delivered. She writes down the order and proceeds to the next step, baking, either the night prior or morning of the order.
Hassan runs her business independently, for the most part, baking and packaging the orders all by herself. Her mother and stepfather contribute by driving her to Costco or Smart and Final to shop for supplies. They also assist with deliveries.
In order to stay motivated in pushing her small business to grow, Hassan uses the incentive of becoming a better baker. She is also driven by customer satisfaction and seeing how much people enjoy her baked goods.
"My favorite part about being a business owner is being able to see everyone's faces when they come to pick up their order or when I go deliver it to them," Hassan said. "Even just for a second, it's fun to see them."
You can find more information and support Ur Fave Sweets by Amira by following her business's Instagram, @urfavesweetsbyamira.
Leave a Comment
Your donation will support the student journalists of Van Nuys Senior High School. Your contribution will allow us to purchase equipment and cover our annual website hosting costs.