It's out with the old and in with the new
Today's Presidential Inauguration strengthens the hope of Americans as our new elected officials take office
Today is the inauguration where President-elect Joe Biden officially becomes the 46h President of the United States.
Many have waited for this day to come when Donald Trump would no longer hold a position in office. And although we hold excitement and optimism for Biden's upcoming presidential term there's one particular feeling that we can't overlook – fear.
The United States Capitol was stormed on Jan. 6 by mobs of Trump supporters refusing to accept his loss against Joe Biden in the 2020 presidential election. Five deaths and many injuries happened as a result of the riot.
Nearly two weeks after the attack on the U.S Capitol America must prepare itself for a new leader but not without the need for high-level security. New fences, military guards and a sharp increase in the security at and around the Capitol are more than necessary for today's inauguration.
Despite the high-level security prepared for today's event a peaceful transition of power from Trump to Biden isn't guaranteed nor expected given Trump's track record.
Are security present to prevent a replay of what happened two weeks ago or will Trump supporters once again not have their actions met with immediate consequences?
Footage from the attack on Jan. 6 showed rioters being welcomed into the Capitol by security and we can only hope that this won't be repeated at today's inauguration.
Trump bid his final farewell and has left office this morning going down in history as the most untraditional President. He didn't invite the Bidens to the White House for the traditional bread-breaking as all previous Presidents had done nor will he and wife Melania be participating in the custom of attending the President-elect's inauguration. First Lady Melania Trump similarly breaks tradition with her refusal to invite the First Lady-elect to a White House tour. The First Family's lack of respect for American customs speaks volumes about their priorities.
In a time where our country is most needed to be united the First Family can't put their pride aside and proceed with a peaceful transition of power. Trump supporters and extremists get the idea that they are exempt from following rules because that's what our President has demonstrated repeatedly throughout his presidential term.
But today marks a new chapter in America as we accept Joe Biden and Kamala Harris as our 46th President and Vice-President. It isn't an easy job to run a country especially in the state that we're in now. Already they have a great deal of responsibility dealing with covid-19 and civil unrest. The Biden-Harris administration has publicly declared numerous times that their top priorities include covid-19 and economic relief for America.
Whether you're pro-Trump or pro-Biden it's important to preserve our democratic values and trust our new elected officials to run our country. This is a fresh start for America and we put our faith into the Biden-Harris administration to carry out their promises to reinforce unity, rebuild our country and restore order.
Leave a Comment
Your donation will support the student journalists of Van Nuys Senior High School. Your contribution will allow us to purchase equipment and cover our annual website hosting costs.
About the Contributor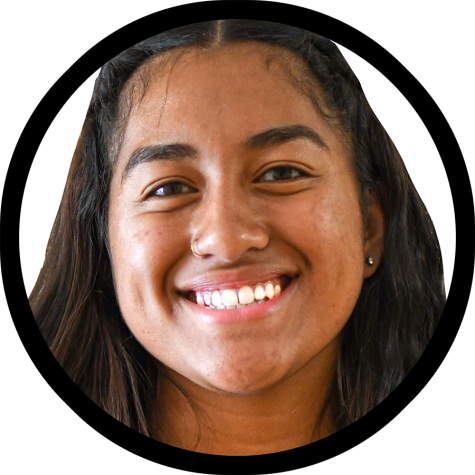 Gwen Langi, Pro & Con Editor
Gwen Langi is the Pro & Con Editor for
The Mirror
. Currently a senior, she has been a part of the journalism program since her freshman year. She won her first award at the 2020 Los Angeles Regional Write-Off Competition at CSUN, placing third for Opinion writing. Outside of journalism, Gwen enjoys traveling and reading. In the future, she plans to pursue a career in the medical field but would also like to start a blog covering stories about Polynesian youth.