He had covid, which "definitely isn't fake"
This senior and his family tested positive. It was a harrowing experience.
"IT STARTED with fear."
His aunt told the family that she had tested positive for covid-19.
That meant everyone had to get tested.
Senior Mynor Hernandez got the results three anxiety-filled days later.
He had covid-19.
"Seeing on my screen made my heart drop."
Despite taking as many precautions as he could, 17-year-old Hernandez, along with his mother, father and older brother contracted the virus in May.
His aunt works at an elder care facility, where she thinks she contracted the virus.
Hernandez got his test at Dodger Stadium, which the City of Los Angeles opened as a testing site earlier this year.
"To pick up the covid testing kit you must be in a vehicle and drive up to a window where they ask for your name and date of birth," Hernandez explained.
The testing kit consists of a swab, liquid vial container and a plastic bag.
The user is instructed to forcefully cough and rub their cheeks, tongue, gums and throat with the swab, which is then placed into the vial. They are then instructed to place everything into a plastic bag and drop it into a container.
YOUTUBE
The collected kits are then sent to the Los Angeles County Public Health Laboratory in Downey where the samples are tested for coronavirus.
"It was definitely awkward and uncomfortable because many people were around in their vehicles either looking or doing the same thing."
California alone reports over 0ne-million confirmed cases of covid-19 causing nearly 20,000 deaths as of Nov. 20, while Los Angeles County, which continues to be the state's hotspot, has reported over 355,000 cases and about 7,500 deaths as of Nov. 20.
"I was extremely scared due to hearing the stories, but I knew I had to stay strong for my family members."
While Hernandez and his family were fighting off the virus, they were able to stay quarantined at home.
Friends and other family members brought groceries so they could cook their own meals while they were trapped in the house.
Being cooped up in the house and not being able to go outside even for a walk can lead to extreme boredom. To cope, Hernandez spent his hours FaceTiming with his girlfriend and watching a lot of YouTube videos.
"It was definitely difficult," he said.
Hernandez never experienced the worst covid symptoms. He had a mild cough, a slight fever, a scratchy throat and a dull headache.
His symptoms lasted only four days. Although a second test a week later confirmed he was negative, he had to stay quarantined for two weeks.
The CDC recommends washing your hands often, avoiding close contact with others, covering your mouth and nose with a mask, cleaning and disinfecting frequently touched surfaces and monitoring your health daily to avoid catching coronavirus.
After experiencing covid-19 first hand, Hernandez's advice to everyone is to be careful.
"It definitely isn't fake so be careful with everything you do and who you come in contact with because you're not only putting yourself at risk but family members, friends and loved ones as well."
Leave a Comment
Your donation will support the student journalists of Van Nuys Senior High School. Your contribution will allow us to purchase equipment and cover our annual website hosting costs.
About the Contributor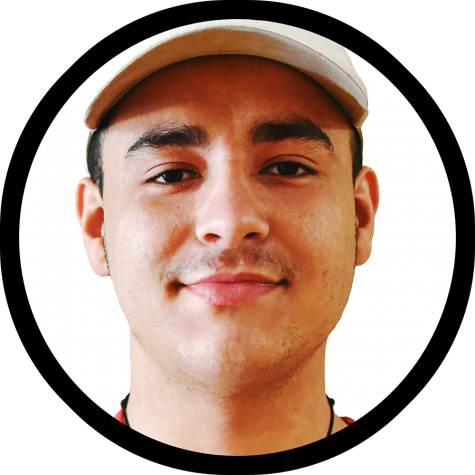 Andre Rodas, Print Editor-in-Chief
Andre Rodas is the Print Editor-in-Chief for The Mirror. Joining the program since his sophomore year of high school, Andre started as a staff writer for the Sports department. Now in his senior year, he is one of two people in charge of the print publication. Besides writing, Andre enjoys drawing, traveling, reading and music.