Everything we know about Marvel's upcoming Disney+ original series.
The Marvel Cinematic Universe is preparing to launch eight new series in the next three years.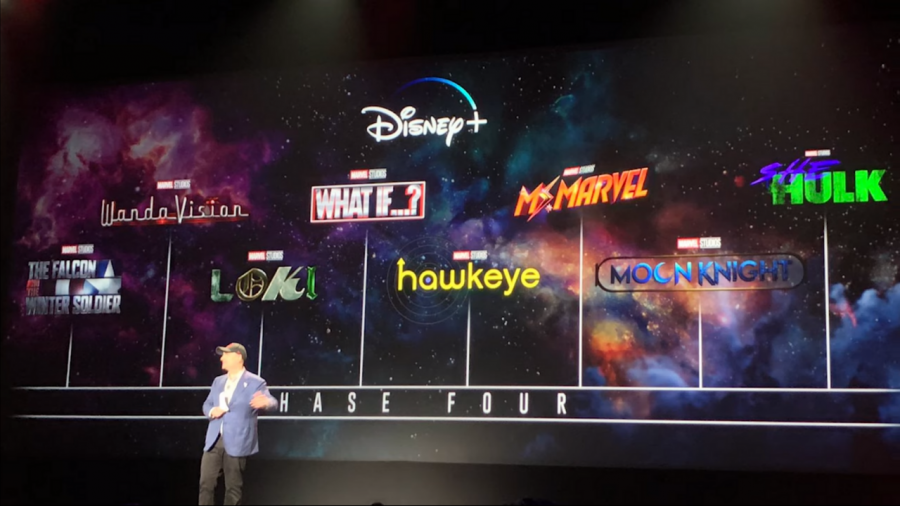 Marvel Studios wrapped up the third phase of the MCU (Marvel Cinematic Universe) with "Avengers: Endgame" and "Spider-Man: Far From Home" in 2019. Since 2008, Marvel has been releasing their movies in groups called 'phases' which were used to differentiate overarching chapters within the storyline. Rumors started to come out about new original content exclusive to Disney+. 
San Diego Comic-Con 2019 revealed a timeline of movies and shows and confirmed the Disney Plus rumors. The announced series include "The Falcon and The Winter Soldier", "WandaVision", "Loki", "What If…?", and "Hawkeye".
At the 2019 D23 Expo, Marvel announced three more live action series, centered around characters new to the MCU. These include "Ms. Marvel", "Moon Knight", and "She-Hulk". 
The MCU, known for its reputation of releasing three movies a year, did not release any new content in 2020, the first year without a new Marvel movie since 2009. Covid-19 has interrupted the release and production of new Marvel films. Both ¨Black Widow,¨ originally scheduled to premiere in May and ¨Eternals,¨ scheduled to premiere in November, have been delayed for next year. 
The complications of filming during a pandemic have created questions on the status of the eight new series in production.  However, these series have continued to provide casting updates, production details, and even sneak peaks to trailers. 
Spoiler Alert for fans who haven't caught up with ¨Avengers: Endgame.¨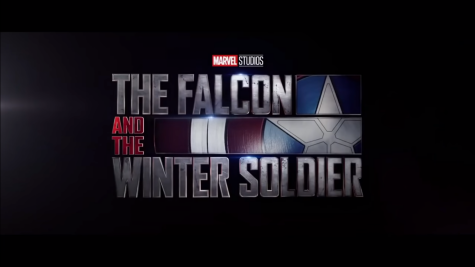 ¨The Falcon and The Winter Soldier¨ was initially expected to be the first Marvel Disney Plus show to come out in Fall of 2020. Production began in October 2019 and was interrupted in March, but filming continued this September. Anthony Mackie reprises his role as The Falcon alongside Sebastian Stan as The Winter Soldier in a six-episode crime thriller season, and the series is now looking forward to a release in 2021.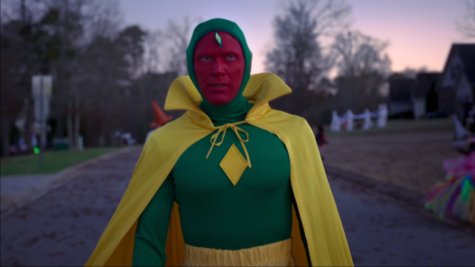 ¨¨WandaVision¨ will be the actual first Marvel Disney Plus Original series set to release in December 2020. The series takes place after ¨Avengers: Endgame¨ in an oddly ideal suburban setting, inspired by comic book writer Tom King's The Vision. What makes this series more odd is that Vision died in ¨Avengers: Infinity War.¨ The trailer was released on September 20 and is available here.
Tom Hiddleston reprises his role as the titular character in "Loki". Loki also died in ¨Avengers: Infinity War,¨ but an alternate Loki, from an alternate universe, was able to teleport to unknown whereabouts in ¨Avengers: Endgame.¨ The series is currently expected to be released in Spring 2021.
Marvel's ¨What If..?¨ is the most unique of the announced series. This is the only announced animated series, which will be cel-shaded and have voice appearances from original actors. Jeffrey Wright plays The Watcher who observes alternate events in the MCU storyline. Like the comic source material of the same name, the series is non-canon as it explores alternate universes and timelines. A 10 episode-season is expected in summer of 2021, and a second season is already announced, both exclusive on Disney Plus.
The next few series share an important similarity. Each series shines a light on new characters. The Falcon, Winter Soldier, Scarlet Witch, and Vision were all introduced in Marvel's Phase 2, but none have their own solo films, which explains their screen time opportunities in a series. 
These next shows explore the new generation of heroes in Phase 4 of the MCU. 
¨Hawkeye¨ is set to premiere in 2022. The series is based on Matt Fraction's critically acclaimed comic of the same name. Jeremy Renner will reprise his role as Hawkeye and star alongside Hailee Steinfeld as Kate Bishop. She presumably makes her superhero debut in this film, as Kate Bishop later goes on to join the Young Avengers after this storyline in the comics.  
Like The Vision and Hawkeye, Ms. Marvel was one of the most popular and praised Marvel comics to come out in the 2010s. Kamala Khan became the first Muslim character to headline a Marvel comic in 2014. The series, simply titled ¨Ms. Marvel,¨ will be based on the comic of the same name and will follow Kamala Khan as Ms. Marvel. In October, Pakistani-Canadian actress Imani Vellani was casted to portray her. The series is expected to premiere in 2022. 
She-Hulk is a character who has been around since 1980; she is a lawyer and the cousin of Bruce Banner. In September, Tatiana Maslany was casted to play her in ¨She-Hulk.¨ This will be She-Hulk's first major live action appearance. The series is set for a 2022 release. 
Little information has been released regarding the series titled "Moon Knight", except that the Head Writer is Jeremy Slater, who developed Netflix's "Umbrella Academy. Many fans are skeptical about how the show will turn out because the mature themes of Moon Knight comics may not mix with the family-friendly streaming platform of Disney. "Moon Knight" is also expected to come out in 2022. 
With so many new, exclusive series, it's exciting to predict the direction that Marvel Studios will be going with Phase 4. However, the ongoing pandemic may cause many of the dates surrounding the projects to change. For the time being, it's fun to speculate about the new generation of heroes coming to the silver screen.
About the Writer
Terrence Lazo,
Terrence Lazo is an Entertainment Staff Writer for
The Mirror
. He is currently a senior and in his first year of the journalism program. Outside of journalism, he enjoys listening to music, watching movies, and filmmaking. In the future, he aspires to pursue a career in filmmaking