Q&A: New English and Speech teacher Mr. Baker
Mr. Matthew Baker brings his background in stand-up comedy and public speaking to the classroom, joining the staff as a new English and Speech teacher.
By Julia Pfau, Perspectives Editor
Published September 13, 2020
1. What made you decide to teach at Van Nuys High School?
I decided to teach at Van Nuys for a number of reasons. First off, I got a great feeling from the administration and faculty during my interview. While they seemed highly professional, they all seemed to have a sense of humor as well, which is very important for me. Van Nuys has a stellar reputation in the LAUSD community and everyone I spoke to told me it was an awesome place to be. Lastly, I also was very excited about the opportunity to work with students in the Freshman Academy, who have so much potential both as emerging scholars and citizens of the world.
2. Have you taught anywhere other than VNHS?
I taught enrichment classes in Filmmaking, Screenwriting, and the Harry Potter universe at Short Avenue Elementary School in Culver City last year. In the years previous, I traveled the country coaching soccer and teaching mental performance techniques to youth athletes. But, this is my first year teaching in a formal setting.
3. What subject will you be teaching at Van Nuys High School, and what brought you to choose to teach this subject?
I will be teaching English and Speech this year. I chose these subjects because I'm very passionate about literature and creative writing and I have been since a very young age. I also have a background in public speaking and stand up comedy – I personally think public speaking is one of the most valuable skills a student can learn.
4. What inspired you to become a teacher?
I've always seen teaching as where I wanted to go in my career. Getting to share my passions with students and watch them grow has been an extremely rewarding pursuit so far. I'm already hooked.
5. What are your thoughts on beginning teaching during a pandemic?
Beginning to teach during a global pandemic definitely has its own set of challenges. I do feel grateful, however, there is an all-for-one, one-for-all mentality amongst the staff. Everyone has been supporting each other nonstop, so we can collectively figure out just how we can do this. I'm also relatively tech-savvy, so I feel like I wouldn't have had the same opportunity to add value to some of my colleagues that I do now. But, it can be very difficult in moments. With distance-learning, it seems on some days that Murphy's Law applies – whatever can go wrong, will go wrong. But, I'm proud of all of us for the effort we put in so far. We just gotta keep it going.
6. What is the most important thing you want students to take away from your class?
The most important thing I would like my students to take away from my class is the power of positivity. I think, as human beings, we may even be wired to focus on the negative in order to perceive potential threats. It can take real effort to find the positivity in your surroundings, especially when you are faced with adversity. But, if you are able to inject some positive energy into your environment, it will pay off a hundred times over throughout the course of your life. Other people will gravitate towards you and doors will open.
About the Contributor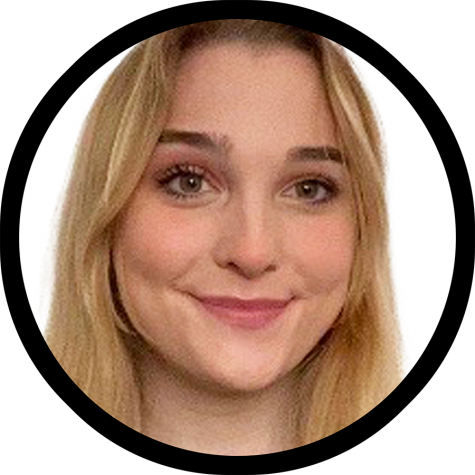 Julia Pfau, Perspectives Editor
Julia Pfau is the Perspectives Editor for
The Mirror
. She is a senior and has been writing for the program since her sophomore year. Outside of journalism, she likes drawing, fashion and cooking. She aims to help write impactful and interesting stories for
The Mirror
. In the future, she would like to study marketing or art.