Focus Episode 1: Brandon Large
Ivan Delgado sits down with the multi-talented student Brandon Large. They go into a variety of topics like Broadway, the cities of New York and Los Angeles, the art of dancing and singing, Large's acceptance to Columbia University, and much more.
About the Writer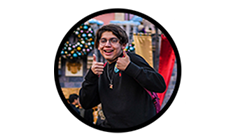 Ivan Delgado, Photo Editor
Ivan Delgado is a Filmmaker, Musician, P
hotographer
and
Photo Editor
for
The Mirror.
He joined
The Mirror
in the beginning of his sophomore year and is currently a Junior. He loves Radiohead and cooking Italian food with all his heart. He hopes to major in Computer Science after he graduates from high school.