LAUSD schools to close for the rest of the school year and other updates
Due to the ongoing coronavirus pandemic, LA Unified School District Superintendent Austin Beutner announces the closure of all LAUSD schools for the rest of the school year and updates towards the future of instruction.
By Mhar Tenorio, Online Editor-in-Chief
Published April 13, 2020
Los Angeles Unified School District Superintendent Austin Beutner announced Monday that schools will remain closed until summer through a live stream announcement.
This means that instruction will remain online through remote learning. With this, Beutner announced two caveats to the current grading system.
Students will not receive failing grades and students can only improve their grades from March 13. Students will not be penalized, meaning grades cannot go down.
With this announcement, Beutner also said that seniors will have a "virtual graduation," for now as they wait for the instructions of state and local health authorities in regards to school instruction.
"Francisco Suavillo, the student representative on the Los Angeles Unified School Board, has been leading a group of students at my request to come up with recommendations on how we appropriately celebrate what for the class of 2020 has been a lifetime of hard work," Beutner said.
Students who need to catch up on credits over the summer will also have to complete this online. For seniors who need to do so, Beutner says that educators are working with community college partners to fill in these missing credits to graduate.
"We will not allow the closure of school facilities to close the doors of opportunity for young adults earning a high school diploma and starting college," said Beutner during the live stream.
View this post on Instagram
About the Writer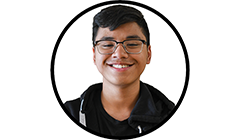 Mhar Tenorio, Online Editor-in-Chief
Mhar Tenorio is the Online Editor-in-Chief for the Mirror website. As a part of the journalism program since his freshman year, Mhar started as a writer for the Features and News departments. This is his third year in journalism. He has won a number of individual writing awards, including First Place in news writing at the CSUN Fall regional write-offs.
Besides writing, Mhar enjoys drawing and graphic design. His future plans include pursuing a degree and a career in the field of art.