LA Public Health Officials urge residents to skip grocery shopping during "critical week"
"If you have enough supplies in your home, this would be the week to skip shopping all together," said Dr. Barbara Ferrer, Director of Public Health.
By Mhar Tenorio, Online Editor-in-Chief
Published April 7, 2020
Stay at home. Keep a six foot distance within one another. Avoid any non-essential travel. Avoid social gatherings. These are some of the regulations that came with the rise of the covid-19 global pandemic. Now, Los Angeles Public Health officials are adding another recommendation onto this list: avoid grocery shopping, if possible.
This recommendation comes with the next two weeks being described as a "critical week" by public health officials in the future of covid-19. Numbers could start skyrocketing, according to Dr. Barbara Ferrer, PhD, MPH, MEd, Director of Public Health, and could peak in the coming weeks.
"As we expect to see a significant increase in cases over the next few weeks, we are asking that everyone avoid leaving their homes for anything except the most urgent matters," said Dr. Ferrer during a live press conference yesterday.
"If you have enough supplies in your home, this would be the week to skip shopping all together," she said.
White House coronavirus response coordinator Dr. Deborah Birx also recommended residents to do the same during a press conference on Saturday.
"This is the moment to not be going to the grocery store, not going to the pharmacy, but doing everything you can to keep your family and your friends safe," said Dr. Birx during the daily White House briefing.
It is important to note, however, that this is not an order, but a recommendation to deflate the increase in reported cases in the coming weeks.
As an alternative, LA residents can get their groceries delivered to their homes. The grocery chain Vons and the mobile app Postmates offer deliveries in certain areas.
As of today, LA County has reported 6910 confirmed cases and 169 deaths due to the coronavirus. The United States now has the highest number of reported cases in the world with over 300,000 people reported to be infected.
"We cannot underestimate COVID-19, a virus that knows no boundaries, infects people of all ages, and can cause significant illness and death, particularly among people who are elderly or who have underlying serious health conditions," Dr. Ferrer said.
About the Contributor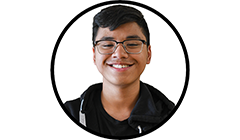 Mhar Tenorio, Online Editor-in-Chief
Mhar Tenorio is the Online Editor-in-Chief for the Mirror website. As a part of the journalism program since his freshman year, Mhar started as a writer for the Features and News departments. This is his third year in journalism. He has won a number of individual writing awards, including First Place in news writing at the CSUN Fall regional write-offs.
Besides writing, Mhar enjoys drawing and graphic design. His future plans include pursuing a degree and a career in the field of art.