Covid-19 update: California declares health emergency
As the threat of community spread of coronavirus rises in Los Angeles, LAUSD is prompted to formulate a plan.
By Ani Tutunjyan, Executive Editor & Print Editor-in-Chief
Mar 10, 2020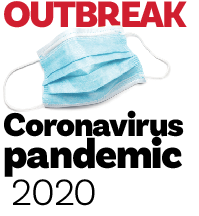 As confirmed cases of covid-19, more commonly known as coronavirus, continue to rise worldwide and the concern of it becoming a pandemic alarms many, Americans are beginning to question how school districts will respond to the virus.
The Los Angeles Unified School District (LAUSD) has not yet instructed its schools to take action against the virus, since the Los Angeles County Department of Public Health has announced that there is no immediate public threat in Los Angeles at this time.
Dr. Anthony Faucci, the Director of the National Institute of Allergy and Infectious Diseases at the National Institutes of Health and part of the president's covid-19 task force, warned that at some point, schools may have to close to stem the spread of the virus. Japan has closed its schools for at least one month.
It is unknown how LAUSD would implement campus closures if they become necessary, but the Superintendent's video suggests that closure time would have to be made up at the end of the semester. 
As of printing, there are seven confirmed cases of covid-19 in Los Angeles County. On Wednesday, L.A .County declared a public health emergency to address issues such as staffing resources.
None of the cases are believed to be community spread as all the individuals were exposed to covid-19 through close contacts with others who were infected.
LAUSD recommends taking the same precautions students would to prevent any other disease such as the influenza.
This includes regularly washing your hands with soap and water for at least 20 seconds, avoiding unnecessary touching of your eyes, nose or mouth, covering a sneeze or cough and staying at home when you have a fever or are sick.
In a recent video updating parents and students on the District's plans for covid-19, Superintendent Austin Beutner explained that the District is working closely with experts in the Centers for Disease Control and Prevention (CDC), Los Angeles County Department of Public Health, California Department of Education and more to monitor the progression of the virus to be prepared to respond to any threats. 
"The health experts at the county and CDC will provide us with information as they have it, as well as specific instructions on school operations in the event of any occurrence of the virus in our school community," he said.
The district is also in the works of creating a plan in the case that there is community spread.
"We're also making plans for learning to continue from home if any schools were to be closed, as well as the possibility of extending the school year to make up for disruption in the school calendar if necessary," Beutner said in the video message.
"The coronavirus is a known virus and it has been around for a long time," school Nurse Ashley Smith said. "It affects a lot of chronically ill kids and elderly people's immune systems. Just like everything else, people that are generally healthy, it doesn't affect."
Nurse Smith believes that students should be alert, not anxious. She explains that Los Angeles along with many other cities and the CDC have long prepared for a pandemic outbreak.
"It is just like anything else," she said. "Whole cities and countries have been preparing for this so this isn't something that we are totally unprepared for."
Although countries were not preparing for a possible coronavirus outbreak, they have been waiting for a pandemic level of influenza for more than two decades.
"They just weren't expecting it to come in this version," Nurse Smith said.
Each classroom was supplied with a bottle of alcohol-free hand sanitizer to encourage students to practice proper hand hygiene. Teachers will also receive sanitizing wipes to clean desks and other surfaces. The wipes are on order, but it is uncertain when they will arrive, since there has been a run on cleaning agents. Most area stores are sold out.
The prospect of school closing as a result of a coronavirus outbreak has raised concern among teachers who are unsure of whether they will be paid or not during that period.
"It would be up to the state of California because LAUSD gets paid by the state of California when you show up to school," UTLA representative and school chapter chair Mr. Robert Crosby said. "If L.A. Unified gets paid, then they will pay teachers. It depends on what the state of California does, and there's no word yet on what the state of California will do."
Many parents are also uncertain of who will supervise their children during the day when they are at work in the case of schools closing.
The CDC addressed the rapidly evolving virus during a telebriefing update on covid-19 during which they highlighted the possibility of a pandemic and community spread in the U.S. 
The virus has met the two of the criteria of a pandemic: person-to-person spread and illness resulting in death. The third criteria will be worldwide spread of covid-19.
During the telebriefing, the CDC explained that the U.S. is at a high risk of community spread despite an aggressive containment strategy.
"It's not so much a question of if this will happen anymore but rather more a question of exactly when this will happen and how many people in this country will have severe illness," said a CDC spokesperson.
A neighborhood in Los Angeles is already displaying its growing fear of community spread.
Junior Joshua Kim, a resident of Koreatown, explained that neighbors are worried over the possibility of an outbreak in their neighborhood after a Korean Airlines flight attendant who flew between Los Angeles and Seoul was diagnosed with the illness.
"People are pretty worried about it and are cautious," he said. "Streets and public places are still busy but people stay out late less."
As of now, the virus is not an immediate threat to Koreatown. Residents have not received any instructions on how to progress.
There are no official vaccines on the market for coronavirus but Moderna Therapeutics, a biotech company based in Cambridge, Mass., has recently shipped the first batches of its covid-19 vaccine for trials.
The first vials were sent to the National Institute of Allergy and Infectious Diseases, part of the National Institutes of Health, which will prepare the vaccine for human testing as early as April. Pharmaceutical companies and health experts say any potential vaccine is a minimum 18 months away from coming on the market.