TikTok to the Top
Students celebs find fame online 15 seconds at a time.
TikTok: the modern app that has taken the Internet and social media by storm. 
Released in 2017 after merging with a similar lip-syncing app called Musical.ly, TikTok counts about 500 million users worldwide. Despite being released in the latter half of last decade, TikTok became the seventh most downloaded app of the 2010s, surpassing both Twitter and YouTube.
The app consists of user-created content of people lip-syncing and dancing to various songs. TikTok also includes comedy sketches. Videos span three seconds to a minute. 
TikTok has become a creative outlet for many teenagers. There are at least three famous students here.
Senior Kaitlyn Martinez has amassed more than 57,000 followers on the platform by posting comedy videos and content related to the famous Korean-pop group, BTS. Her account name is @kaateastrophe.
"I decided to start making videos as a content creator on TikTok because lots of people seemed to enjoy my jokes," said Martinez. 
Martinez has gained enough popularity on the app that BTS themselves liked her video. A fan even recognized her at a mall. 
"That inspired me to keep going and going," she said. 
Anahit Chamichyan, a junior, whose account name is @aka.tina, creates similar comedic content. She focuses on producing point-of-view videos where the user role plays different characters for a scene.
"I downloaded the app as a joke but, then I saw really creative content and it inspired me to create my own comedy and point-of-view videos," Chamichyan said.
She initially gained a following after a video of her pretending to be a British girl garnered over 7,000 views.  
During Homecoming Spirit Week's TikTok Day, Chamichyan decided to dress up as a British girl wearing stereotypical British makeup. With her costume, she decided to create a video similar to the "British girl.", a girl who dresses up as a stereotypical british girl as well.  
"I felt like I had to do something different from the others who were dressing as e-girls or -boys so I decided to do my makeup like the British girl," she said. 
"At first, I was kind of scared to do it but after I actually felt confident," Chamichyan said. "Lots of students were either staring at me or secretly taking videos or pictures of me but I was honestly okay with it." 
TikTok can also be a place for artists to express their creativity. Jackie Mota, whose account is @jackiemote, has used the platform to post makeup videos.
In one of her first videos she did her makeup based on randomly chosen colors. She would use a random number generator and use the corresponding color to the number. She ended up getting 2.3 million views. 
"I decided to make my own version without expecting it to blow up like it did," she said. 
She uses the views and the encouraging comments as inspiration to continue producing more content. 
"It felt really good to get recognition and a bunch of positive feedback," Mota expressed. 
Mota used to think posting videos can be "intense" but she uses the positive comments as motivation. However, sometimes she is fearful of negative comments. 
"I haven't gotten hate comments but I had mixed feelings about people seeing me," she said. "I sometimes think that people weren't going to like my videos and write negative comments."
While the app has raised the online profiles of several students, Math teacher Ms. Milagro Medrano has noticed her students using it and thinks the app is a distraction to students. 
"I just think it's students trying to get more views and trying to become more popular," she said.  
"I think they should spend more time doing their homework and studying instead of trying to be TikTok famous," she said.
About the Writers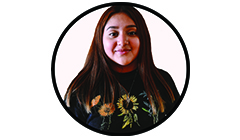 Estefania Lopez, Staff Writer
Estefania Lopez is senior at Van Nuys High School and is a feature staff writer for The Mirror. She is a team member of the tech crew. She volunteers at the Valley Presbyterian Hospital. Her favorite sport is basketball and she loves Stephen Curry and Klay Thompson who play for her favorite team, the Golden State Warriors. After graduating, she plans to pursue a career in nursing.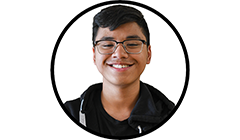 Mhar Tenorio, Online Editor-in-Chief
Mhar Tenorio is the Online Editor-in-Chief for the Mirror website. As a part of the journalism program since his freshman year, Mhar started as a writer for the Features and News departments. This is his third year in journalism. He has won a number of individual writing awards, including First Place in news writing at the CSUN Fall regional write-offs.
Besides writing, Mhar enjoys drawing and graphic design. His future plans include pursuing a degree and a career in the field of art.