An NBA Tragedy
A recent video has surfaced of Delonte West being beaten up and in handcuffs.
By Arsh Dole, Staff Writer
Published January 23, 2020
New York Post
Former NBA player Delonte West was found on the streets, with a bad look.  
West played in the league for 8 years, the teams he played for included the Boston Celtics, Seattle Supersonics, Cleveland Cavaliers, and the Dallas Mavericks. Throughout his NBA career it has been said that West accumulated over 1 million dollars. 
A video of the former NBA player has gone viral, showcasing West being beaten and in handcuffs. In the video West looks like a stranger when compared to his prior self. In 2008, West was diagnosed with a mental illness, but from the looks of it, it seems he has not gotten the proper treatment.
In the video that blew up quickly, West looks like he has been under and near substances and also seems to be homeless. While no new information has been released about West, we hope he gets the proper treatment and care that he needs. NBA superstar Lebron James is willing to do whatever it takes to get West back up on his feet and football player Dez Bryant wants to help him as well. It is devastating to see a former NBA basketball player lose himself.
About the Writer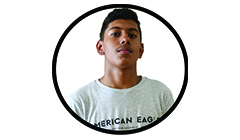 Arsh Dole, Staff Writer
Arsh Dole is a sports writer for the award-winning paper The Mirror at Van Nuys High School. Arsh joined the program in his freshman year of high school. Arsh mainly writes for the sports section. Besides writing for Van Nuys, Arsh enjoys playing basketball and playing volleyball. Arsh is on the Frosh Basketball team and on the JV Volleyball team. Arsh follows mainly basketball since that is his favorite sport as he follows teams like The Los Angeles Lakers and The LA Clippers. But he is also a fan of Kobe Byrant, Steph Curry, Kevin Durant, and LeBron James.