New Year, New Furniture
Students welcomed the new semester with brand new furniture but it was not what the school was expecting.
The new semester was welcomed with the arrival of brand new furniture in almost every classroom. Classrooms received brand new desks and chairs but some students expressed distaste for the furniture. 
"The chairs had a grip which makes it difficult to get out of, and the classrooms that previously had individual seats now have desks for two student seating," said sophomore Fatiah Lawal. 
Teachers were also surprised by their classroom furnishing.
Many teachers had requested individual desks for their classrooms and were stunned to see that every upgraded classroom had the same double-seater desks. 
"I feel like the single desks were more functional rather than having the joined seating," added Lawal. 
However, Principal Yolanda Gardea explains that the new furniture was not the school's choice.
"The District paid for 90% of the desks and we had no choice as to what to get," said Ms. Gardea.
She went on to explain that the school was in need of updated furniture since it was posing a danger for students.
"There were certain kinds of desks like the ones in the 300s building which they had to take away because they kept breaking and there were too many kids getting hurt across the district," she said. Ms. Gardea also explained that the chairs with bolts also had to be taken away since students' hair would get caught in it.
The process of replacing furniture is taken on by the school custodians who have to assemble all the furniture and take the old furniture out which is stacked up all over the campus, where students take it and move it around, waiting for the District to come and collect them.
"It would take the district forever to come and get it and I've been trying to get the whole school done because some of the furniture was terrible," said Ms. Gardea.
Since getting the individual desks would be twice as expensive and take up to five or six years to assemble, the administration decided it would be best to allow the District to send their team and have them assemble their furniture of choice.
"If I want to get individual desks, it would be twice as expensive as the ones that they had and it wouldn't come for 6 months. Is it better for everyone to have new and fresh furniture; otherwise, if we did it ourselves it would have taken five or six years from now to get it done and there's no guarantee that we would have the money to do it," said Ms. Gardea. Sometimes I have to make decisions that are not ideal. I have to look at the best of the worst and make the best of it." 
"The new desks aren't perfect but it makes the classroom look more clean," said Lawal.
Hang on for a minute...we're trying to find some more stories you might like.
About the Contributors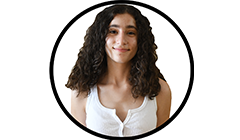 Ani Tutunjyan, News Editor
Ani Tutunjyan is a sophomore and the News Editor for The Mirror and vnhsmirror.com. She covers current events occurring on campus and globally. Ani returns to the program for her second consecutive year. Outside of journalism, she is involved in Speech and Debate and dance. Ani intends to pursue a career in law.