2019 Spotify Wrapped Up
Spotify reveals the most streamed music artist of the year.
By Saahil Gaur, Staff Writer
Published December 12, 2019
Spotify has revealed the most-streamed artists of 2019. In past years, the most-streamed artist was Drake however this year Post Malone took his place. Drake was noted as Artist of the decade, the number one most streamed artist more than any other artist this decade.
As of this year, the top most streamed artists in order were:
Top 5 most-streamed artists of 2019
Post Malone
Billie Eilish
Ariana Grande
Ed Sheeran
Bad Bunny.
The top 5 songs of 2019 
"Señorita" – Camila Cabello, Shawn Mendes
"bad guy" – Billie Eilish
"Sunflower" – Post Malone, Swae Lee
"7 Rings" – Ariana Grande
"Old Town Road – Remix" – Lil Nas X, Billy Ray Cyrus.
Most streamed albums of 2019
WHEN WE ALL FALL ASLEEP, WHERE DO WE GO? – Billie Eilish
Hollywood's Bleeding – Post Malone
thank u, next – Ariana Grande
No.6 Collaborations Project – Ed Sheeran
Shawn Mendes – Shawn Mendes
Most Streamed Artist of the Decade:
Drake
Ed Sheeran
Post Malone
Ariana Grande
Eminem
Even if you feel as these artists may not be in your top list you can check who you streamed the most this decade. Spotify comes back with another year-end review in which you can check who you listened to the most throughout the year. This time it has added more information. As the decade ends Spotify can now show you who your most-streamed artist of the decade is, who you listen to the most this year, how much time you spent on Spotify, your most streamed song and much much more. All you have to do is lookup Spotify wrapped sign in and it will show you everything you want to know.
About the Contributor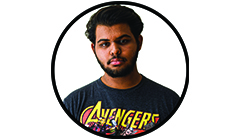 Saahil Gaur, Staff Writer
Saahil Gaur is an aspiring actor, director, and a photography enthusiast. He is in film class, has starred in a few student films, and has written a few scripts. In his free time he enjoys , music, watching TV and movies, cooking, and acting. He would like to go to college, travel the world, and be an actor. He would also like to direct a few movies. His directing influences are Jonah Hill, Jordan Peele and Quentin Tarantino.