King of the City Wrestling Tournament
Sylmar Charter High School crowned King at the King of the City JV wrestling tournament hosted by Van Nuys High school on Nov. 23.
The second annual King of the City JV wrestling tournament was held on November 23, 2019 in the big gym.
Starting bright and early in true wrestling fashion with an 8 a.m. weigh in,  the day was characterized by constant wrestling matches and cheering crowds accompanying the slam of a wrestler hitting the mat.
Representing the hosting school were Johnathan Yanez (106), Fabrizio "Breezy" Sandoval (113), Gianearlo Gyamashyan (120), Lance "Bunny" Trinidad (126), Leonardo "Leo" Mendoza- Torres (138), Andre Davancens (145), David Gonzalez (152), Bryan Merida (182a), Mynor Hernandez (182b), Johnny Limon (182c), Carlos Cruz (285), and Jesus Rios Ochoa (285).
A few hours in, tensions were high as the early team scores were announced. The cheers for each individual team grew as the placings rose.
To the disappointment of the Van Nuys wrestlers, the Sylmar Charter High School team was crowned the Kings of the City, winning first place in total team score.
Although the Wolves were not victorious, they were still able to learn from their mistakes for the upcoming season.

About the Writers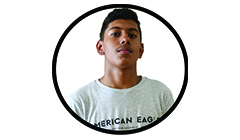 Arsh Dole, Staff Writer
Arsh Dole is a sports writer for the award-winning paper The Mirror at Van Nuys High School. Arsh joined the program in his freshman year of high school. Arsh mainly writes for the sports section. Besides writing for Van Nuys, Arsh enjoys playing basketball and playing volleyball. Arsh is on the Frosh Basketball team and on the JV Volleyball team. Arsh follows mainly basketball since that is his favorite sport as he follows teams like The Los Angeles Lakers and The LA Clippers. But he is also a fan of Kobe Byrant, Steph Curry, Kevin Durant, and LeBron James.
Andre Davancens, Sports Editor
Andre Davancens is the Sports Editor for
The Mirror
. Currently a senior, he has been in journalism since his junior year. Outside of journalism, he is a student athlete as well as the co-president of First Gen Empowerment VNHS. In the future, he plans on majoring in global studies and pursuing a career as a photographer or journalist.