Astroworld Festival 2019: A Crazy Experience
The Astroworld Festival was the place to be this November.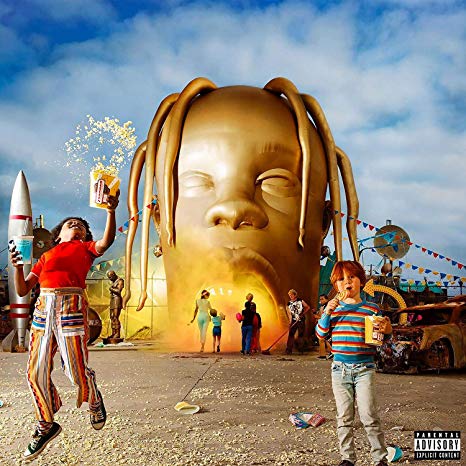 A very special thank you to Denise Wong who made this trip possible.
On Sept. 27, Houston native rapper Travis Scott announced that he would be holding a second Astroworld Festival which would be taking place on the Nov. 9 at the NRG Stadium in Houston.
With almost 70,000 people attending I was lucky enough to be able to attend the festival with two of my friends, Asher Wong and Alex Pinwatana.
We camped out at 3 AM in the morning and were at the front of the line. Despite the weather being cold we were determined to be at the front of the merchandise line.
By 8 AM in the morning the line was huge and people were already going crazy. Mosh pits started forming and people were throwing their items including water bottles, food and even their chairs. It was kind of a nerve wrecking moment because Alex, Asher and I were right in the middle of this mess and were covering our heads for protection.
Once 9 AM came around the line broke down the first gate and it seemed as if we were about to break down the gate heading into the festival but the security staff took out tasers and threatened to use them. They also called the firefighters to hose us down if it came to it.
At this point I was starting to wonder if this festival was for me, there were a lot of nice people and there were just as many people that were crazy and willing to do anything to get in early.
Reinforcements for security arrived at around 10 AM and they started pushing the line back and threatened to kick people out if they didn't cooperate. By 10:30 AM I had already seen 5 people kicked out.
The gates were expected to open at 12 AM and when the clock struck 11 AM  people were more restless than ever. At 11:30 the second gate leading to the final gate finally opened and it was absolute chaos. The fence was taken down, thousands of people were running at the same time and three people fell and were stampeded over.
During this chaos I got separated from Asher and Alex. It was finally time for the last gate and the security check. I was pretty close to the front and I wanted to call Alex to see where he had ended up but my phone ran out of battery so I had to call him from a strangers phone. It turns out they were on the other side but I was much closer to the front.
Although the final gate was expected to open at 12 it ended up opening at 12:45 in the afternoon. As soon as I got in I rushed to the merchandise booth. My efforts paid off because I had a great spot in the line. I ended up making the acquaintance of a nice kid my age at the line and he let me use his phone to call Alex.
Alex and Asher finally got in 40 minutes later and at this point I had to let people cut me at the merchandise line so that Alex and Asher could cut me. When they finally arrived at the security guard told them they wouldn't be able to cut me so they gave me their money and cards so I could buy what they needed. Another guy didn't want to wait in line so he trusted me, a complete stranger, with his credit card to buy him the things he needed. He also told me I could get a shirt or anything $50 or under with his card so I ended up getting a free shirt.
I waited in the merch line for 1 hour and 30 minutes and when I was purchasing the items it took another 30 minutes. It was really unorganized and we ended up missing Sheck Wes and Don Toliver's set.
The artists performing there were Tay Keith, Don Toliver, Sheck Wes, Houston Allstars, Pop Smoke, Young Dolph and Key Glock, Da Baby, Megan Thee Stallion, Young Thug, Playboi Carti, Migos, Marilyn Manson, Pharell Williams, Rosalia, and of course, Travis Scott.
After getting merch we were starving and decided to get food as there was time until the next set we had our eyes on, Da Baby's.
Although we bought food we still hadn't gotten any water as they sold food and water in different locations, so I entered Da Baby's set parched.
Although we started in the back, the mosh pits were able to take us to the front and it was amazing. We left his set 15 minutes earlier because Alex and I were dehydrated and I almost fainted but a random guy helped me out and got me out of there. We all finally got water and were feeling much better.
ASTROWORLD
The next set I had my eyes on was Playboi Carti's, I told Asher and Alex we cannot miss this one no matter what. Since there was a bit of time until his set we went to Megan Thee Stalion's set since we thought that Playboi Carti's set would take place after hers at the chills stage.
After her set was done we anxiously awaited Playboi Carti. Someone overheard us and told us we were at the wrong stage. We ran all the way from the chills stage to the thrills stage and we got lucky that Carti was late so we hadn't missed anything.
My friend Alex didn't really like Playboi Carti but he was going crazy at his set. Da Baby's set was a lot of fun but Carti's set was on a whole other level. The mosh pits were bigger and crazier and everyone was going absolutely wild. Carti's set was my favorite there besides Travis. On top of that Alex started listening to his music after that.
At this point we were all extremely tired and even though about leaving early and skipping the next set. Asher kept telling me we should go to the Migos set and it's a good thing we listened to him. Migos' energy was off the charts, and despite us being tired before heading there we were back in the mosh pits not feeling tired at all.
After the Migos set were extremely tired and kind of wanted to leave but we decided to go to Pharell's set and stay for one Travis song.
Pharell's set was a much calmer and chiller set but it was exactly what we needed.
It was finally time for the main attraction, Travis Scott. It was around 9 PM and he kept us waiting for a while, until he finally had a crazy entrance and started off with "STARGAZING". 
This was by far the most crowded and craziest set there. We ended up staying for the whole set and it was by far the greatest experience of my life. Travis brought out Roddy Ricch, performed "Hot" with Gunna and Young Thug, performed "ZEZE" and "Ghostface Killers" with Offset, performed and unreleased song with Migos, and brought out Kanye West.
Near the end Asher got separated from Alex and I in the mosh pits and his phone had died so we spent almost two hours searching for him after the festival had ended. We finally found him and arrived at the hotel at 2 AM and ended up missing our flight.
The Astroworld Festival was by far one of the greatest experiences of my life. I'm so happy I went and stayed for the whole entire thing. It was an amazing experience and I'm for sure going to go next year if he holds another festival.
This is an event you do not want to miss.