Senior Board hosts the second annual Wolves Talk
Senior Board held the second annual Wolves Talk on Tuesday, Oct. 22 at the Donna Hubbard Auditorium.
Senior Board hosted the second annual Wolves Talk on Tuesday, Oct. 22 at the Donna Hubbard auditorium. 
Similarly with TEDTalks, students prepare a speech about any appropriate topics to spread their ideas and beliefs to the audience. 
Speakers Ani Boston, Shayra Nawsheen, PJ Rattipitak, Fabian Jimenez, Megan Dulkhanchainun, Nazmun Mumu, Effie Garcia and Ashley Kumar covered various topical issues.
The Wolves Talk consisted of topics such as abortion, the basis of boring conversations, climate change, adjusting to high school, life with ADHD (Attention-deficit/hyperactivity disorder) and the pressure to exceed in high school, respectively. 
As a bonus, Senior Board President Jennifer Lee recreated her Wolves Talk from the previous year. 
"It was a great way to bring an audience together to listen to topics that need attention," said Jennifer Lee. "I just want to thank those who came out and supported."
Hang on for a minute...we're trying to find some more stories you might like.
About the Writer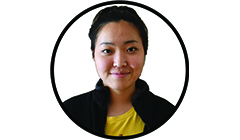 Seungyoun Kim, Print Layout Editor
Seungyoun Kim is the Layout Editor for the 2019-2020 school year. She has participated in editorial and features writing in her two years of experience in journalism. Aside from journalism, she is involved in a prevention program called Youth Drug Abuse Prevention Program (YDAPP). She is very passionate about teenagers' early exposure to drug use and plans to involve herself in the public health field.