72-0 Loss: What Happened?
By Andre Rodas, Sports Editor
Published September 10, 2019
It was a rough night for the varsity football team on Friday night, Sept. 6, as they suffered a devastating 72-0 loss against the Manual Arts Senior High School Toilers. 
Despite the devastating loss, which may have been the biggest loss ever for the team, players remain optimistic that the only way to go is up.
This is the second consecutive loss for the Wolves, whose performance against the Polytechnic High School Parrots the previous week was less than stellar. They lost 42-14. 
Although it was a rough night, it was "an eye opener for the team," said junior Joel Zafra (#67). "We will continue to work harder and persevere through these moments. Don't count us out just yet."
About the Writer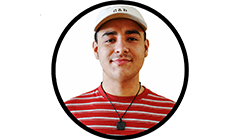 Andre Rodas, Sports Editor
Andre Rodas is the Sports Editor for the Mirror. Joining the program since his Sophomore year of High School, Andre started as a staff writer for the Sports department. Now in his junior year, he is in charge of the Sports section. Besides writing, Andre enjoys drawing, playing volleyball, reading and music.