Sins of the Church
Churches. A place to have your sins forgiven and your soul cleansed.
This is what we were told our entire lives.
But we are blind to the sins and crimes taking place in our very own churches: the sexual abuse and slavery of nuns by male members of the Church.
To this day, they continue to be the indentured servants of clergymen, cooking and cleaning for them against their will.
These nuns wake up every morning, fearing the possibility that they will be a target of sexual abuse. That they will need to live with the "scandal" of an abortion or raise the child completely on their own.
The issue of sexual harassment has persisted within religious orders since the beginning of time.
For years, the public has become more aware of the priests' sexual predation towards young children–but only recently has attention turned to the abuse of nuns.
On Jan. 2, a Vatican magazine, Women Church World, published an article publicizing the sexual abuse of nuns by clerics in the Roman Catholic Church.
With the rise of the #MeToo movement, more and more nuns have begun to vocalize their unsettling encounters with priests and bishops. Though this is only a fraction of those affected, it is enough to raise attention to the persisting matter.
One of them was a nun of the St. Francis Mission Home in Kerala, India.
However, she remains anonymous due to an Indian law deeming it illegal to name a rape victim in the media.
This already gives an insight into how the majority of India's society feels about rape. They choose to ignore it and "protect" the victim instead of allowing them to speak up about it.
The nun names May 5, 2014 as a day deeply scarred in her memory. It was her nephew's First Communion when Bishop Franco Mulakkal agreed to personally celebrate it with the family. This was the first of 13 rapes by the bishop that she would endure.
After two years of brutal rape, she gathered the courage to inform over a dozen church officials all of whom told her that the church would handle it. They also forbade her from going to the police. In November 2017, Cardinal George Alencherry discouraged her from taking the case to media or the police.
In an attempt to silence the nun, Bishop Mulakkal threatened her and her family.
This is what they do. This is how they silence those they are meant to protect and support.
But she would not be intimidated. On Jan. 28, 2018, she wrote to Archbishop Giambattista Diquattro, the pope's representative in India, and described how Bishop Mulakkal took advantage of her for two years. She wrote how church officials promised a solution but did nothing.
What did Diquattro do?
Nothing.
The nun's continuous emails and phone calls for more than a one-year period only went unanswered.
The nun grew tired of waiting and confided with five other nuns who lived with her at the convent.
They knew something must be done.
In April 2018, her sisters came in unison defying church rules to support and help her.
It was when Bishop Mulakkal filed multiple police reports against them and their families that they decided to go public.
The nun wrote another letter to Archbishop Diquattro on June 25 explaining how she waited for the Catholic Church to give her justice but they failed to do so. Left with no other choice, she was forced to approach the case with legal procedures.
On June 28, the nun filed a police complaint formally accusing Mulakkal of rape.
As weeks went on, the church ordered the five nuns to return back to their respective convents. Sister Josephine Villoonickal was one of them; she was instructed to return back to her convent in northern Jharkhand–about 1,500 miles away.
She, like the other nuns, refused.
Worries of eviction forced the nuns to go to Kochi in early September where they protested outside of the High Court along with other churchgoers, activists and even priests who had an understanding of how unjust and utterly disgusting Mulakkal's actions were.
Even after continuous church orders, the nuns refused to disband. They continue to file civil cases against church officials in India.
These nuns have vowed to sisterhood, and they are not willing to have their family destroyed.
Starting with only five victims supporting a sister, the nuns have drawn national attention to a serious, systemic problem within the church.
Their protests that may seem insignificant to some and not enough to overrule the wrongs of the church, but they have begun the change we need to shut down these unrighteous clergymen.
Pope Francis, who has greatly attributed to ending the Catholic clergy's sexual abuse towards children across the globe, says he is committed to stopping the harassment of nuns.
Sister Veronica Openibo spoke at a summit in which 150 clergymen including Pope Francis attended.
Openibo spoke about the need for transparency in the church and the importance of addressing abuse taking place within it. She was one of only three women to do so.
These clergymen have abused their power for too long. Nuns are silenced in fear of retaliation. They are told by their superior generals to not report the abuse because the priest or bishop will turn the entire congregation against them.
This is how these women's rights are suppressed. It is the authority and the control of the clergymen that do not allow nuns to come forward or share their stories with the world.
Religious orders have become incapable of moving forward in time and continue to abuse women day after day.
It is becoming more and more difficult to step into a church without thinking about all the sins hidden in their institution.
Hang on for a minute...we're trying to find some more stories you might like.
About the Writer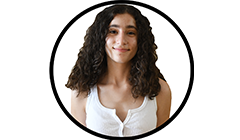 Ani Tutunjyan, News Editor
Ani Tutunjyan is a sophomore and the News Editor for The Mirror and vnhsmirror.com. She covers current events occurring on campus and globally. Ani returns to the program for her second consecutive year. Outside of journalism, she is involved in Speech and Debate and dance. Ani intends to pursue a career in law.