The Controversial Run of Kareem Hunt Continues
Former Chiefs standout running back Kareem Hunt receives a second chance to play in the NFL, as he signs with the Cleveland Browns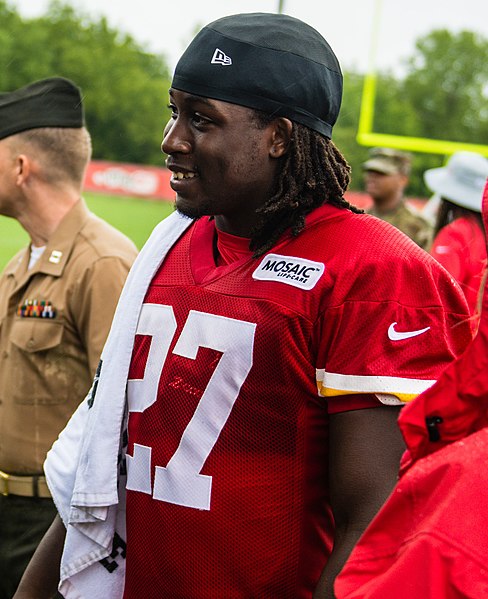 Kareem Hunt was on top of the NFL world, until the notorious video of his assault on a women made headlines. The league's best running back on the league's best team went from winning the hearts of football fans everywhere, to being cut from the roster in November of  2018.
The now viral video explicitly shows Hunt push a women to the floor and violently charging at her while having to be restrained by the men accompanying him. The Kansas City Chiefs showed no tolerance for the situation and officially released the star running back once the organization was aware of the situation. The former Toledo running back seemed like another case of an NFL star falling from grace. That is until the Cleveland Browns gave the former star a second chance.
On the afternoon of Feb. 12, the Cleveland Browns unexpectedly signed Hunt to a one-year, one million dollar contract.
From a football perspective, the move was a great signing. The Browns have a young talented roster that consist of Myles Garrett and former Heisman Trophy winner Baker Mayfield. The addition of Hunt gives the Browns another dimension to their offense as before the signing, the team's rushing offense rotated between rookie Nick Chubb, Carlos Hyde and Duke Johnson Jr., all solid players but not up to the level of Hunt.
This signing can possibly propel the disappointing franchise to the first playoff berth since the 2002 NFL postseason. This upcoming season seems like the perfect season to make a return to the postseason stage as the AFC North seems to opening up with fall of the Pittsburgh Steelers and the rebuilding of the Baltimore Ravens. With a solid defense, a proven offense, and now a quality running back, the Browns seem to have made it clear, their playoff drought will soon come to an end.